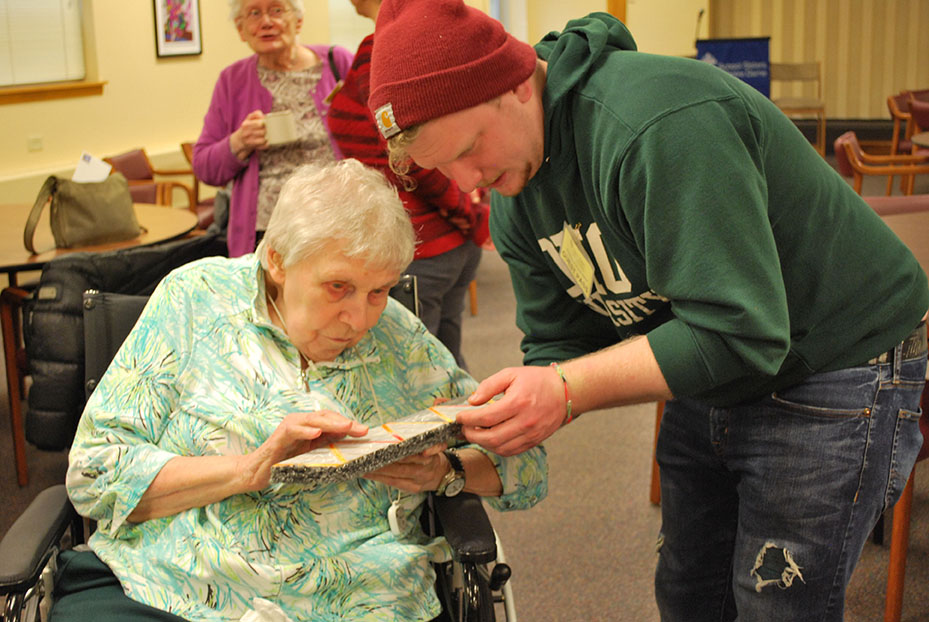 Often, our world can feel divided. By crossing the invisible boundaries society has created for us and experiencing lives very different from our own, we can conquer that division and even embrace our differences. One example of this took place recently in Milwaukee in the Central Pacific Province when Sister Patty Rass, an art therapy professor at Mount Mary University in Milwaukee, brought two diverse groups together.
Sister Patty teaches a course called Human Growth and Development. It is a required course in the first year of the Master's in Art Therapy Program at Mount Mary University. Throughout the semester, the students study development from birth to death, with particular emphasis on how they, as art therapists, will be able to meet their client's physical, cognitive, emotional and social needs through the creative process of art making in each stage of life. Each week, the course focuses on a different developmental stage.
Since many sisters at Notre Dame of Elm Grove in Elm Grove, Wisconsin, express creativity through writing, either through poetry or prayers, Sister Patty thought it would be a wonderful experience for her students to read some of these writings during the week they learned about aging. The hope was for students to better understand the aging population and to utilize one practice art therapists call "response art." Response art is the process of creating a piece of art for the purpose of exploring, deepening and sharing the emotional experience the therapist has had with another. The students were instructed to connect to the sister's writing on an emotional level, reflect on it and then respond by creating an art piece. The students were told to imagine what this sister may be feeling or expressing through their poem or prayer.