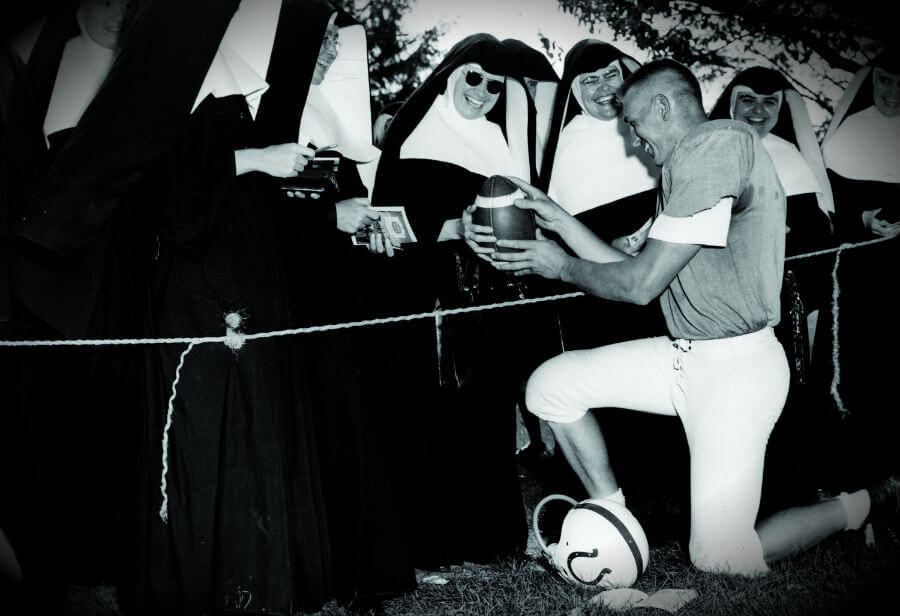 After seeing this wonderful photo on the Archdiocese of Baltimore website, we set out to try to find the story behind it. The caption was our only clue. 
Johnny Unitas visits with Sister Demetria and other School Sisters of Notre Dame in August 1960 at the Baltimore Colts' training camp at Western Maryland College in Westminster. Unitas had led the Colts to the previous two National Football League championships. (CR File).
With help from our archivist, Sister J.B. Schammel, SSND, we discovered the Sister Demetria mentioned was Sister Mary Demetria Perry, also known as Sister Martha Perry. At the time this photo was taken, she was teaching primary grades at St. Ambrose School in Baltimore City.  She also taught elementary students at Our Lady of Perpetual Help in Roxbury, Mass; St. Savior Grade in Brooklyn, NY; St. Joseph in Washington, D.C.; St. Patrick in Mt. Savage, Md.; and St. Joseph in Mechanicsburg, Penn. Did you ever have Sister Demetria as a teacher? If so, we would love to hear more stories about her. Please send them to comm@amssnd.org, along with any other photos you might have of her.
Sister Demetria was born Martha Adams Perry in Charles County, Md. She joined the SSNDs as a novitiate in 1935 and took her final vows in 1946, living at the motherhouse on Aisquith Street during all of those years. Taking a break from teaching for three years, she worked at the SSND Spirituality Center, and in Pastoral ministry at Sacred Heart School in Tampa, Fla. It was at Sacred Heart that she returned briefly to teaching, this time with junior high students. She then switched directions again, becoming a home health aide in 1978, a job she held until 1994. From 1994 until 2002, she worked as a seamstress at Maria Health Care Center. It was there that she died on September 30, 2003, at age 90. 
We have yet to find out why Sister Demetria and the sisters with her were visiting Johnny U and the Colts that day. Perhaps it was a request to pray for another successful season for the team, which enjoyed multiple championships with Johnny as their quarterback. If you know that story, or if you know any of the other sisters in this photo and would like to know more about her story, please reach out to us at the email address above.