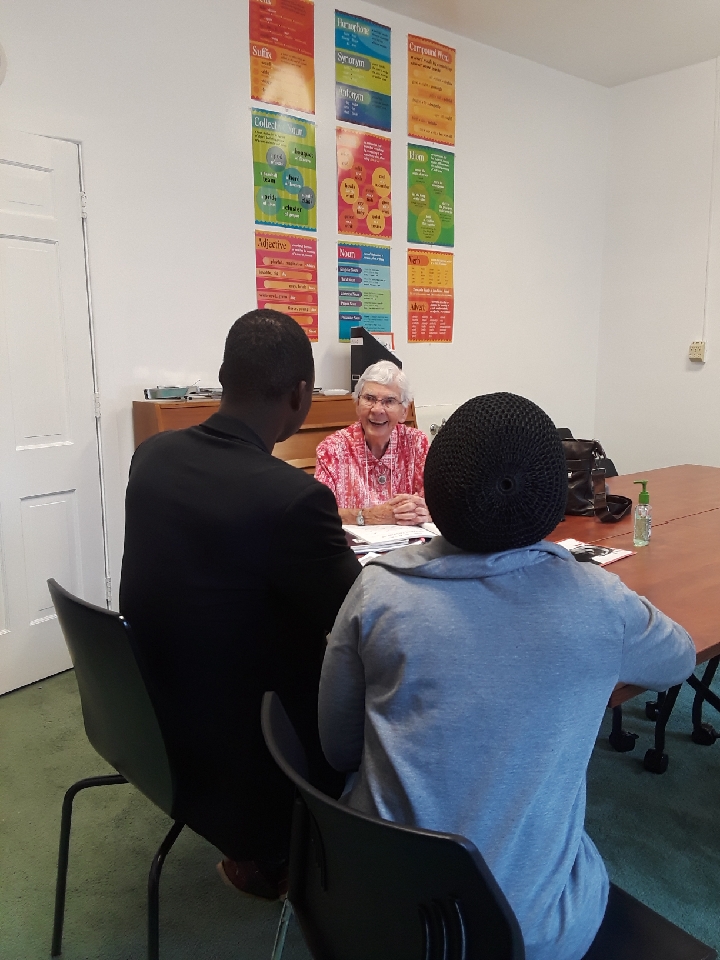 Teaching English to women in the Asylee Women Enterprises (AWE) program has led me deep into a world in which there is no rule of law.  The women I work with have broken no laws.  They have taken action to use their gifts and talents to improve life for themselves and their families.  These actions often displease those in power, thus endangering their lives.  
The stories of women from Afghanistan, Pakistan, Democratic Republic of Congo, Cameroon, Sudan, Rwanda, Burundi, and Togo, with whom I have worked over the past three years, illuminate the peril that women bring upon themselves when they try to better their lives and their family's welfare.  Let me share just two stories. Names are omitted and places of origin are changed to protect the women.
A very intelligent Muslim woman in Burundi wanted a college education. After she finished high school, she enrolled in a business college.  She was doing well, but was conscious that a man in her class wanted her attention.  After a few encounters, when she realized that he wanted to possess her, she said an emphatic "No."  Some days later, he assaulted her, in the presence of others, and left her disfigured and permanently disabled.  He was untouched by the law.  She left Burundi and came to join members of her family in the U.S.  She is making excellent progress in English, and hopes to begin a new life here.
An enterprising woman from Togo was a trader.  She would buy products—clothes, jewelry, shoes, handbags, etc.—from contiguous countries and sell them in her roadside store.  Periodically, she flew to nearby countries to seek out good items with low prices, which she purchased for her store.  After doing this successfully for several years, her flights came to an abrupt halt.  Returning from her last buying trip, she was accosted by the police. 
They refused to believe her story, despite overwhelming evidence, and accused her of plotting against the government with foreigners.  They took her passport and commanded that she sign in at the police station once a week.  They harassed her.  When she received a death threat, she got out of the country immediately by creatively using her intelligence and skill. She emigrated and sought asylum, leaving her husband and children behind. She is working on English to begin again.
When I walk out of the front door of AWE after a morning tutoring one of these brave women seeking asylum here, I realize more deeply the power of grace under pressure.  I am in awe at the fortitude of these women asylees. I know its source, although perhaps the women themselves do not. I remember Mother Theresa's words:
"The future . . . is shrouded in dense and mysterious fog. . . .  Through it, only one star gleams for us—the infinitely wise and gracious providence of God."  
It is this providence that has brought me into contact with these persecuted women, in whom I see the Christ.  It is this providence that has led them to a place of safety, education, and loving service.