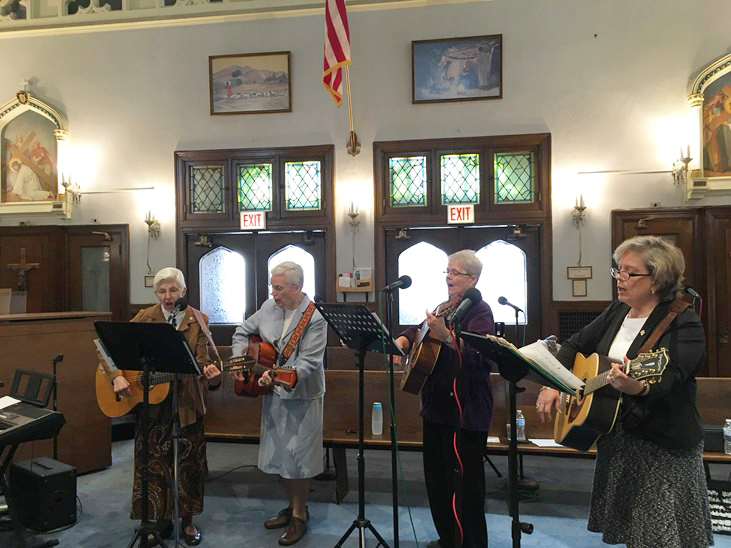 Recently, a mass and celebratory luncheon were held in Chicago in honor of the 185th anniversary of the School Sisters of Notre Dame (SSND). More than 170 alumni of SSND schools, Chicago-area, Sisters, and other supporters of SSND gathered at St. Margaret of Scotland, which has a rich SSND history, to share memories and show their support and gratitude for the difference School Sisters have made in their lives.
After a Mass of Thanksgiving in the church, the guests moved to the school cafeteria for a reception. Although a Donor Mass is held every year in the Chicago area, this year's celebration focused on the anniversary of the congregation. There was a video tribute to the SSNDs, as well as a special Power Point and presentations from four Sisters about their current missions in Chicago.
For the past twenty years, Sister Shirley Stockus, SSND has taught Third Grade at St. Edward Grammar School, a Blue Ribbon school, where she is also Assistant Principal and Chair of the Prayer Committee. She shared stories with donors about her students. Recently, Sister Shirley was honored as part of the "17th Annual Salute to American Heroes," presented by the Veterans Committee in Mayfair, on the northwest side of Chicago. The Salute honored men and women who have served in the armed services, first responders, and educational and civic leaders from the Mayfair community.
Sister Lucy Giacchetti, SSND talked about the food pantry at St. Barbara Church where she volunteers and the challenges of assisting so many needy people with food and other necessities.  Loyal volunteers and supportive donors are integral to the pantry's success.
Sister Dorothy Marie Young, SSND is the local leader for our Sisters living at Marian Village. She is responsible for making sure all of them are cared for properly in this assisted living facility. She also brings the Sisters together for events that help them grow their bonds as a community.
Sister Caritas Wehrman, SSND works in areas of ministry, spirituality and faith formation at St. Therese Chinese Mission, among many other volunteer activities. She shared about how Chinese culture and customs have been integrated into the church and her experience learning about interculturality from the parish members she assists.
One other presenter was Kathi Barth. Kathy is an Associate with the School Sisters of Notre Dame. Associates join with the SSSNDs in carrying out the mission of Jesus Christ in the spirit of Blessed Theresa of Jesus Gerhardinger, our foundress, to bring all into oneness with God and assist others to grow into the fullness of their potential. Kathy encouraged the audience to consider if they might be hearing a call to become an Associate and asked them to take information about doing so.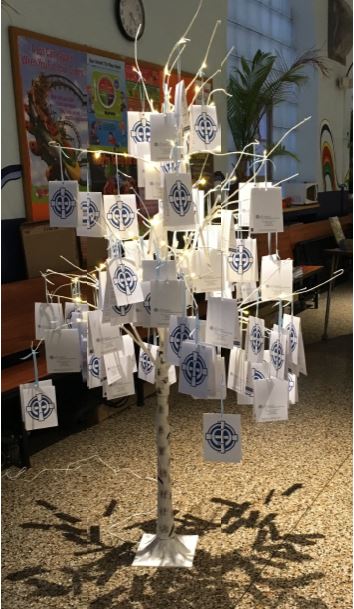 Attendees were invited to participate in our Giving Tree project, which gave them opportunities to donate items both small and large to our Chicago-area sponsored ministries, SisterHouse and Corazón a Corazón, as well as items needed by Sisters living at Marian Village and Resurrection Life Center. There was an enthusiastic response to this way of giving, which we were trying for the first time.
Thank you to all of the donors who gave their time, talent and financial support for this event and to our Sisters in Chicago.