The goal of Beyond Borders' Hurricane Matthew Family Sponsorship Program is to ensure that every family is able to live independently and with dignity. At the beginning of the program, each of the 230 families we began working with, including the Merolus and  Setout families, received income-generating assets: either livestock to raise and breed, or funds to launch (or relaunch in some cases) a small business. Both the Merolus and Setout families selected chickens and goats.  Both families developed a plan with the help of their caseworker to continue to grow their assets.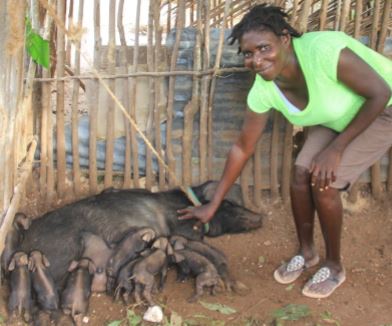 Here's what Westa Merolus wanted you to know about what your sponsorship means:
"With all the  support from the program, with all  that I now have, when the program  ends, I will be able to take care of my  family."
And here is what Magaret  Setout wanted you to know:
"I am  working with the resources to better  take care of my family. I plan to start a small business too."
SSND's sponsorship is teaching these families small business skills so that they can earn a living, provide for themselves, and keep their children in school and at home, where they belong.
The entire report is here