ACCOMPANY IN JOY AND HOPE - By Sister Delia Calis 
"I have called you by name; you are Mine." God continues to draw people to Godself and calls people to accompany men and women in joy, hope and discernment to know God's deepest desire for them.  
The National Association of Vocation and Formation Directors is an organization whose diverse members enthusiastically commit to creating and fostering a Vocation Culture in the Catholic Church in Canada. A vocation culture fully embraces the conviction that each Christian by virtue of Baptism is empowered to identify and respond to the mission to which he or she is called by God as a member of the Body of Christ, in and for the world. 
Every two years, the association gathers in a different location in Canada to share, reflect, be inspired, and look at how best to continue the ministry of accompaniment and discernment. This year the Conference took place April 22-25 in Hamilton, Ontario, just a 15 minute drive from Notre Dame Convent, Waterdown.  Women and men religious, diocesan priest and deacons, laity from secular Institutes, Serra members and young people as youth ambassadors came from every part of the country and beyond in order to listen, share, dream, enjoy, support one another and be open to our own growing more deeply in love with God.  Each of us were invited to deepen our relationship with Jesus, and to be faithful both to being missionary disciples of Jesus and to accompany people searching for God's desire for them, learning to be missionary disciples.  
I was delighted to participate, share in the rituals, talks, celebrations and inspiration.  To share in the magic and enthusiasm of all arriving. To view a short conference video, please click here. 
I enjoyed meeting "old" friends from years ago. Recognizing our passion for sharing Jesus' mission continues to burn brightly among the many white and grey heads.  
In our opening ritual, Father Tom Rosica from Salt and Light Network spoke with joy, passion and energy of Pope Francis' deep love and connection with the youth of the world. To view Fr. Tom Rosica's rousing presentation of "Youth Evangelization and the Synod on Youth and Discernment" please click here. 
Sister Nathalie Becquart, xmcj, spoke of her experience working with young adults across Europe in her role as the Vice President of the European Vocations Service, with vitality and enthusiasm stirred and re-inkindled commitment to walking with young people in discernment. To view more about Key Elements for Developing a Culture of Vocation, please click here.
We continued to be inspired as well as being personally called to deepen our loving relationship with Jesus as missionary disciples by Cardinal Gérald Lacroix, the Archbishop of Quebec. Cardinal Lacroix shared with clarity, inspiration and deep joy of Jesus calling each of us to be missionary disciples (Cardinal Lecroix spoke of missionary disciples rather than disciple and missionary for to be disciple is to be missionary)  proclaiming the good News of God's love and mercy by our being living witness in community. To view Cardinal LaCroix talks, Click here on either part 1 or part 2.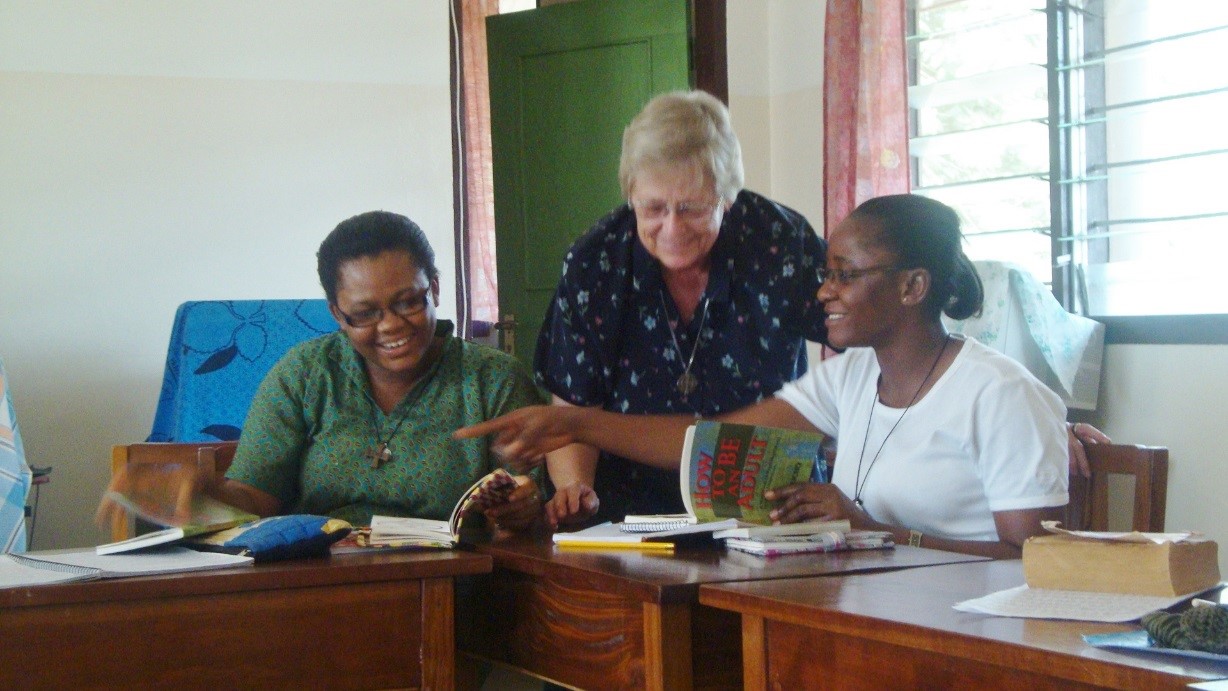 Sister Julie Lattner had been invited to give a workshop on enculturation a this National Conference.  However as we all know, she was called elsewhere, the General Council.  I was happy to share my  from my experience inter-culturally and cross culturally in Northern Alberta, in Africa, as well as my immigration to Canada from Holland as a child of nine. I presented in interactive workshop, called Intercultural community in relation to vocation and formation ministry.  I appreciated the gift of reflecting on my experiences, preparing for the workshop through reading, writing and listening to persons' stories. I presented inter-cultural community as visible expression and sign of the communion of all in God. To live interculturally is not just an empty dream or something nice to do.  Rather, the mission of the Church is to foster humanly, culturally the reconciliation of all in things in the universe to Christ (Col 1:20) For Religious Community, prophetic witness is the heart of religious life, so our mission is to be models, real visible expressions of intercultural and ecological) reconciliation. (Pope John Paul's address to the Bishops of Ghana in 1981.  Inculturation is a work of God. It is an activity of the living Body of Christ; it is a requirement of the Church Inculturation is a reflection of the Incarnation of the Word.  (to Kenyan bishops,1980). Together with a group of approximately thirty people from a variety of cultures, ethnic background, ages and experience we explored and shared attitudes and dispositions needed, the challenges, joys and growth experienced for all the members, both those entering and the welcoming community.  Please click here to read more.
I was happy to be both a participant and presenter at this National Conference.  It was a joy to be a SSND presence, in an international community striving to live interculturally.  May we continue to expand our understanding of interculturality and commit to develop skills for intercultural living in community and society (YAS, GD 36).  And in our working and living together, may we accompany one another and those walking with us in joy and hope.