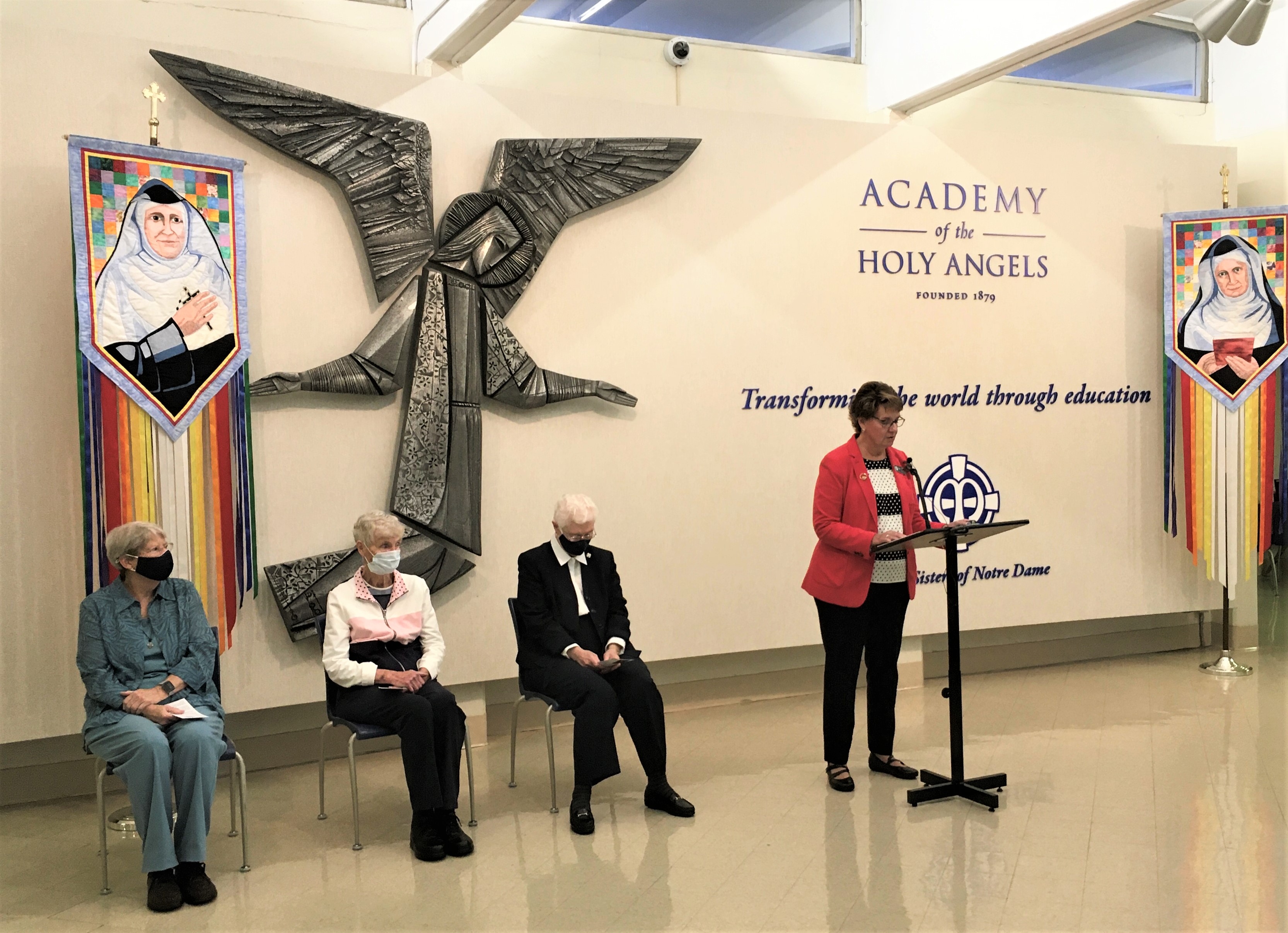 The Academy of the Holy Angels recently commemorated the 187th anniversary of the School Sisters of Notre Dame, AHA's foundresses and sponsors. The Academy hosted a morning prayer service that included the traditional renewal of vows by several SSNDs.
SSNDs who attended in person were S. Mary Foley, AHA's social worker who has ministered throughout the United States and in Africa; S. Mary Kelly, a long-time educator and elementary school principal; and S. Kathleen Dunham, who just retired from the AHA Religious Studies Department.
Many other SSNDs participated in the service via livestream. Those who logged in online included S. Carole Tabano, an AHA alumna who began her career in education in Puerto Rico and recently retired after 30 years of teaching Spanish at her alma mater. S. Henrice Eckert, long-time biology teacher and guidance counselor at AHA, also joined in via livestream.
AHA Director of Mission and Ministry Joan Connelly aptly noted that AHA, which is now celebrating its 141st year, would not exist without the School Sisters. Connelly also pointed out that the international SSND community gains support from associates. She then acknowledged AHA Campus Ministry Director/SSND Associate Kathleen Sylvester.
The School Sisters trace their beginnings to October 24, 1833. Blessed Mother Theresa (formerly Caroline) Gerhardinger and two other women are credited with establishing the organization in Neunburg vorm Wald, Bavaria. At that time, many convent schools were being closed due to political and religious sentiments that resulted from the French Revolution and the Enlightenment. Gerhardinger, who had attended a school that was closed, made it her mission to provide others with a proper education. When Gerhardinger died in 1879, there were more than 2,500 SSNDs educating girls in elementary schools, day nurseries, and orphanages. The SSNDs also provided homes and night schools for girls working in factories.
AHA President Melinda Hanlon pointed out that Blessed Theresa had dared everything when she founded the new congregation.
"Let's trust one another, rely on each other, believing our world can be healed and be a better place," Hanlon said. "Let us all seek the love, faith, and hope that Blessed Theresa knew, and together let us honor all the SSNDs who have served us at Holy Angels and wish them many blessings on this day."
AHA Principal Jean Miller observed that the SSND congregation was established when God's call found an answer. She added that thousands of women have followed in Blessed Theresa's footsteps, and encouraged others to celebrate the SSNDs faith, vision, and courage.