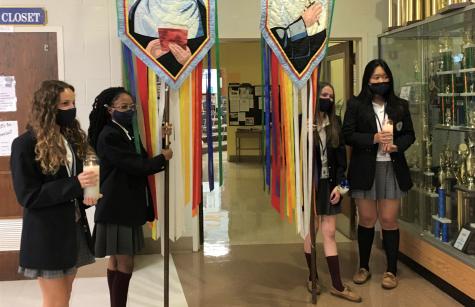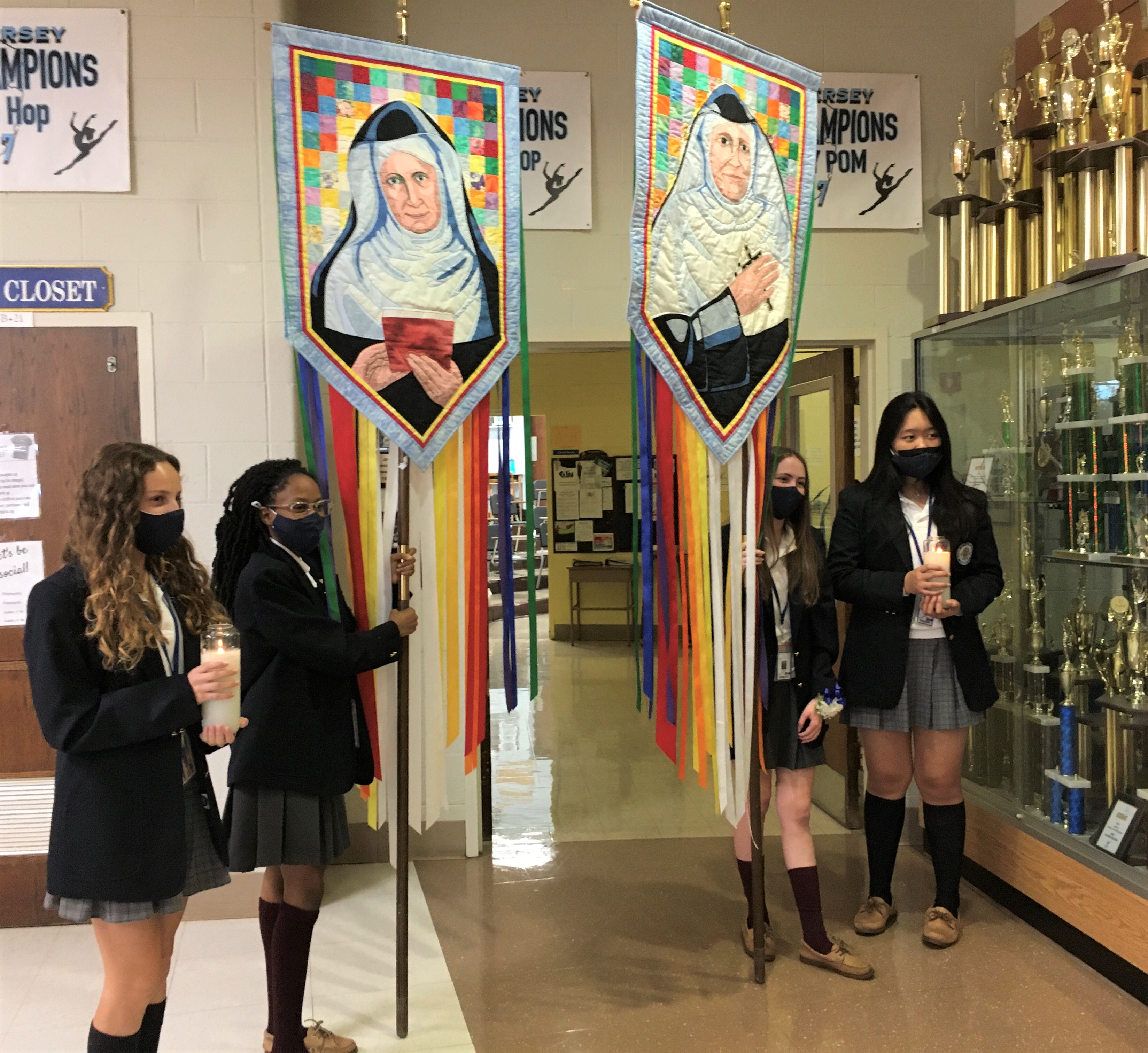 On October 22, the Holy Angels community joyfully recalled the 188th anniversary of the establishment of the School Sisters of Notre Dame, the Academy's foundresses and sponsors. The Foundation Day Prayer Service allowed the AHA community to look back to 1833, and resolve to move forward by living the SSND charism.
AHA President Melinda Hanlon pointed to the courage and faith of the SSNDs, and asked those present and those watching via livestream to especially remember the SSNDs who founded AHA and served the Academy over AHA's 142-year history. She noted that the AHA community should look to the future while honoring the Atlantic-Midwest Province's commitments to the dignity of life and the care of all creation. The province's five focus areas are dismantling racism, addressing climate change, seeking justice for immigrants, ending human trafficking, and promoting sustainable development in Haiti.
AHA Principal Jean Miller expressed thanks for the thousands of SSNDs who have followed Blessed Mother Theresa Gerhardinger.
The School Sisters trace their beginnings to October 24, 1833. Blessed Mother Theresa Gerhardinger and two other women are credited with establishing the congregation in Neunburg von Wald, Bavaria. At that time, many convent schools were being closed due to political and religious sentiments that resulted from the French Revolution and Enlightenment. Mother Theresa, who had attended a school that was closed, made it her mission to provide others with a proper education. When Mother Theresa died in 1879, there were more than 2,500 SSNDs educating girls in elementary schools, day nurseries, and orphanages. The SSNDs also provided homes and night schools for girls working in factories.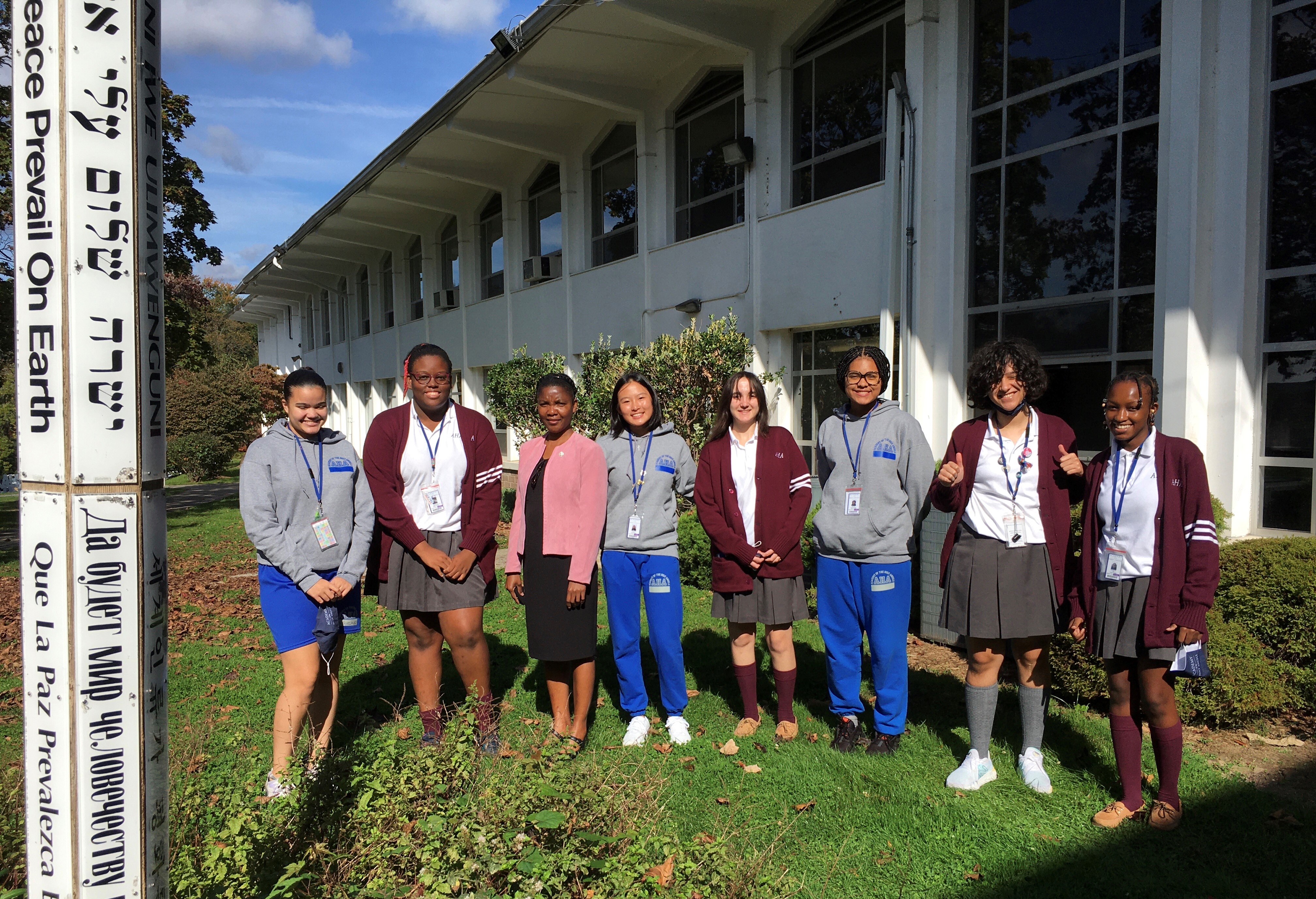 AHA Director of Mission & Ministry Joan Connelly briefly discussed Mother Theresa's work educating young women with a world vision. Connelly also commented on Mother Caroline Friess, the "American foundress," who took charge of the SSNDs in North America in 1850.
AHA Social Worker Sister Mary Foley, SSND, read from the SSND Constitution, "You Are Sent." The passage highlighted the SSND goal to serve internationally and sharpen the consciousness of universal needs.
The gospel message was Matthew 25:34-40, which underscores that whatever one does for others is being done for God.
Sister Limétèze Pierre-Gilles, SSND, delivered the keynote speech, as she did in 2016, a few months after she made her perpetual profession. Limétèze, who was born in Haiti, discussed her work in the island nation as an executive board member for Beyond Borders. She showed a video about Cericile, a Haitian woman who was struggling to feed her children, and contacted Beyond Borders for help. Cericile successfully completed a training program through which she learned to grow vegetables and received animals. Eventually, she purchased her own chickens. At the end of the video, Cericile dances for joy.
"Her happy dance is a sign of your love," S. Limétèze told the AHA community. "What we do for them, we do for God. It's a sign that we believe in God."
S. Limétèze also discussed the importance of water catchment systems, which sustain Haitian communities and allow children to attend school, rather than walk for hours in search of potable water.
A second video featured a woman who overcame child slavery with the help of Beyond Borders. This individual noted that some Haitian families send their children away from home, a decision that sometimes leads to exploitation.
"You have embraced many issues," S. Limétèze told the students. She said she reads about the students' good work in the AMSSND newsletter. "I've seen you in action. You are truly citizens of the world."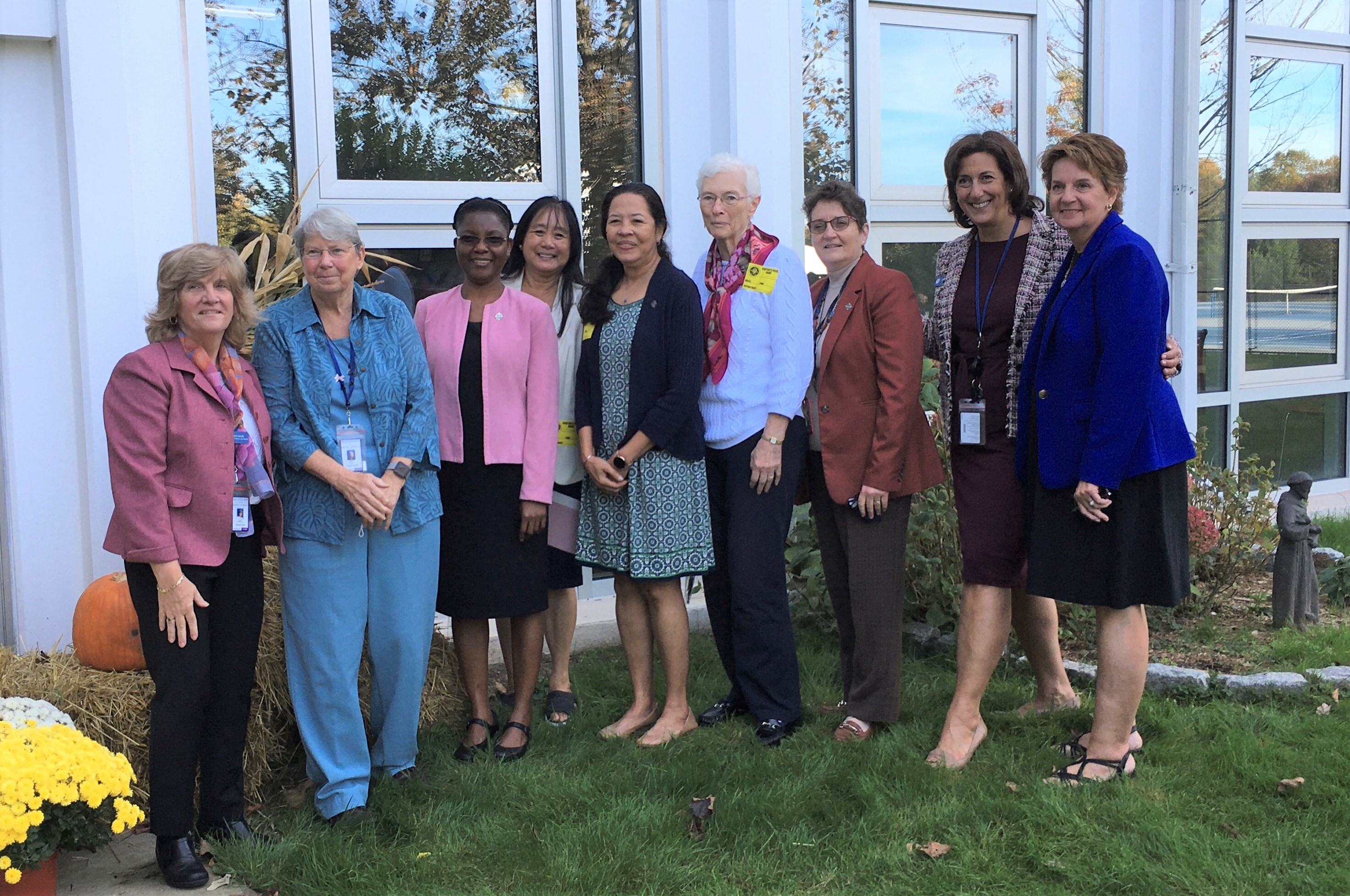 As the celebration drew to a close, five School Sisters renewed their vows and sang their blessing for the school community. Those present included S. Kathleen Dunham, an educator and administrator who retired from the AHA Religious Studies Department in 2020; S. Mary Foley, SSND, LSW, who began her teaching career in West Africa; S. Limétèze; S. Josefina Morales, a psychotherapist; and S. Rebecca Tayag, who has been involved in educational theater and vocation work. S. Carole Tabano and S. Henrice Eckert participated via livestream. Each SSND received a yellow rose as a sign of love and friendship.
After the service, S. Limétèze met with the Solidarity for Haiti Club and moderator Kathleen Sylvester, who is an SSND associate and director of campus ministry. Club members include Amelia Blanco, Stephanie Chan, Sophia Chounoune, Elena DeBari, Angelina Ferolie, Natalia Gonzalez, Jennifer Haemmerle, Thandiwe Laba, Zuleima Noriega, and Janella Osbourne. Osbourne approached Sylvester about forming this group. Together, the students discussed the club's first fundraiser for Beyond Borders, "Hats for Haiti." Students, faculty, and staff are invited to make a donation that entitles each person to wear a hat for the day.
 
Limétèze pointed out that God does not ask how many people you help. "Do what you can with care and love," she advised.