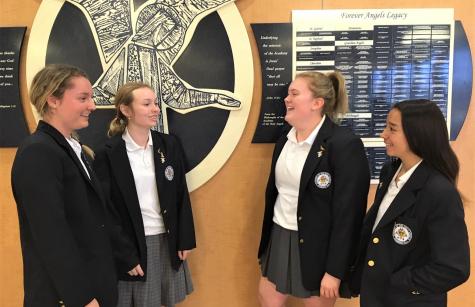 Sophia Melone, Caitlin Brannigan, Sarah McGowan, and Jacklyn Kelly are well known throughout the Academy of the Holy Angels for their exemplary kindness. On April 4th, all four Angels received the Sister Catherine Green Kindness Award in recognition of their ability to light up a room, share compassion, and ensure that everyone is included.
Melone, a freshman from Tenafly, was honored for being caring, empathetic, supportive, and inclusive. 
"She always makes it her mission to put a smile on someone's face. If someone is being left out, she focuses on making that person a part of the conversation," one friend said of Melone.
Brannigan was recognized for putting others' needs before her own, and always working to lift people's spirits. Friends say this sophomore from Hillsdale inspires them to be optimistic.
"She is there for me when I need help with difficult concepts in class," one person said of Brannigan. Another friend wrote, "Whenever I am upset or stressed, she reassures me with positivity and reminds me to keep going, even when I am frustrated."
McGowan, a junior from Rutherford, is known for illuminating the room with her positive energy. This member of the junior class has a contagious smile and manages to get along with everyone.
One friend described McGowan as "the most loving and generous person I have ever met. She is a shoulder to cry on, a hug when you need one, and a laugh when you're feeling down."
Kelly's friends nominated her for being a genuine person with an incredibly kind heart and a dedicated friend who puts others first. This senior from Norwood is described as someone whose beauty "truly comes from the inside and shines out to all. She is not afraid to march to the beat of her own drum and fights for what she believes in. She goes out of her way to celebrate all of her friends."
Kindness Awards are presented to Holy Angels students whose actions and attitudes inspire others. AHA Dean of Students Andréa Beyer accepts nominations from members of the school community, and the honorees are chosen by the administration.