The Students Against Destructive Decisions group from the Academy of the Holy Angels hosted Ghost Day on March 29. Several SADD members dressed in black and remained silent for the day to honor those lost to destructive decisions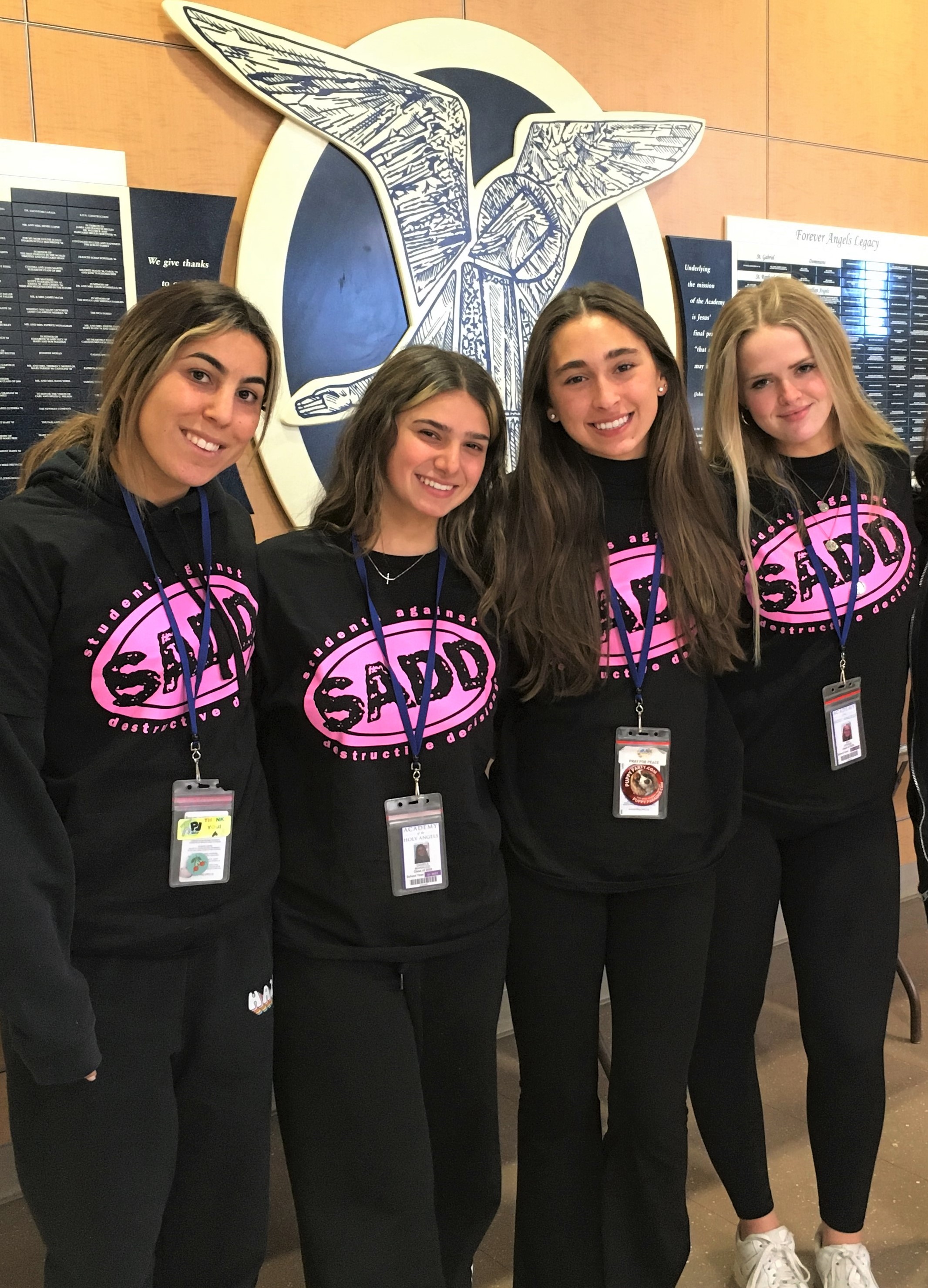 .
AHA's SADD President Jolie Lo Grasso welcomed everyone to the school-wide assembly and shared a chilling video reminded everyone that, every 52 minutes, someone dies on the road due to an alcohol- or drug-related crash. DWI is currently the #1 cause of death on the road. (Source: sadd.org.) The presentation concluded with a depiction of a family mourning a young woman who died in a car accident after her companion drove under the influence.
Lo Grasso then introduced Kate, a speaker from New Jersey Recovery Advocates. Kate grew up with a sense of entitlement in an affluent Bergen County suburb, earned good grades, and exceled in sports. When she was 13, she decided to emulate her older siblings by taking her first drink of alcohol. Her decision led to a cascade of destructive choices that continued for the next 17 years.
"Alcohol was my first love," Kate said. She said she saw alcohol as part of celebrations where people looked happy and carefree. That life seemed appealing as she found herself feeling shy and anxious.
Her initial experience left Kate drunk, dizzy, and nauseated. The next day, she anticipated a strong reaction from her parents, but they said nothing. Her family did not talk about emotions, and did not say, "I love you," until Kate was 30. In fact, she didn't discover that addiction was an issue for other family members until she was already in recovery.
As a teen, Kate led a double life, where she drank on the weekends. At one point, she was caught smoking marijuana at a sleep-away basketball camp. Her coach knew, but said nothing. Eventually Kate quit as captain of the basketball team and stopped singing with the chorus.
While she was still in high school, she and her friends were involved in an alcohol-related crash that left one friend unable to walk. Kate also got involved with an abusive boyfriend.
When she received a basketball scholarship to a college several states away, Kate hoped for a fresh start. That was not to be. Kate continued drinking, started failing classes, and lost her scholarship. Kate suffered the death of her best friend in a DWI accident, an assault on her person, and witnessed another assault. Her parents brought her home after she attempted suicide. Kate went to work, and later finished college. It took her seven years.
"Be honest. Tell someone," Kate said, urging everyone to advocate for themselves and others who are in need of help. She admitted she was not honest about what her life was really like. She mentioned taking five to six substances a day, drinking and taking drugs. Kate lost jobs, lied, and became unemployable. She derailed her personal relationships. By Christmas of 2012, she was living out of her car. On Christmas Eve, Kate robbed her parents' home so she could fund her habit. Her family knew, but it was her four-year-old nephew who confronted her. "I wanted to stop, but I couldn't," she shared.
As she spoke at AHA, Kate said she was pleased address the school community during Lent, because she considers sharing her message a form of almsgiving. She added that her sober date was Ash Wednesday 2013. "I got my ashes in detox," she said. She also got an Alcoholics Anonymous sponsor and invited God back into her life. She is now married to a loving spouse, owns a home, and has a child.
Kate mentioned that resources for recovery are readily available and are offered anonymously. She added that overdoses now occur more often than car accidents, and urged people to ask for help. One student picked up on Kate's message about drinking and using drugs to alleviate stress. This Angel asked Kate for a positive way to relieve stress. "Talk about it," Kate responded. "Be honest and open." She noted that it's fine to talk with someone you know, or someone you don't know who can often be more objective.
AHA social studies teacher Megan Delasandro (AHA '03) has been the Academy's SADD moderator since 2011.