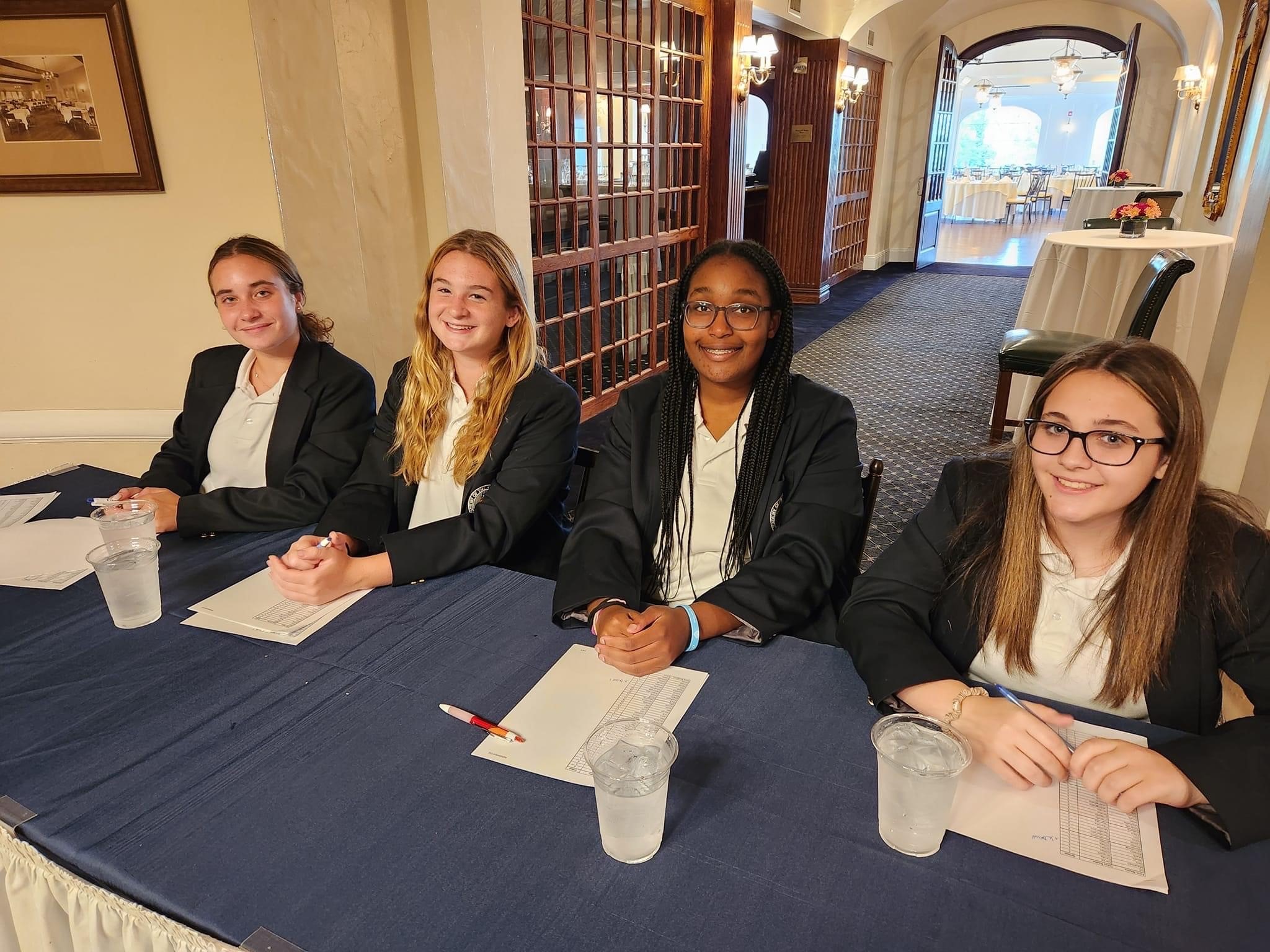 The AHA Parents' Athletic Association hosted this activity-packed day that concluded with AHA Athletic Hall of Fame inductions for softball/basketball star Dawn Pikarsky Gillies (AHA '92) and lacrosse standout Melanie Welch (AHA '17).
Event Chair Maura Corcoran (AHA '86) reported that the event was hugely successful, thanks to generous sponsors and parents whose daughters are involved in the Academy's athletic programs. Proceeds will benefit AHA's athletic programs and facilities. Sponsors included (but were not limited to) ConnectOne Bank, Lexington Independents, Integrated Pain Management, Oberg & Linquist, the Philip McGovern Family in honor of Madeline McGovern, MD, (AHA '13), and many tee box and pinhole flag sponsors. Joe Heidt VW and Audi of Englewood provided cars for the hole-in-one contests.
Ms. Corcoran received assistance from Golf Committee Chair Danielle Orlofsky (AHA '91), Tennis Committee Chair Joanne Darmanin, Sponsorship Committee Chair Boniface Kiamue, PAA President Kerry Ann Flahive, and many other PAA volunteers. The honorary event chair was Patti McGovern Hill (AHA '78). The PAA expressed its thanks to AHA Athletic Director Patti Gorsuch, Dean of Students Andréa Beyer, Interim Dean of Students Jessica Hogan, Advancement/Alumnae Relations Director Patricia Brussel, and Assistant Advancement Director Barbara Burklund.
AHA President Melinda Hanlon introduced the newest members of the AHA Hall of Fame.
Dawn Pikarsky Gillies fell in love with AHA while she was growing up in Maywood. As a student, she served as a campus minister, Student Council representative, junior class president, senior class secretary, and a Student Athletic Association officer. Gillies could often be found on the basketball court or the softball field. As a ninth grader, she played for Coach Craig Weis's JV basketball and softball teams. During her sophomore year, Gillies played varsity basketball for Coach Sue Liddy and varsity softball for Coach Patrick Dunne, and earned Honorable Mention All-League as a shortstop. The next year, Gillies played varsity softball and basketball for Coach Liddy. That year, the basketball team became BPSL All-League Champs, and Gillies earned All-League honors in softball.
Coach Liddy wrote in her yearbook, "To measure success, improve on last year." Taking those words to heart, Gillies spent the summer playing for the New Jersey Chips softball team to sharpen her skills. Her effort resulted in All-League, All-County, and All-State honors for Gillies' work as AHA's shortstop.
As a student at The College of New Jersey, Gillies played intramural sports and volunteered in Trenton's schools. She graduated with a B.S. in elementary education and sociology, and began her teaching career in South Brunswick. She later taught in River Vale, and is currently a K-2 reading support teacher in Woodcliff Lake. Gillies and her husband Mark have three children.
"I am thankful to the AHA Administration and Parents' Athletic Association for this distinguished honor of being inducted into the AHA Athletic Hall of Fame. The lessons I learned as a student athlete at AHA have guided me through life and helped to form me into the individual I am today," Gillies said.
Melanie Welch grew up in Pearl River, New York. She played varsity lacrosse and varsity soccer for AHA. She led the lacrosse team to two league titles, and earned First-Team All-Bergen County and First Team All-League honors. As an AHA lacrosse player, she accumulated 198 goals and 56 assists. She played defensive middy for the soccer team, earning Big North Conference Second Team All-Division as a junior, and Big North Conference First Team All-Division as a senior. Welch also played travel soccer and lacrosse. During her senior year, Welch was captain of AHA's lacrosse and soccer teams. She earned Most Valuable Player in both sports, and was named 2017 Athlete of the Year.
Welch is now captain of Boston College's lacrosse team. After she receives her master's in finance, she will complete her study in organization behavior and leadership. She has participated in four National Championship title games, four Final Four tournaments, three ACC Championship games, and won the 2021 Division 1 Women's Lacrosse National Championship. She was named to the 2022 NCAA All-Tournament Team and 2022 ACC All-Academic Team. In 2021, she received Boston College's Welles Crowther Award, named for a BC Men's Lacrosse Team player who gave up his life to save 18 others on September 11, 2001. Welch played the Wells Crowther game wearing his number 19.
At the induction, Welch recalled a story from her last year at AHA, when Coach Bill Potkulski predicted that Welch would walk on to the BC team (which had just played in the D1 National Championship game) and that she would be starting as a junior. At the time, his words left her incredulous.
"Sure enough, he was almost correct in his prediction," Welch said. "I was able to walk on to the team, I played in a couple games as a freshman, and after getting injured my sophomore and junior year, became a starting defender as a senior. To me, this story represents so much about the community and support you receive at Holy Angels…Without the strong academics at Holy Angels, I never would have been able to get into Boston College and have the opportunity to walk on to such an amazing program. I am forever grateful for Holy Angels for all the support and love they have showed me, and I am so honored to join a group of amazing women and leaders in the athletic hall of fame."