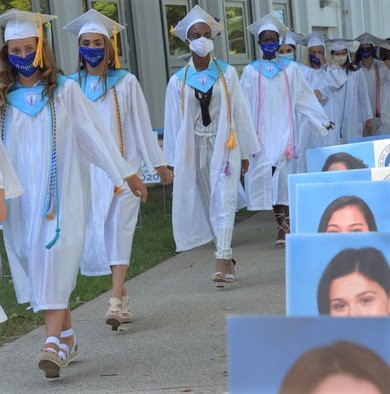 On the sultry, sunny morning of July 28, the Academy of the Holy Angels hosted an in-person graduation for the 124 members of the Class of 2020. The Academy's 140th graduation exercises, held on the Demarest campus, were the realization of many months of cautious planning set in motion by the COVID-19 pandemic. Those in attendance were reminded to wear their masks and adhere to prescribed social distancing measures.  
AHA President Melinda Hanlon welcomed the graduates and their families, noting the strength and character of this class. She congratulated the Angels for having faith in themselves and one another. President Hanlon thanked the members of the AHA community for their support, including parents, administration, faculty, and staff.
Principal Jean Miller then introduced Sophia Luongo. This Upper Saddle River resident was named Senior Commencement Speaker, the highest honor AHA can confer upon a graduate. Luongo, who graduated First in Merit, was a Sister Nonna Dunphy Scholarship finalist, and distinguished herself in her studies of chemistry and Italian. She is a past-president of the Italian Honor Society and a member of the National Honor Society, the Science National Honor Society, and Math Honor Society. She earned The George Washington University's School of Engineering and Applied Science medal, and attended the Georgetown University Forensic Science Institute. She participated in AHA's study abroad program at Oxford. Luongo was co-president of the Forensic Science Club; JOY, a club that organizes concerts at assisted living facilities; and Project Greenhouse, a group that grows and donates produce to a local food bank. She was active with PowerBack, Operation Smile, Lean In, the school newspaper, and the Society for Animals, Veganism, and Ethical Decisions.
She will attend Boston College.
"We had no idea that Friday, March 13, would be our last day together," Luongo said, referring to the day New Jersey closed school campuses to curtail the pandemic. "I'm incredibly grateful for how we've stayed connected and optimistic despite the hardships we have faced in the past several months." Luongo said she missed walking the halls of AHA, and having the chance to say goodbye. She looks forward to the future with confidence, adding, "The Class of 2020 is filled with extremely thoughtful, hardworking, humble, loving, and courageous women."
Katherine Gazzini of Ridgewood graduated Second in Merit. Gazzini is a member of the National Spanish Honor Society, the National Math Honor Society, and the National Honor Society. She is a political columnist and an award-winning member of AHA's Model United Nations organization. She will continue her studies at Dartmouth.
AHA English teacher Stephanie Gibney Dowling (AHA '08) was the alumna speaker. Dowling is a graduate of Loyola University. She holds a master's degree and is now pursuing further studies.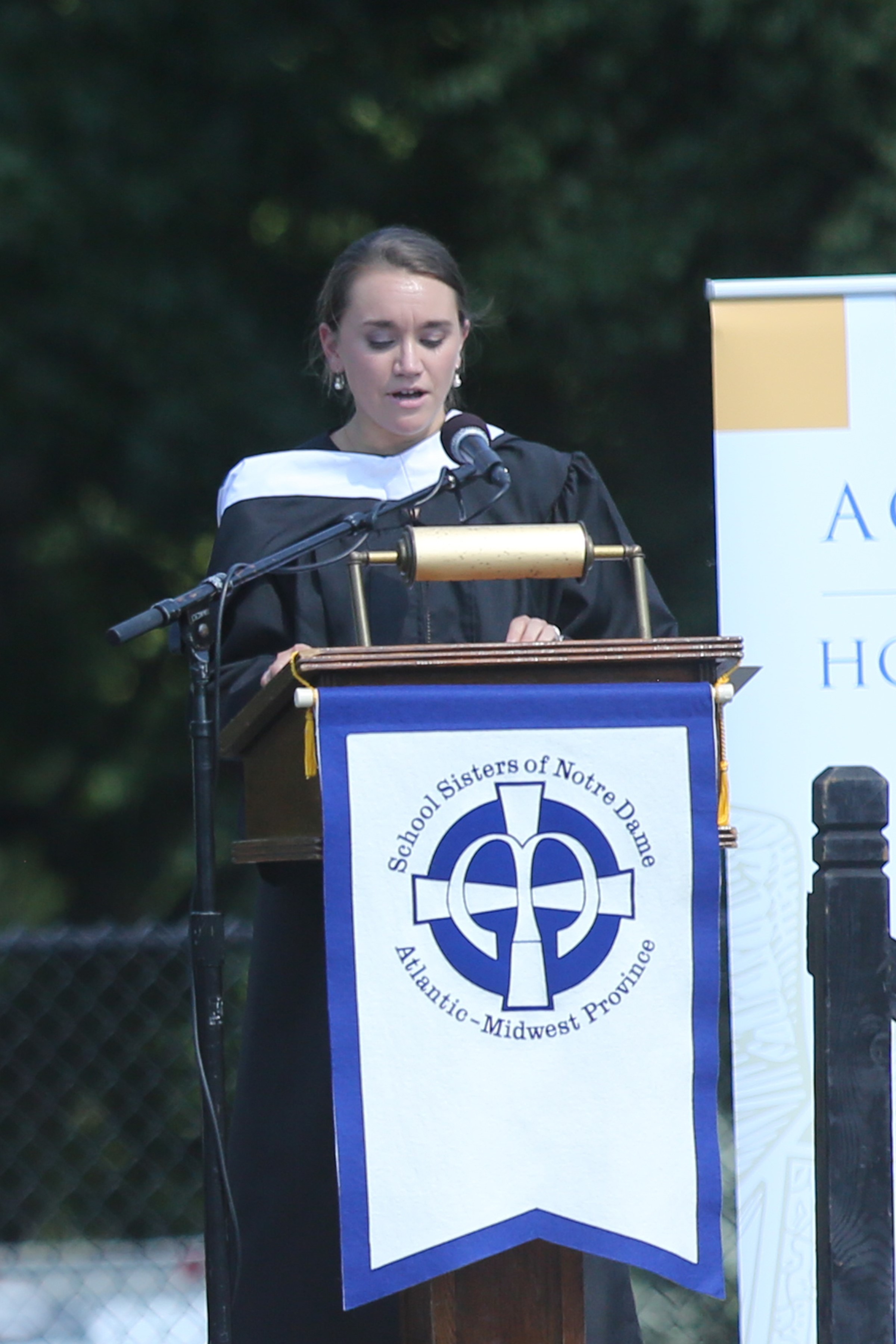 In her address, Dowling noted the graduates' endurance, saying, "You are strong…and eager to take on what comes next." She compared the moment to standing before a blank canvas, and reminded the Angels to focus on their values as they make decisions for themselves.
"Surround yourself with people who bring out the best in you," Dowling advised. "Embrace constructive criticism." She reminded the graduates to advocate, talk, pray, and volunteer. "Do something each day," she counseled. "The world needs Angels."
AHA Dean of Students Francesca Tambone-Puzio introduced Annabel Hazrati of Little Ferry, who was chosen by her peers to deliver the Senior Response. Hazrati is a member of the National Honor Society, the Tri-M National Honor Society, and the National Social Studies Honor Society. She earned the Religious Studies Award for Community Service, and AHA's awards for journalism and for her work with the AHA Handbell Choir. In 2018, an excerpt from her original poem, "Pink Is the Strongest Color," was featured as part of the United Nations Day of the Girl celebration. Hazrati has been active with the AHA Diversity Council and International Week programs. She will attend The George Washington University.
"As a grade, we may have missed out on days that we all looked forward to for a very long time, and there isn't much that will compensate for that, but as a grade, we are not short on ordinary days. We are not short on moments that made us laugh, memories that we'll keep with us forever, and most importantly, friends (who) became sisters, because after all, it's hard to even have a conventionally ordinary day when you're surrounded with such an extraordinary group of people," Hazrati said.
Principal Miller presented the Class of 2020 to President Hanlon, who congratulated each graduate as she accepted her diploma from the table. As the Angels turned the tassels on their caps, they concluded a class milestone highlighted by 20,702 service hours and over $23.2 million in scholarships.