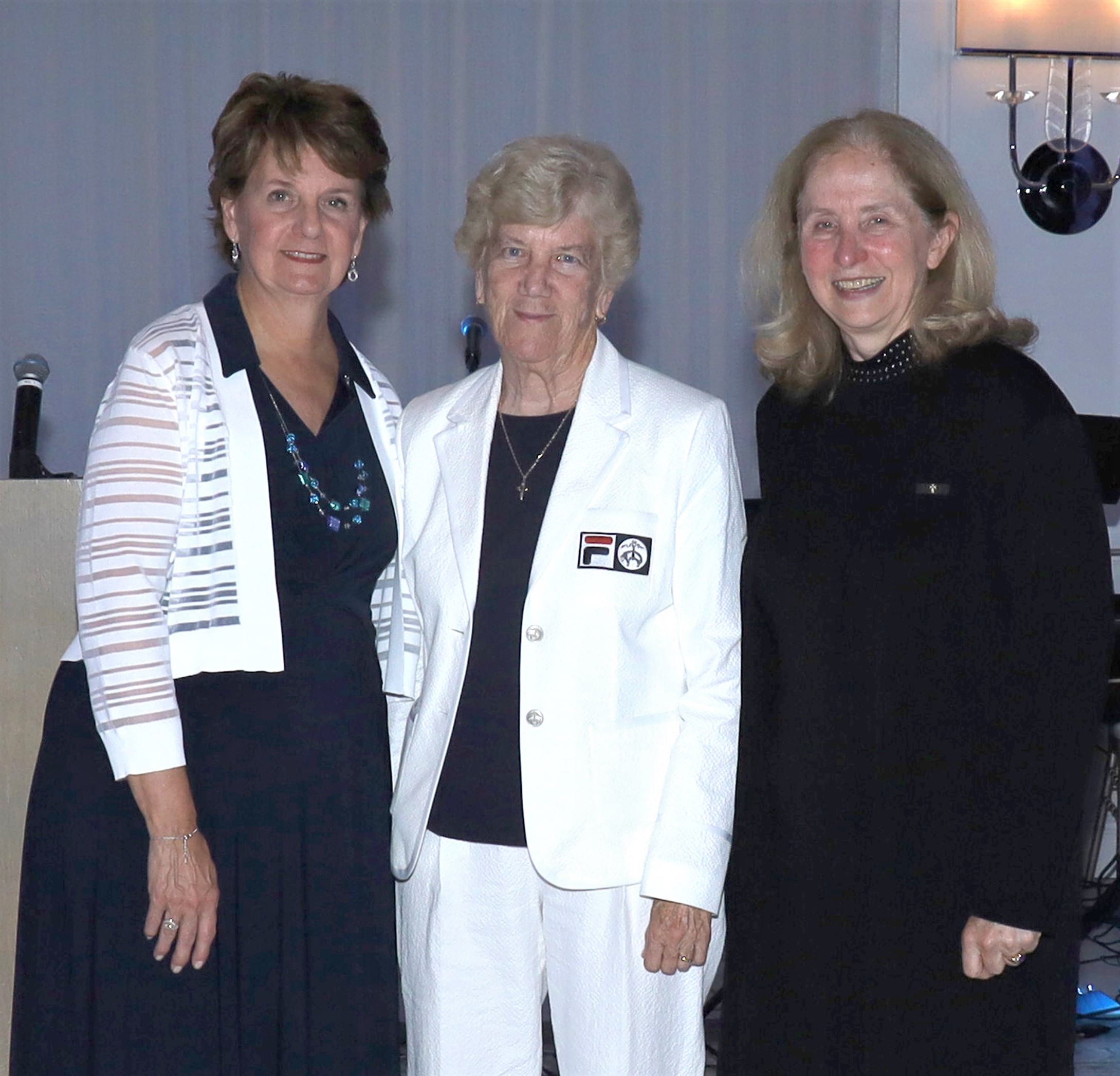 The extended Academy of the Holy Angels community assembled to enjoy Angelic Evening 2022, a festive night of dinner, dancing, and accolades for two women who exemplify enduring commitment to AHA. Sister Sharon Slear, SSND, received the Legacy Award, and Diane Oakley (AHA '71) received the Distinguished Alumna Award at the gala held at River Vale's Edgewood Country Club.
Proceeds from Angelic Evening are earmarked for the imminent renovations to the Academy's auditorium and music wing, which are original to the 1965 school building. Updates, which are slated to begin this summer, will benefit the entire Holy Angels community. This section of the school is the focal point for gatherings, including Open House events, liturgies, assemblies, concerts, plays, honor society inductions, and many other programs.
AHA President Melinda Hanlon presented Sister Sharon with the Legacy Award, which was given in honor of S. Sharon's contributions that reflect the charism of the School Sisters of Notre Dame and make a lasting impact on AHA and the people it serves.
"Sister Sharon Slear is an innovative educator," AHA President Melinda Hanlon observed. "Her extraordinary vision and leadership have contributed so much to the growth of the Academy. We are all grateful for her many years of service to the AHA Board of Trustees and I am personally very thankful for her support and friendship."
As she accepted the award, S. Sharon said, "Thank you for this exceptional award and for being here this evening to celebrate. I have felt honored to serve as chair of the Holy Angels Board each of these last 10 years. It has been a pleasure to work with such talented and committed board members and with the entire Holy Angels community – faculty, students, staff -- as you pursued the goal of academic excellence in so many ways – through two highly successful evaluations, development and implementation of two strategic plans, development of the library resource center, the addition of the middle school, the auditorium, and the new turf field. It has been a special pleasure to see Holy Angels continue its strong traditions of excellence in educating young women to be leaders. Your graduates are impressive.   
"Holy Angels truly lives the SSND mission of academic and personal excellence and commitment to the development of each student to her fullest potential. Faculty and administrators value this mission and are fully committed to living it each day. Thank you again for this award. I am deeply grateful and will cherish it along with so many happy memories of working with this Holy Angels community."
S. Sharon met the School Sisters while she was growing up in Baltimore and attending Notre Dame Prep.
She is currently provost/vice president for academic affairs at Notre Dame of Maryland University. She holds a bachelor's degree in chemistry/pre-med from Notre Dame of Maryland University and completed her master's in chemistry at Villanova. In 1988, she received her Ph.D. in educational administration with highest distinction from Boston College. 
S. Sharon was initially interested in becoming a surgeon, but changed her career trajectory after she accepted an opportunity to teach and realized how much she enjoyed educating others. Since then, S. Sharon has been a teacher and administrator in Maryland and Florida. She has also led presentations for audiences in Russia, Spain, Pennsylvania, Chicago, and California. She is a recognized authority on educational leadership, and shares her expertise with teachers at the Matenwa School on Haiti's Lagonav Island. She has traveled to Haiti twice to assist with teacher training that includes general principles and strategies. A Creole translator has been working with the SSNDs and the local teachers. When the pandemic, natural disasters, and political unrest curtailed in-person visits to Haiti, S. Sharon and her team maintained the connection by producing instructional videos.
As member of the Notre Dame of Maryland faculty, S. Sharon developed multiple graduate programs in education, and spearheaded the creation of the university's first doctoral program. She has also overseen the development of additional doctoral programs. She led the NDM Education Department as it became the state's first private higher education institution to earn national accreditation for its graduate and undergraduate programs. When the department became the School of Education in 2011, S. Sharon was appointed founding dean.
She chaired the AHA Board of Trustees for nearly a decade, and served on the boards of the Institute of Notre Dame, College of Notre Dame of Maryland, and the Baltimore Archdiocesan Catholic School Board. She was named to the list of Maryland's Top 100 Women three times, and is a member of the Maryland Circle of Excellence. She received the NCEA Sister Catherine McNamee Award for outstanding leadership in promoting a vision of Catholic education that serves students with diverse needs. She also earned the President's Medal from Notre Dame of Maryland University, and was appointed to the Governor's P-20 Leadership Council in Maryland.
An avid golfer and tennis player, S. Sharon established a tennis team in Hollywood, Florida, and had the opportunity to spend time on the court with Chris Evert. S. Sharon is a four-time Coach of the Year for the Atlantic Women's Colleges Conference.
President Hanlon also presented Oakley with the award that recognizes her extraordinary loyalty, commitment, dedication, and service to the advancement of AHA.
"At Holy Angels, we often say that 'Women leaders begin here,'" Hanlon observed. "Diane Oakley's career and accomplishments, along with her lifelong commitment to serving the interests of others, certainly exemplify this ideal. Her fidelity and loyal support of Holy Angels have truly made a difference for our students and we are delighted to honor her at Angelic Evening."
After accepting her award, Oakley noted, "Holy Angels has far-reaching goals for its students. Looking back 50 years after graduating, I can see that the spiritual, physical, and intellectual foundations that I received Holy Angels impacted my so much of my life and career. AHA's well-rounded education enabled me to journey in new paths, starting the women's basketball team at Fairfield, being a leading voice and advocate about the need to improve future retirement security, especially for women, and now as a recent retiree serving the poor and the sick through prison ministry and other programs in the Order of Malta.
"At each step on my life pilgrimage, the lesson from the SSND nuns, teachers, the dog-eared book and experiences help me continue to grow. Truly sending me to AHA was the best gift I received from my parents."
Oakley is a generous, long-time AHA benefactor who has supported many Academy initiatives. She distinguished herself as a scholar athlete who played basketball throughout her four years at AHA. She entered Fairfield University in 1971 as a member of the school's second co-ed class. The university was not prepared to accommodate women athletes. Oakley and her female peers found themselves playing basketball in a convent gym with a ceiling that was too low for players to execute jump shots.
Oakley met with Fairfield's athletic director about the need to establish an official women's basketball team, and she and her teammates became the charter members of the Lady Stags. The squad was inducted into the Fairfield Hall of Fame for becoming the school's only undefeated team. In addition, Oakley was inducted into the Metropolitan Area Athletic Conference Hall of Fame. She received Fairfield's inaugural Stags Distinguished Service Award in recognition of her unwavering support for the university's athletic program.
This pioneer believes her experience at AHA led to her success in Fairfield's predominantly male environment. AHA fostered Oakley's love of learning and no one told her women shouldn't pursue STEM studies. She graduated from Fairfield cum laude with a bachelor's degree in math, and later received an MBA in finance from Fordham.
Initially, Oakley studied to become an actuary, but opted to move into marketing. She invested 28 years at TIAA-CREF, a financial services provider. Over time, she held management, public policy, and technical positions, including vice president for special consulting services and vice president for associations and government relations.
Oakley is known for her service as senior policy adviser to North Dakota Congressman Earl Pomeroy. Her work on Capitol Hill included finding solutions to retirement security issues. She later joined the National Institute on Retirement Security, a think tank that focuses on women's issues. Oakley recently retired as the institute's executive director.
She is a member of the National Academy of Social Insurance, and served on the AHA Board of Trustees from 2007-2010. Her volunteer activities include assisting single mothers, nursing home residents, and individuals who are reentering society after serving prison terms. She plays competitive tennis with the USTA, and recently spent 20 days walking sections of El Camino de Santiago.
Related: Sister Sharon Slear Retires from Illustrious Career at NDMU