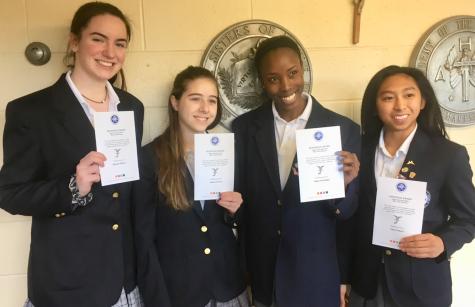 Positivity permeates the culture at the Academy of the Holy Angels, where four of the Academy's kindest students have received the Sister Catherine Green Kindness Award. The most recent recipients are freshman Maureen Murray of Norwood, sophomore Joanna Scorese of Mahwah, junior Sahar Ali-Jenkins of Teaneck, and senior Elena Pulanco of Englewood.
This award is presented quarterly to one student at each grade level. Recipients must demonstrate an inspirational spirit of kindness. AHA students, faculty, or staff members are invited to submit the names of their nominees to AHA Dean of Students Andréa Beyer.
Murray's classmates describe her as a sweet and happy person who greets others with a smile and a hug.
"I look forward to going to school to see her because even when I'm having a bad day, she knows how to cheer me up," one individual said of this honoree.
Known for putting others before herself, Scorese is said to spread positivity wherever she goes. This honoree is always ready to lend a sympathetic ear and share a hug, and "gives the best pep talks in the world."
Ali-Jenkins is described as constantly helpful and kind, and funny and encouraging. Another person wrote, "She always says hi to me in the hallways and loves making people laugh. She will always ask what is bothering me when she sees I am sad or worried, and gives me advice."
Those who nominated Pulanco find this honoree genuine, kind, respectful, and helpful to those in need.
"No one can make me laugh as hard or motivate me as much as this person," one of her classmates wrote.
Another of Pulanco's peers said, "She is always positive and genuinely wants to know how your day is going when she asks you."
Cheers resounded through the auditorium as the name of each honoree was announced.
Founded by the School Sisters of Notre Dame in 1879, the Academy of the Holy Angels is the oldest private girls' school in New Jersey. While AHA is steeped in Catholic tradition, this prestigious high school serves young women from a broad spectrum of cultural and religious backgrounds. Over time, thousands of women have passed through AHA's portals. Many go on to study at some of the nation's best universities, earning high-ranking positions in medicine, government, law, education, public service, business, arts, and athletics. The Academy's current leaders continue to further the SSND mission to provide each student with the tools she needs to reach the fullness of her potential—spiritually, intellectually, socially, and physically, by offering a first-rate education in a nurturing environment where equal importance is placed on academic excellence, character development, moral integrity, and service to others.

- Jennifer Crusco, the Communications Assistant, The Academy of the Holy Angels