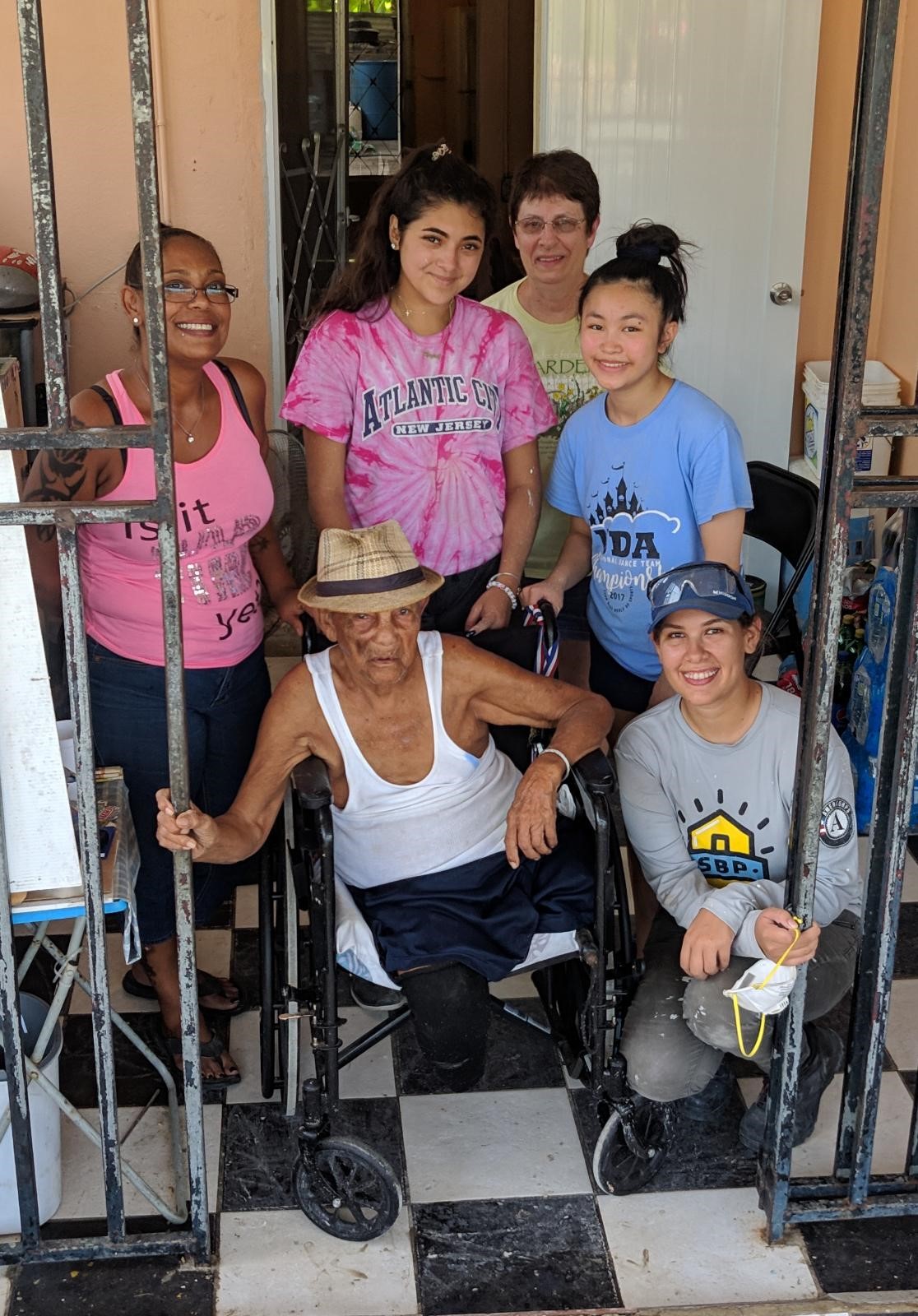 The distance between New Jersey and Puerto Rico closed a bit this summer, as students and staff from the Academy of the Holy Angels contributed to the island's hurricane recovery effort. Working with the Saint Bernard Project (now rebranded as SBP), these steadfast volunteers traveled to the island and helped renovate three homes that were damaged by Hurricane Maria in September of 2017.
AHA's volunteers included Allison Bart, Kristen Chung, Molly Brooks, Alana Pomponio, Jeziah Rodriguez, AHA Director of Campus Ministry Kathleen Sylvester, and AHA Social Studies Department Chair Gail Fair.
"I traveled to Puerto Rico in the summer of 2018 with (AHA Spanish teacher) Carmen Quiñones and 10 AHA students," Fair said. "I was overwhelmed with the needs of the towns outside of the tourist areas of San Juan. I was determined to return this year to see what further help we could provide and hoped to see significant improvement."
Fair and her student team worked on the home of Purifico, a 98-year-old double amputee. The hurricane left the homeowner with a foot of mud inside his house. He spent three months with no water and nine months without electricity. Another volunteer group recently installed a new roof for this man, and AHA's volunteers took the renovations to the next level. "We worked to move furniture, scrape ceilings and walls, and paint. The goal was to complete this gentleman's bedroom. We completed that task and an additional bedroom by the end of our week," Fair explained.   
Sylvester and Fair both noted the contrast between San Juan and the countryside. Sylvester said the island's wealthier areas, including San Juan, received help first after the hurricane. She added that people in less wealthy areas have had to wait much longer for aid, and rely on non-profits like SBP. "Because we spent our first night in San Juan, the difference in lifestyles is very apparent," Fair observed. "The countryside has much poverty and so many homes either inhabited but in need of significant repair, or totally abandoned. We also saw a population of resilient people who are proud of their homes, but ever grateful to the volunteer organizations who have stepped up to help them."
During the service trip, Fair provided the group with a history of Puerto Rico and the United States to help put their work in perspective. "Just as we were returning to New Jersey, unrest in San Juan broke out due to the frustration of the population in towns much like the one where we spent our week. That, combined with public awareness of the corruption within the inner workings of Puerto Rico's government, has become a catalyst for change on the island."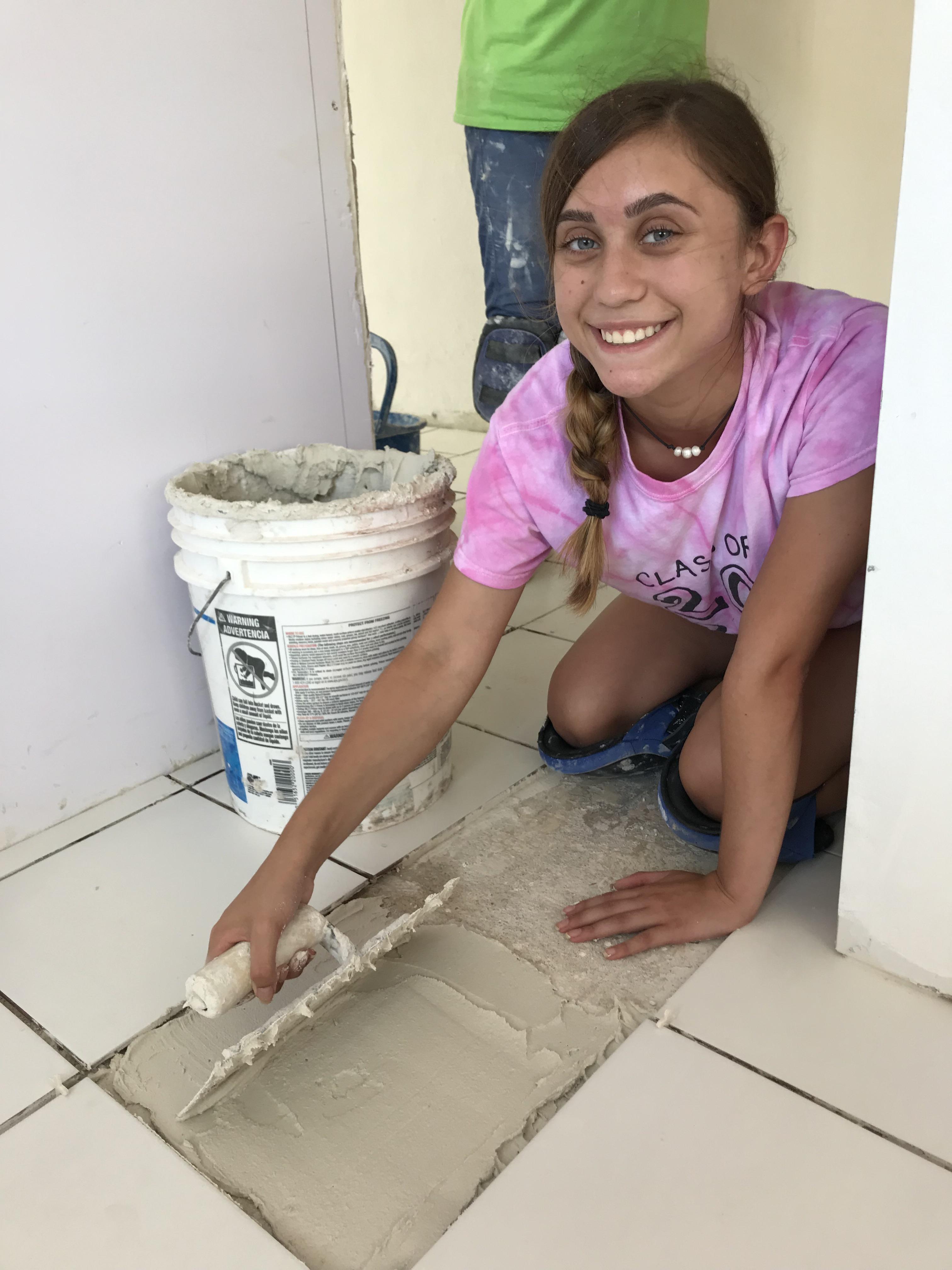 For Allison Bart, a junior, this trip was unlike her previous experience on the island. "In 2015, I visited Puerto Rico with my family for vacation," Bart said. "Unlike many of the other people I volunteered with, I saw what Puerto Rico was like before the devastating damage, and it made a bigger impact on me and made me want to help even more."
One of Bart's goals was to help people return to their pre-storm lifestyles and activities. "While working with the Saint Bernard Project, I learned two different skills that I have never done before: painting and tiling. During my first day of work, I painted the outside of a woman's house and, for the rest of the week, I did tile work and grouted the floors in another house," Bart said, noting the visible improvements her group made.
"The best part of the trip was seeing the smiles on the homeowners' faces when they saw so many people helping to make their homes livable," Bart continued. When homeowners are able to do so, they work alongside the volunteers, she added.
"A few of the women living in the houses we worked on were kind enough to cook us lunch," Bart said. They also offered the volunteers anything they wanted from their vegetable garden.
Molly Brooks was impressed by the optimism of the people her team assisted. "Everyone was still smiling, even though the conditions they lived in were rough. They were incredibly grateful for the work we were doing for them, even to the point of them taking time out of their day and making lunch for us," Brooks said. "This stayed with me, and now when I want to complain about something in my life, I think of these people and how they lived without any complaints."
The AHA junior said she would enjoy taking another service trip to Puerto Rico. She would also like to view the houses after they have been fully renovated and see how the improved living conditions benefit the residents.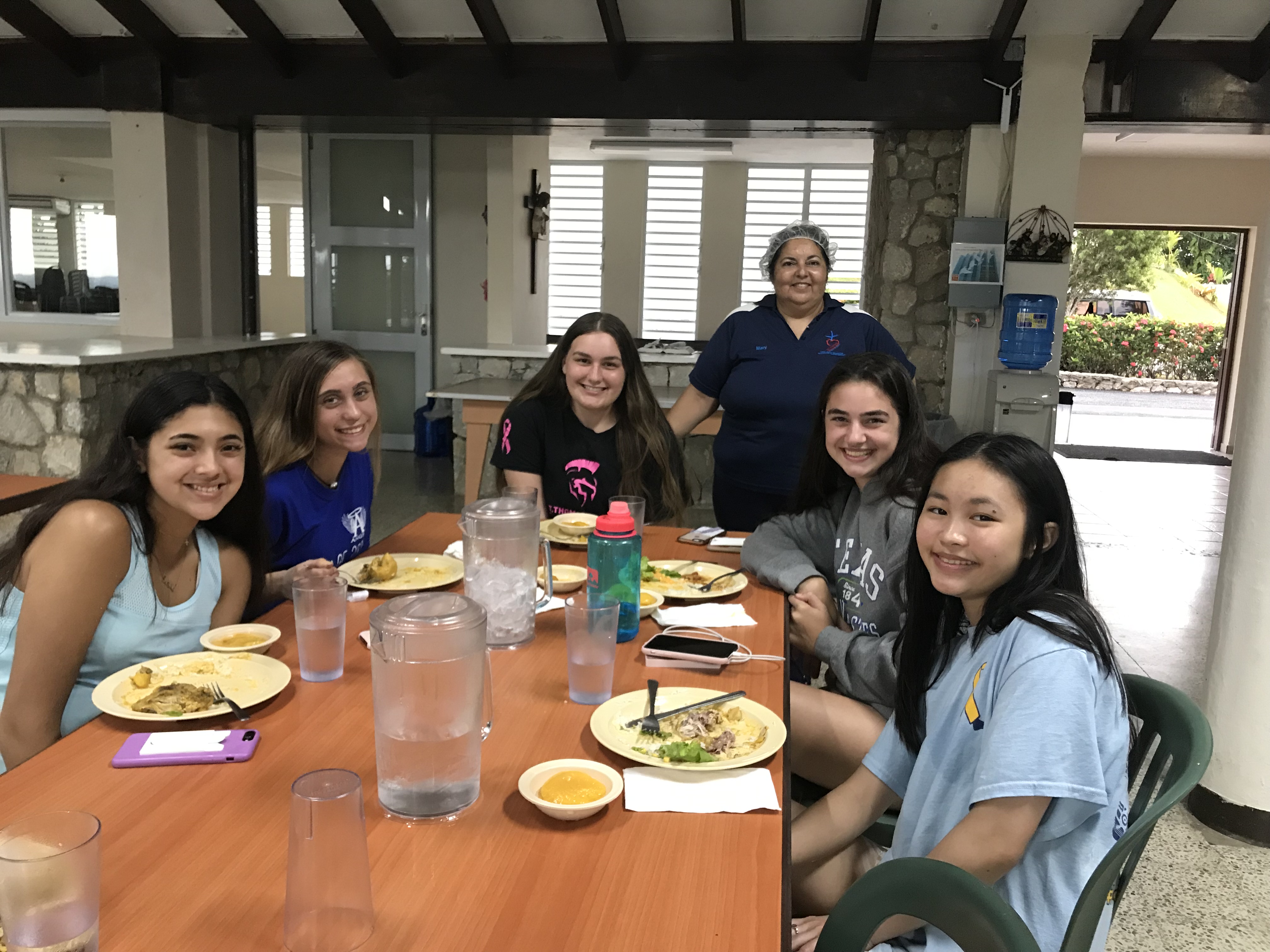 Jeziah Rodriguez, a senior, fell in love with the beauty of the island and its people. "I loved how friendly, outgoing, and free-spirited the Puerto Rican people are," she said, noting how much she enjoyed meeting Purifico. "I enjoyed sightseeing because I am Puerto Rican and I had never visited," Rodriguez noted. "While we were in San Juan, we also visited El Castillo de San Cristobal and walked around the beautiful streets of the island."
Throughout the week, Rodriguez learned to live and work with people she did not know very well, including Kristen Chung. Chung said she was familiar with SBP's work in New Orleans, and was excited about the opportunity to work with the non-profit in Puerto Rico. "There were times when I felt tired from all the hard work, but I was determined to finish the job because I knew that I was helping a family in need. I also learned to have a positive outlook on life and not take anything for granted," Chung said. "Purifico was so happy and appreciative that we were there to help with his home. Even though he had experienced so much hardship, he had a smile on his face and stayed positive. This experience taught me to be more like him."
Pomponio, a junior from Nutley, helped with renovations at two homes. Her first task was an outdoor painting project at the home of three elderly women.
"That day had many challenges: working in the heat all day, being surrounded by bugs, and also not being able to control ourselves around the women's three very cute dogs," Pomponio explained. "We had spent the entire day outside, scraping walls and painting them white…We felt very happy at the end of the day knowing we were able to help with their house, even in a small way."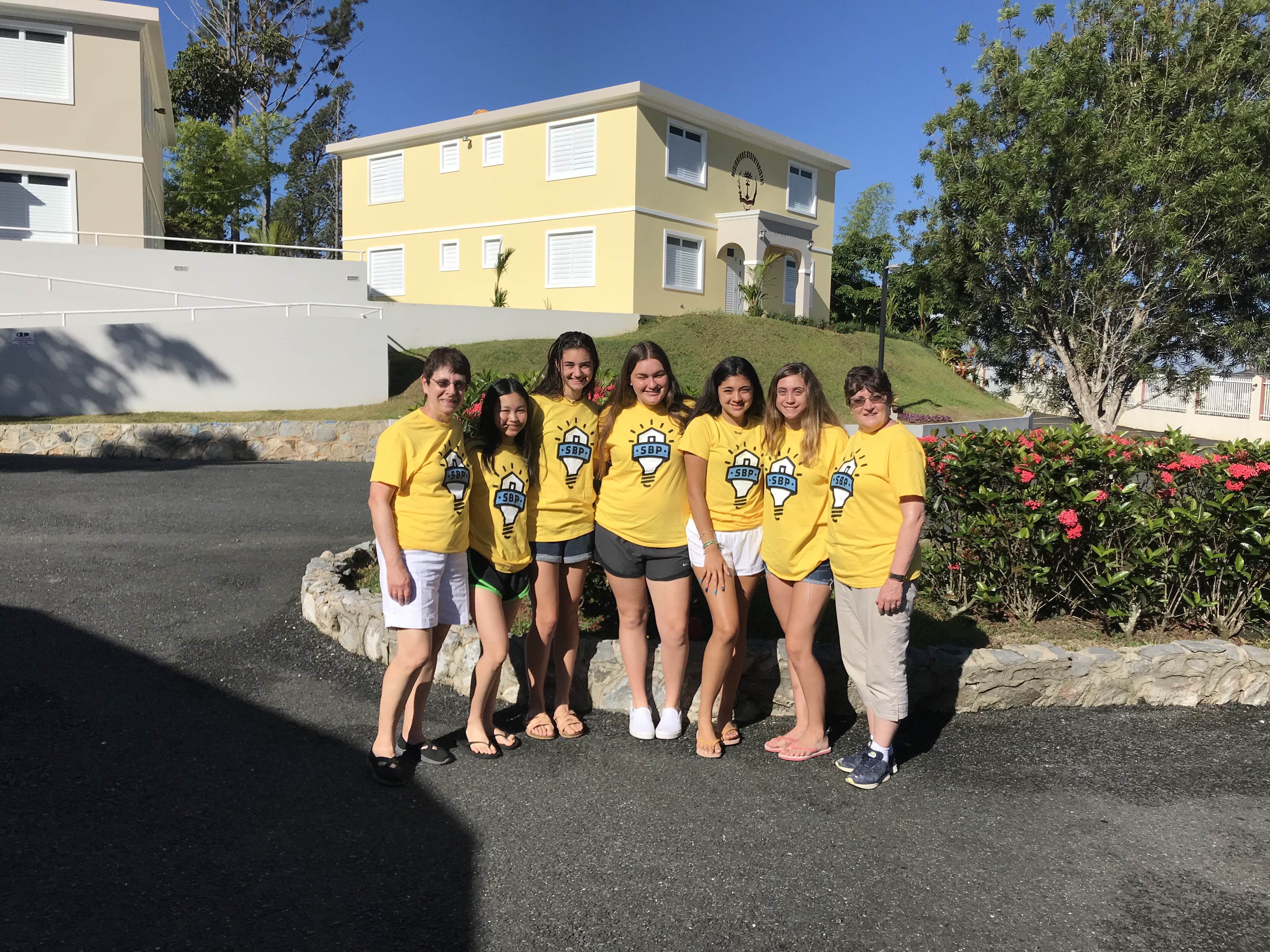 She and her team also spent three days learning to install tile and grout, cut wallboard, and use a drill. "Even though we were tired, we were able to push ourselves and finish the job. On our last day of work, we were able to complete many jobs and we felt ecstatic knowing we were able to finish the day and have an impact on another family."
Alana Pomponio acknowledged that there is still a great deal of rebuilding to be done, and expressed an interest in returning to help next year. "I felt so happy knowing I was able to impact a family and help them on their journey to start a new chapter in their lives," she added. "Every person was so appreciative of our work and were grateful for all that we had done to help them…If more people were to experience what I did on this trip, many more people would want to volunteer to help those in need."
Sylvester emphasized that serving others is part of the mission of the Catholic Church and the School Sisters of Notre Dame, who founded AHA 140 years ago. "It is also a good way to expose students to their responsibilities to help their fellow humans. "The Saint Bernard Project is a good crisis response organization. We have worked with them in the past in New Orleans and in Rockaway, New York," Sylvester said, adding that she would like to return to Puerto Rico. "It is always fulfilling to work on a project where you know you are directly helping to make someone's life better."
Fair agreed, saying, "I am hoping to return to Puerto Rico next year. There is still so much to do and I believe this is an eye-opening opportunity for AHA to open hearts as well as minds to American citizens just a four-hour plane ride away."