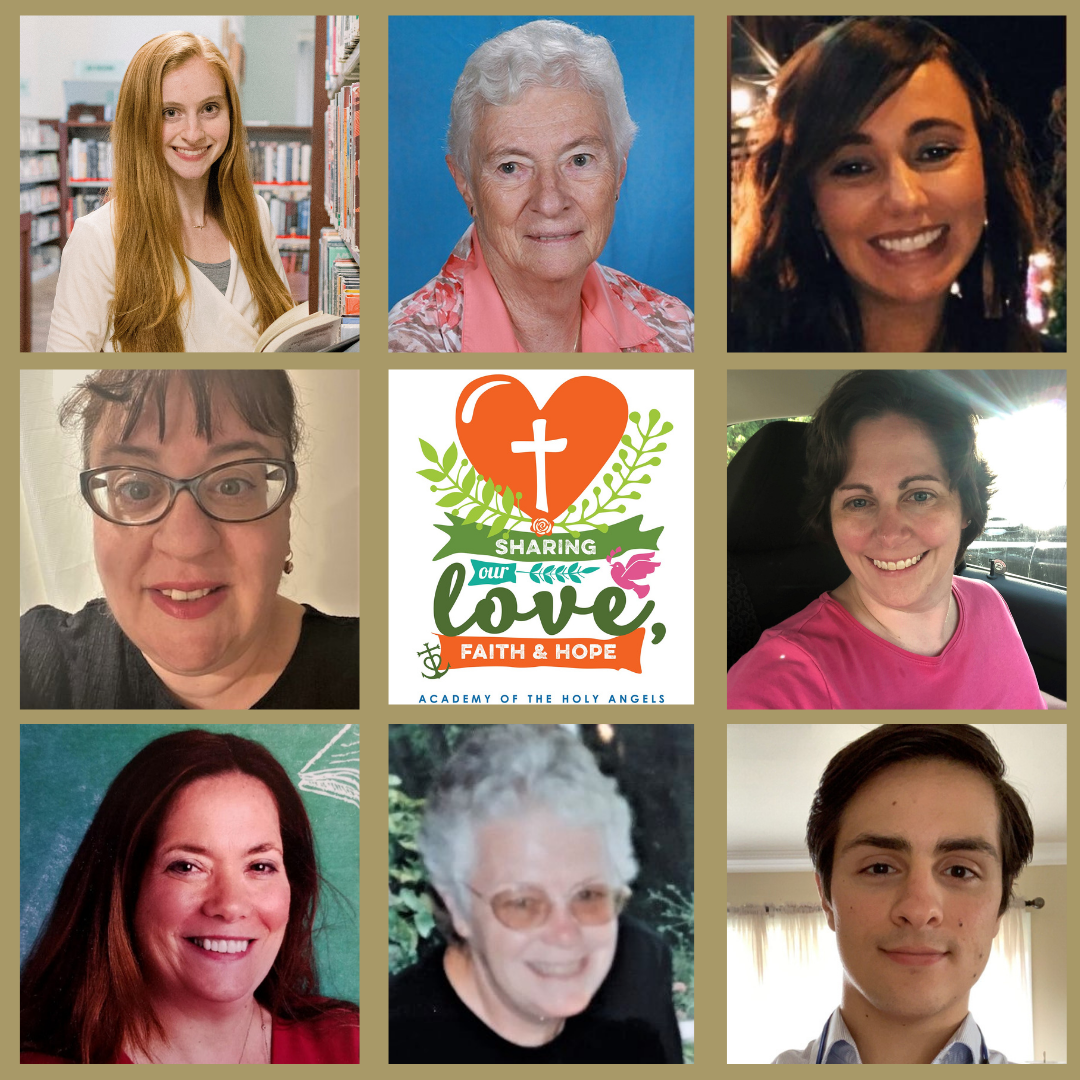 This September, the Academy of the Holy Angels recognized the retirements of Sister Kathleen Dunham, SSND, and Sister Diane Driscoll, SSJ. Both women have spent the past five decades as educators. At the same time, the Academy's administration welcomed Donna Ryan, AnneMarie Ryan, Brianne Wolman, Frank Hunter, Andréa Palacio, and Jessica Santulli.
Dunham grew up in Newark and met the School Sisters of Notre Dame when she was a student at Saint Peter Elementary School. She graduated from Our Lady of Good Counsel High School and earned her bachelor's degree in education at Notre Dame of Maryland. She later received a master's degree in religious studies from Boston College. Dunham taught all subjects at the elementary school level, and taught math, science, and religion at the middle school level. During her eight years at AHA, she taught religious studies, prayer and SSND spirituality, and Old Testament.
"In all my teaching assignments, my greatest enjoyment has always been being with the students, no matter what the subject," Dunham commented. "I have always felt privileged to be a part of their lives and to help them to learn and to grow as the year progressed. 
"I have loved being at Holy Angels; it has been one of the highlights of my teaching years. The girls at Holy Angels are wonderful! The faculty and staff are some of the nicest, most helpful, and supportive coworkers that I have experienced. It has been a privilege and joy to work with them. I am proud to say that Holy Angels is a sponsored school of the School Sisters of Notre Dame. It an excellent school and a real pearl in our history of education."
Driscoll grew up in New York City and in the State of Florida. She attended Catholic schools before entering Chestnut Hill College, where she earned an AB in French and English. She later earned a master's in French from Middlebury College and a master's in Christian education from Princeton Theological Seminary. 
Although she has taught French, Driscoll gravitated toward her primary interest: religious studies. Driscoll spent the past six years teaching the sacraments and Christian morality at AHA.
"I am extremely impressed and inspired by AHA," Driscoll said. "I would not expect any other school to be like it. It's just an amazing school with an extraordinary community and a dedicated faculty." Commenting on her time at Holy Angels, Driscoll said, "It was all a gift."
Hunter is a graduate of Seton Hall, where he earned degrees in classical studies and English literature. He is now a member of the AHA World Language Department.
"I am excited to be teaching Latin this year, and I look forward to working in the AHA community," Hunter said.
Palacio, AHA's new Spanish teacher, is the descendant of an Italian family and was born and raised in Colombia. She holds a bachelor's degree in business administration and a master's in finance from Eafit University. She spent over 10 years in banking and foreign exchange trading.
"When I relocated to the U.S in 2014, I decided to pursue an opportunity to teach my native language at a Catholic high school, and it has been very gratifying seeing the progress of my students," Palacio said. "I love Latin music, dancing, soccer, reading about the economy, the stock market, and spending time with my family."
AnneMarie Ryan, a Holy Angels alumna, is now a member of the AHA Religious Studies Department. Ryan graduated from Caldwell College (now Caldwell University) with a bachelor's degree in education. She spent the majority of her career at the Academy of Saint Therese in Cresskill, where she taught students in pre-K to eighth grade. Ryan is married and has two children: Nellie (AHA '09) and Jimmy. She enjoys traveling, reading, and trying new foods.
"I'm thrilled to continue my career at my alma mater!" she added.
Donna Ryan, a Catholic school educator with over 18 years of experience, has also joined the AHA Religious Studies Department. Ryan previously taught at Benedictine Academy and at various elementary schools. She was also a director of religious education. She teaches distance learning through the University of Dayton, and is a therapist working in private practice.
Santulli, who holds a master of science, says she is excited to join the AHA family as a librarian. She will be working alongside AHA Librarian Catherine Korvin. Santulli is also a reference librarian at a public library, and is active in her church's young adult ministry.
Wolman is the newest member of the AHA Social Studies Department. She earned a BA in secondary history education from The College of New Jersey and an MA in Administration and Supervision from Montclair State University. She has taught middle school and high school students. Wolman enjoys spending time with her family, reading, and following the Yankees.