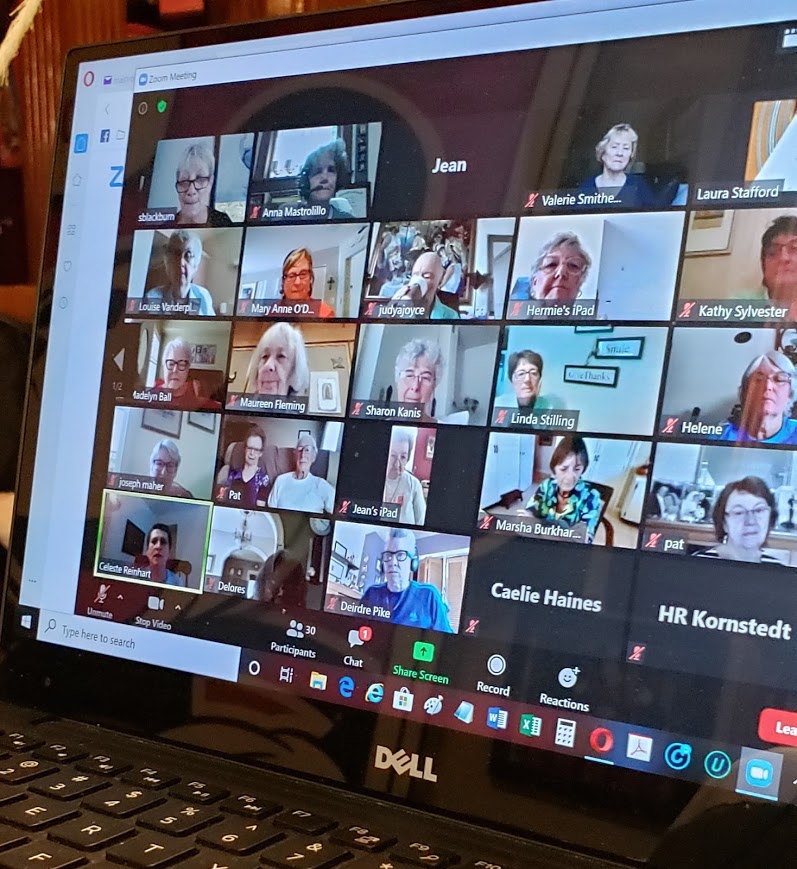 "I thought it was fantastic. I loved seeing and hearing from Associates all over the province—this is unity."
Each year Associate area coordinators from across the Atlantic-Midwest Province gather in Wilton to reflect, share and plan together in an effort to strengthen Associate connections and programming. This year, of course, an in-person meeting was out of the question. So, like so many others, our Associates turned to Zoom. This provided the opportunity to open three of the meeting's sessions to Associates from all across the province who might not have previously been able to participate at the in-person meetings for a variety of reasons.
On June 15, Suzy Blackburn, Director of Associates, welcomed almost forty Sisters and Associates to the opening session, during which Sister Sharon Kanis led an afternoon reflection on the "New Cosmology." Sister Sharon invited the participants to consider their own understanding of the creation story, and suggested openness to a new perception of God, the universe, and themselves. Using the Zoom "break-out group" feature, participants could share reflections in small groups, interacting with Sisters and Associates from different parts of North America.  The session ended with the second of the Integral Vision videos.  Said one Associate, "Sister Sharon's presentation was amazing and gave us a lot to think about and discern about our place in creation."
The following morning, Associate Madelyn Ball shared a report on "Growing the Number and Diversity of the SSND Associates." The report had been generated by a committee of Associates who, earlier this year, had met via Zoom to brainstorm possible approaches to reaching out to prospective members. In preparation for discussion to follow, participants had been urged to read a 2019 article from Global Sisters Report titled "As US Associates Track to Surpass Women Religious, Both Face Turning Point."
Participants moved to break-out groups, now configured into geographic areas, for lively conversations on which of the suggested approaches might work in their areas. As one Associate said, "The presentation by Madelyn Ball was a reality check.  There is definitely hope for the future." That afternoon, again in small geographic groups, Associates and Sisters continued a two-year effort to explore ways of both strengthening the Sister-Associate relationship and sharing their dreams for ways that that relationship might evolve in the future.
On the morning of June 17, area coordinators met for a final session of reflection on the new way of being together, and planning for a near future that demands flexibility. The participants realized that, "Zoom is very useful for the future and not just for COVID-19 travel restriction times." Sister Jean Phelan's closing prayer expressed the gratitude of the group for a successful meeting.
Deserving of special acknowledgment were Director of Technology Henry Kornstedt and Laura Stafford, administrative assistant, who helped make sure the virtual meetings went smoothly.