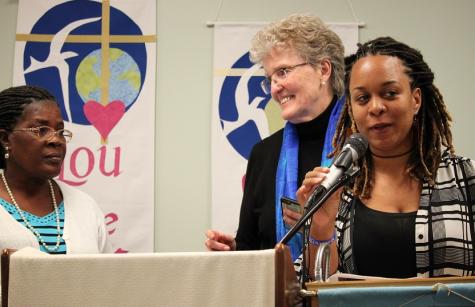 The School Sisters of Notre Dame are working to share news of their partnership with Beyond Borders to help the people of Haiti.

Team members from Beyond Borders, Maureen Plaisimond and Freda Catheus, recently travelled through the Atlantic-Midwest Province to share the work the organization is doing.

The Beyond Borders Speaker's tour recently made stops at Villa Notre Dame, Academy of the Holy Angels, Villa Assumpta, Notre Dame Preparatory School, Institute of Notre Dame, Caroline Center, and Notre Dame of Maryland University. View photos from the Beyond Borders Speaker's Tour on our Facebook page.

Maureen and Freda told SSND community members about the work Beyond Borders is doing in Haiti. Beyond Borders is working to build 15 communities and more than 35 schools in Haiti. The School Sisters of Notre Dame are involved with two communities on the island of Lagonave. Recently students at Notre Dame Preparatory School (NDP) donated the money raised from the school's "Dress Down Day" fundraiser to Beyond Borders. Maureen from Beyond Borders said the $3,600 donated by NDP will sponsor two families on Lagonave for 18 months.

The School Sisters of Notre Dame community and Beyond Borders are not only assisting individual families but providing support to whole communities. That support is seen through the work at the Matenwa School.

The Matenwa School is a model school in Haiti. Freda, a Beyond Borders staff member, said the children are initially taught in Haitian Creole and eventually in French, instead of exclusively French like many other schools in Haiti. She said this is important because the majority of people in Haiti don't speak French, and schools that teach in French are unable to properly educate most children. Teaching children in Creole is proving to a be a successful learning experience for the children of Lagonav and initial reports indicate that they are doing extremely well on national exams. In addition to this innovative teaching methodology, the Matenwa school also has a garden to teach agricultural techniques, and there is no corporal punishment. Teachers receive regular training and then are able to help teachers at surrounding schools.

Maureen and Freda from Beyond Borders said education is a tool to keep children out of domestic servitude (restavek) in Haiti. In the schools in which Beyond Borders has been involved, there has been a 20 percent increase in the number of students attending and staying in school.