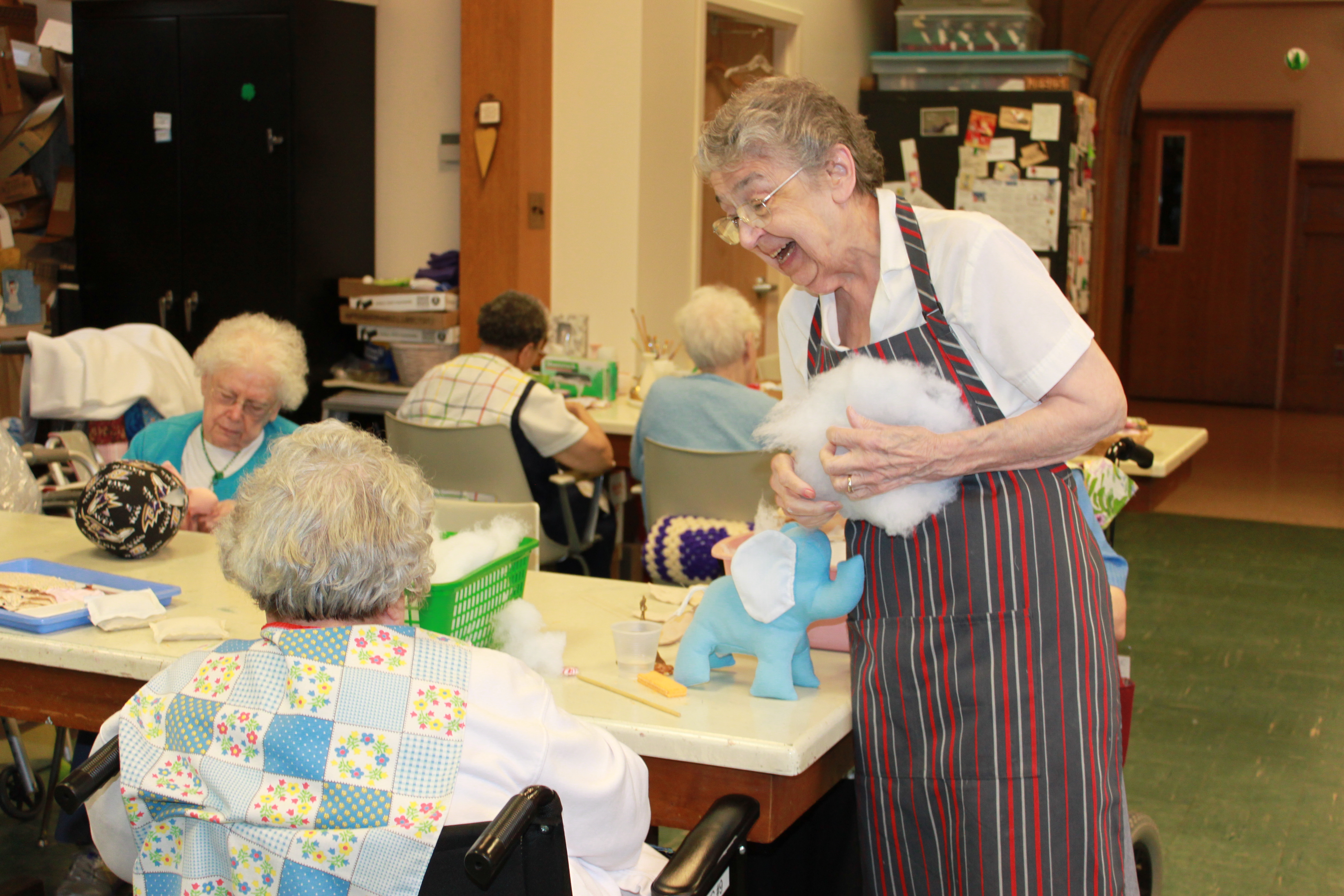 In a recent conversation with Sister Clara Beall, she confides, "Not much in my religious life relates directly to art." Woven through her 61 years of ministry though, it is plain to see her passion for the arts and for the nurturing of the creative spirit.
 
Sister Clara entered the School Sisters of Notre Dame in the autumn of 1957 in Baltimore and professed first vows in the summer of 1959. She describes her art as an "accident - a stepping stone to my vocation as a teacher." She taught primary education and reading for 15 years, mostly in Baltimore, and in between received her Bachelor of Arts in Education from Notre Dame of Maryland University. She then taught at St. Mary's in Bryantown, and exhibited and sold her art at the Port Tobacco Art Guild. A parish benefactor saw her talent and made it possible for her to pursue her education in art at the Maryland Institute College of Art. She noted that it was then Governor Donald Schaefer, from his own pocket, who paid for her final class at the Institute.
Sister Clara attended the Maryland Institute College of Art through the 1970s, at a time when some believed that "a degree in Fine Arts led nowhere." Although slight in stature, Sister Clara's nature - lively, determined and courageous - buoyed her while teaching full time, tending to community service, and pursuing her degree. "If you don't feel well, you push a little then."  Sister Clara received a Master's degree in Fine Arts in 1979 and has an extensive portfolio, recently digitized , of her sculptures, etchings, paintings, block prints, silk screens and jewelry to prove it.
Sister Clara talked about the wonderful experience she had as a student at the Maryland Institute, but also the difficult days. In some ways, the 1970s were a continuation of the turbulent 60s, playing out against a backdrop of opposition toward the Catholic Church. Sister Clara, dressed in what was then traditional for SSND, a black dress and veil, said she felt she was at the college campus at that time for a reason, "I think God puts you where you belong." Many of the other art students embraced her disciplined lifestyle, appreciated her nonconformist spirit, and confided in her - she developed some deep and lasting friendships. Sister Clara said of the students, "Scrub them down and they were good kids."
After a decade of teaching at St. Mary's, Sister Clara turned from educating children to stimulating adult minds. In 1983, she brought art - and applied art - to Villa Assumpta with full gusto and delight. From nothing, she created the Hobby Room, transforming the former chapel into a wonderfully creative space brimming with boxes of yarn, stuffing, buttons and fabrics. Sister Clara amassed supplies and created curriculum to enliven the spirits and engage the minds of senior sisters living at Villa Assumpta – Sisters who had ministered for half a century or more in the classroom and in the community, and still had gifts to offer. Sister Clara, through her lifelong love of art, brought joy and purpose to sisters who had begun to slow with age.
Over three decades, retired and elderly Sisters came to the Hobby Room and made dolls, fanciful stuffed animals, and crafts by the hundreds. Sister Clara, with a winsome imagination and deep desire to kindle God in others, provided a way for sisters to feel "useful" again. The crafts were sold at the Villa gift shop and at fairs and parish events to help support the congregation and its ministries.
By keeping many hands engaged and minds invigorated, Sister Clara has encouraged and cared for a cadre of senior sisters for more than 30 years. Through her creative spirit, she cultivated a place for sisters to gather and share their gifts and continue to contribute and feel valued and loved. Although the wonderful Hobby Room recently closed, Sister Clara, at 85, continues to engage with her elderly sisters and visits them at Maria Health Care Center regularly. With a joyful heart, she brings her art cart loaded up with crafts supplies and stirs the imaginations of these faithful women.