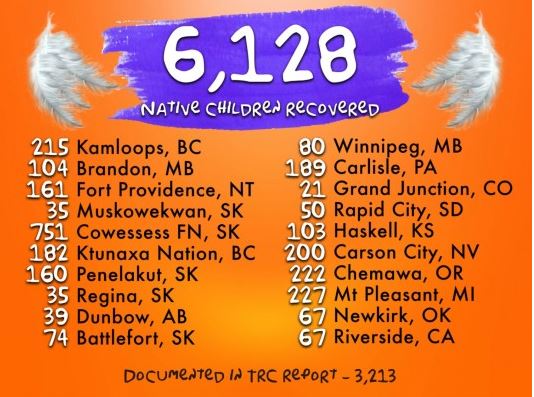 A growing, Indigenous-led, grassroots movement has claimed September 30 as Orange Shirt Day – a day to remember and honour the students of Residential Schools – since 2013. This year the federal government has responded to TRC Call to Action 80 and named September 30 to also be the National Day for Truth and Reconciliation.  
On September 30, wear orange and set aside some time to take your next step on a reconciliation journey. 
Everything Indigenous people do is in a circle. Since the power of nature works in a circle, to be one with all that is, we too must work in a circle. 
In the old days all our power came from the Sacred Hoop of the nation and as long as the hoop was unbroken the people were strong. 
The Great Spirit gave life in a circle, from childhood to childhood. Our children are there to teach us and for us to teach them. Our children were taken out of our Sacred Hoop and our hoop has been broken. 
For decades we mourned the loss of our children. They never completely returned home.  
We asked the Great Spirit to help us repair our Sacred Hoop and bring our children home. We know that Mother Earth kept them close to her and kept them safe all these years. We now ask you, Great Spirit to take them home with you and repair our Sacred Hoop. 
Truth and reconciliation: A reflection by Connor Sarazin
What is the meaning behind Truth and Reconciliation? It is all about discovering and revealing governments' past wrongdoings. With the truth revealed, repairing and establishing a respectful relationship between Indigenous and non-Indigenous peoples in Canada can move forward. 
The legacy of the Indian Residential Schools lives on for Indigenous Peoples. In 1870, the Canadian government partnered with numerous churches to assimilate, civilize and make everyone live a European lifestyle. For the First Nations people, this meant giving up their traditions, beliefs, and complete way of life that didn't align with the new settlers. 
Many people say that it wasn't them, their children or their parents who were responsible for the Residential Schools so why are they being made to feel guilty about it? I believe the point is being completely missed.... Click here to read and learn more
More Steps to Take
If you are able, please join us virtually for a prayer service with Cardinal Thomas Collins from St. Michael's Cathedral Basilica on Thursday at 10:00 a.m. You can access the service by clicking here – it will also be archived here for viewing when your schedule allows.
View the Statement of Apology from the Bishops of Canada.
You may wish to visit archtoronto.org/healingandreconciliation where you can find additional resources, prayers and updates to assist with your own education and reflection.