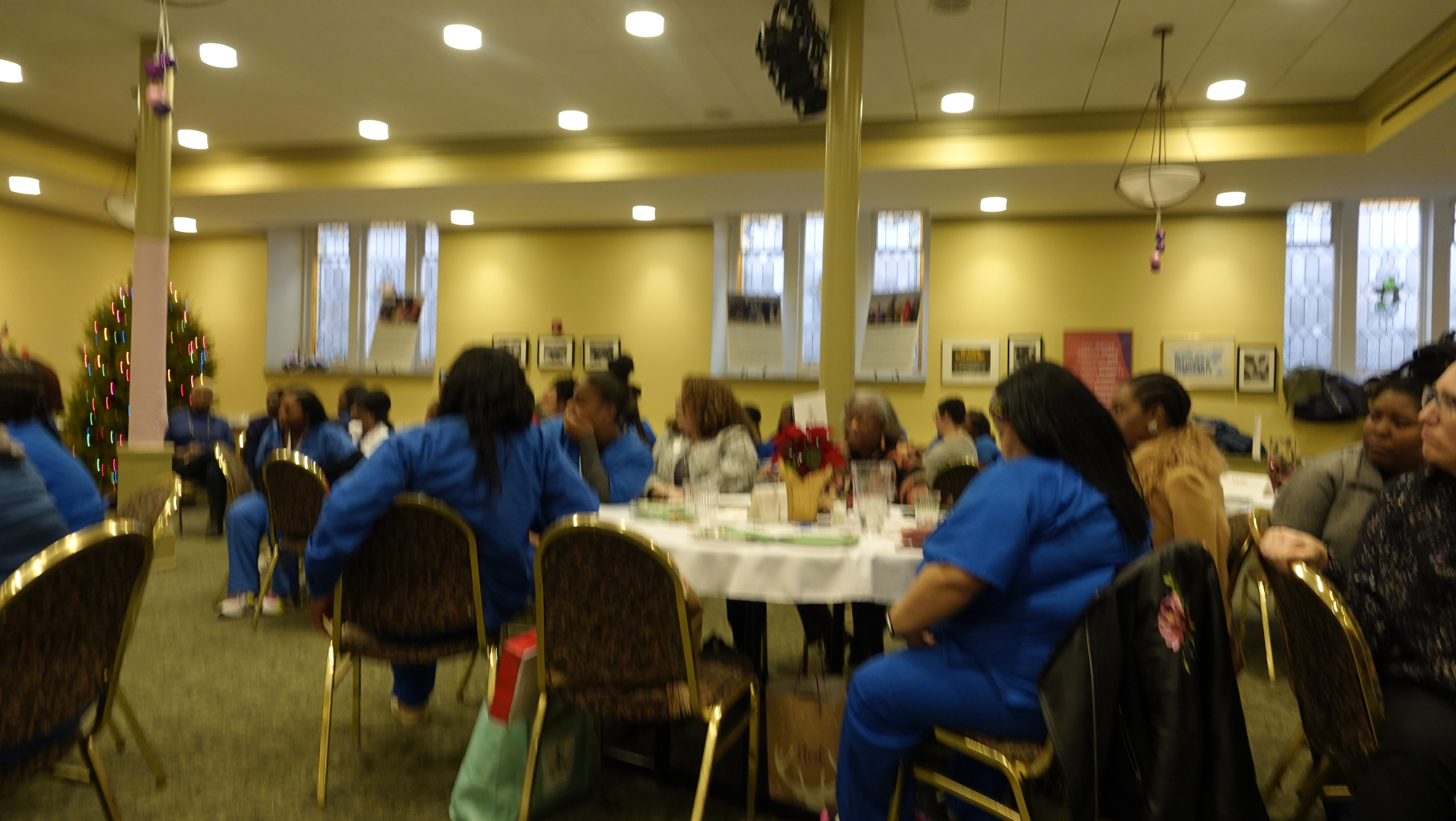 Women determined to create better futures for themselves are also embracing the chance to lift up the lives of women in Haiti whom they will never meet. The School Sisters of Notre Dame's Atlantic-Midwest Province sponsors Caroline Center, which offers 15-weeks of tuition-free training to women in Baltimore City interested in earning their Certified Nursing Assistant or Geriatric Nursing Assistant certifications or Pharmacy Technician certification. During their training, the women learn more about the SSNDs and their ministries, including the A-M Province's partnership with Beyond Borders in Haiti.
Since February 2017, the Atlantic-Midwest Province of the School Sisters of Notre Dame (AMSSND) has been engaged in a partnership in Haiti with Beyond Borders, a non-profit organization who has been working in Haiti for over 20 years. This collaboration in Haiti focuses on developing two Model Community Initiatives (MCIs) in the communities of Ti Palmis and Nan Mango. Both of these communities are located on Lagonav, an island off the western coast of Haiti. The collaboration between SSND and Beyond Borders is focused on ending violence against women and girls in Haiti and preventing parents who are poor from sending their children into domestic servitude as restaveks. The Model Community Initiatives seek to provide holistic community-based support to address the root causes of violence and restavek.  
As the province's engagement in Haiti evolved in partnership with Beyond Borders, the AMSSND Sisters learned about the urgent needs of the people of Lagonav, Haiti. Sisters from the province visited the island and felt compelled to identify further ways that AMSSND could lend support. The Water Initiative was launched after Sisters learned about how scarce and precious water is on the island of Haiti. Given that water is one of the province's four commitments, the sisters felt compelled to do more to help families in Haiti have easier access to water. The results so far have been life-changing for the 96 families supported with rainwater catchment systems last year.
When the Caroline Center students learned that women and girls in Haiti often have to walk miles to get water for their households, keeping the girls out of school, they decided they wanted to help. These students are women who have endured their own share of difficulties and overcome many obstacles, including a very competitive admission process to get into the Caroline Center program. The demanding schedule of their 15-week program and then internships often does not leave them time to hold a job outside of school, so money is tight, and a catchment system costs $350. So the students had to be innovative in their fundraising. Since the students started collecting for Haiti in 2018, each cohort has come up with their own ideas, and the class votes on the ones they think would work best.
In the most-recent class, Ashley McNeill baked cupcakes and strawberry shortcake for a bake sale. "It felt good to give back and help others like I have been helped at Caroline Center," said Ashley, who graduated on December 19 with her CNA certification. "I want these women and their daughters to feel empowered, too." Her classmate Deanna Lunn also contributed to the bake sale. "It was very rewarding to be able to give back," she said. "I really loved how everyone got involved and contributed what they could."
Crystal Liverman, who was in the pharmacy technician class this cohort, was the lucky winner in a Mystery Raffle held by the students. A donor provided the prize, which turned out to be a gorgeous purse. Crystal is hoping her internship after graduation will lead to a job offer, so she can donate to the Haiti water initiative more in the future.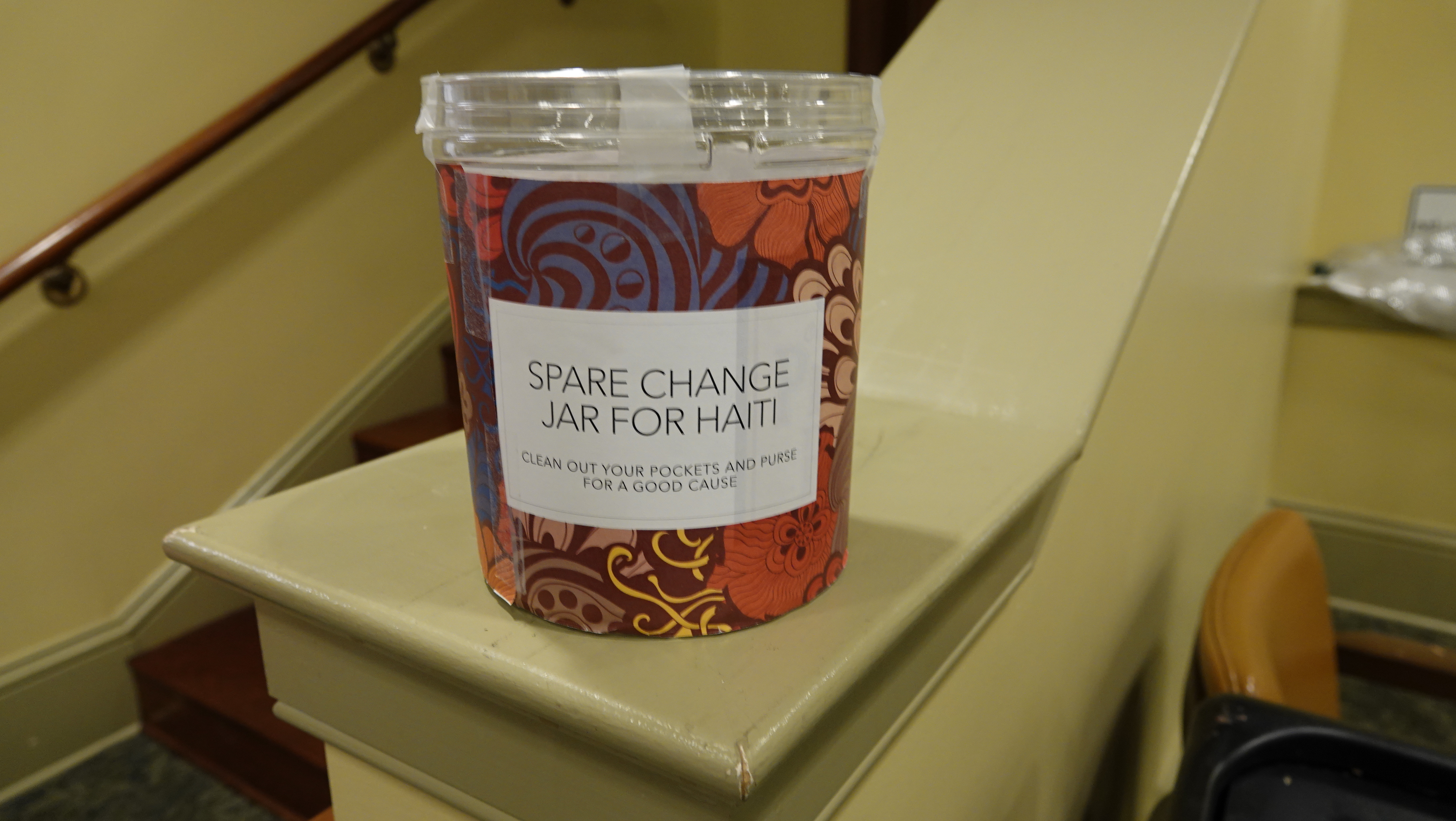 Felicia Kelly-Crum, another pharmacy tech student, came up with the Change for Change fundraiser, in which a jar was left near the front door of Caroline Center for students and other visitors to toss in any change they might have in their pockets when they came to school. "Women are always taking care of others rather than themselves. I wanted to help so that they would not have to work so hard and so their daughters could go to school instead of having to help with the water." Felicia is one of 17 children, so she could identify when she heard stories about mothers with their own big families struggling to survive. She enlisted her family's help in throwing a benefit party for the Haiti project, which brought in $150. "When I heard about women who had to send off their daughters to what they thought would be a better life, that really hit me. Family is everything, and I hope this helps keep more families together and makes life a little easier for these women."
Cierra Rivies, also a pharmacy student, shared the story of the people in Haiti with her children, who decided they wanted to help, too. They sold candy and added the money they made to the Change for Change jar. And all of that change truly will make a change: a total of $1117.25 was raised by these women and their classmates, meaning three new families will get a rain catchment system for their homes. Since the first Caroline Center class started donating in 2018, they have raised more than $3500! These women thought they had little to give, but together they have learned just how little it takes to make an impact on others. With the gift of empowerment, they have been given by Caroline Center and their fundraising success, these new graduates will now go out into the world knowing how to lift up themselves and others.