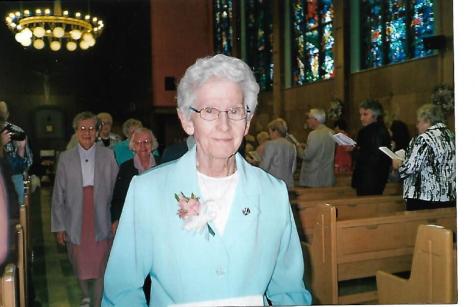 Sister Bernice Volk, of slight stature, is agile and active as she approaches her 99th birthday at the end of this month. 
Sister Bernice was born on March 31, 1920 in Scott, Saskatchewan and baptized Julianne Catherine on the day of her birth at St. Michael in Tramping Lake. Her German father and mother from Odessa, Russia, were parents to three sons and six daughters. 
Julianne Catherine entered the congregation in the spring of 1935 at Notre Dame Convent in Waterdown, Ontario and professed first vows in 1938. During her 50 years as homemaker – both in small communities and large institutions - she provided tasty and nutritious meals.
According to SSND records, Sister Bernice retired in 1991, although, as many sisters do, she continued her ministry visiting the sick and elderly for several years at St. Peter in Unity, SK, and St. Patrick in Caldonia, Ontario. She then served in pastoral and volunteer ministry before moving to Notre Dame Convent in 2002, where she enjoyed painting with water colors right up until her eyesight declined.
Today Sister Bernice's routine includes being Eucharistic minister, folding linens in the laundry room, watching the evening news on TV and making popcorn on Friday for NDC community fun night!