Celebrating Sister Rita Kittel on her 85th Jubilee!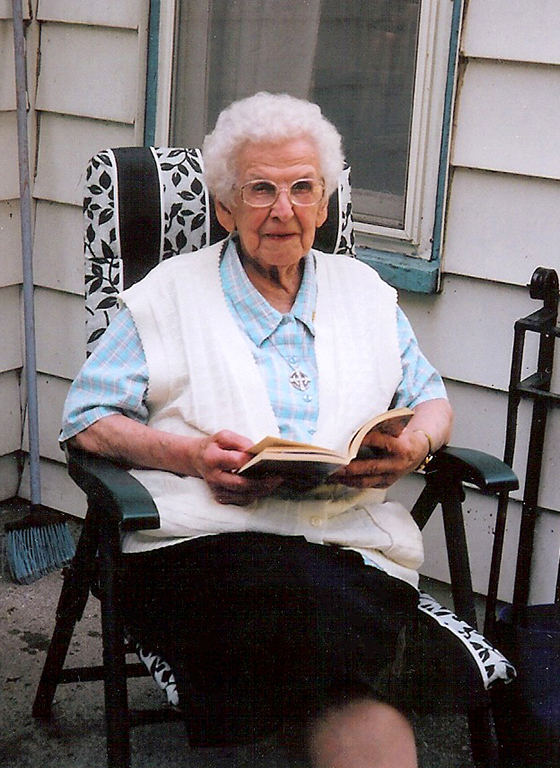 Sister Rita Kittel, the last living pioneer of the former Canadian province and the oldest sister in the congregation, is celebrating her 85th jubilee this year. She will turn 107 on October 1. 
Alert and interested in community and world events, Sister Rita has touched many lives. Sister Joan Helm said, "As her former grade one pupil, I can attest to her life lived fully, and know what a gift she is to us!"
Sister Joan Helm and Sister Betty Lackenbauer were both students of Sister Rita's first grade class at St. Louis School in Waterloo. Sister Betty shared, "Sister Rita Kittel, in grade one, impressed me with stories about Jesus, a man for others, and helping the sick and needy. I'm grateful she laid the seeds for my vocation." 
Sister Joan continued, "Rita and I lived together at St. Louis Convent from 1992 to1997. I had charge of evening meal. Rita went grocery shopping and helped me with the meal, since I worked full time as guidance counsellor… An amazing woman - when Rita was 100, she still did a daily task for me in the archives!"
Sister Rita was born on a farm in St. Agatha, Ontario in 1911. She is one of five brothers and two sisters from Theresa Binder and Nicholaus Kittel. Sister Rita entered the candidature in Waterdown in 1927 and professed first vows in 1933. During her 63 years of active ministry, 41 years were in education - teacher, principal and librarian in schools within southern Ontario. 
In 1973 Sister Rita moved to Cloverdale, British Columbia where she set up a library for Precious Blood School and taught in the senior class as principal's relief. 
At age 70, Sister Rita was missioned to Aroland, northern Ontario, an aboriginal community.  For someone who is highly organized, she adjusted well to a slower pace of lifestyle. After four years in the north, Sister returned to St. Louis Convent, Waterloo, where she had lived previously for 18 years. There she tutored adult English as Second Language students, drove sisters to appointments and assisted with other household tasks. 
Sister Rita retired to Notre Dame Convent in 2002, where she continues to minister in prayer and presence. Always an avid reader, Sister Rita is knowledgeable, enjoys most community events, and according to Sister Joan, "She still plays bingo and loves eating potato chips!
Many blessings, Sister Rita, on your special 85th jubilee!