S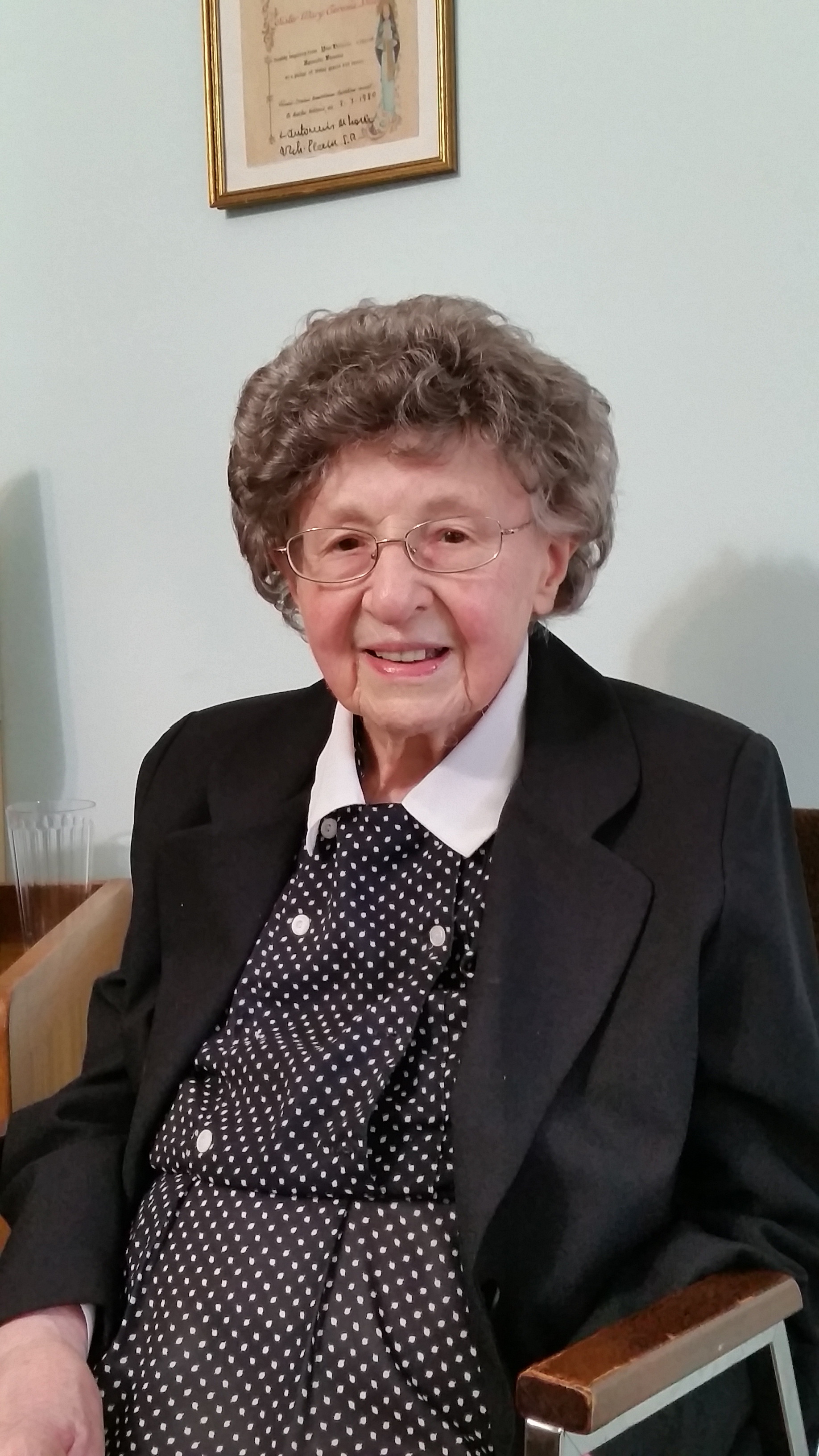 ister Teresia Spodnik is celebrating her 80th Jubilee this year! She will turn 99 on March 29th. Born in Bridgeport, Connecticut in 1920, Sister Teresia was 16 when she entered the School Sisters of Notre Dame. She professed her first vows in 1939 in Baltimore. For the next 40 years, Sister Teresia ministered as a teacher in Brooklyn, Pittsburg, Baltimore City and Cambridge, Mass. As a high school teacher, she taught home economics - mainly cooking, art, music and religion. She received her Bachelor of Science in Music in 1958 from Notre Dame of Maryland University and a Master of Science in Home Economics with a minor in Geriatrics/Gerontology from Simmons College in 1967. 
She has always had an affinity for elder sisters and put her studies in geriatrics to good use. For the next several decades, Sister Teresia ministered at the Motherhouse and Lourdes Health Care Center in Wilton, Conn. She served sisters needing skilled care in Lourdes and was local leader of the Senior Sisters Infirmary. She then moved to office work taking care of health information and medical records. She has also been an excellent seamstress, enjoyed playing the piano and organ, and has directed choirs, including a boys' chancel choir. Now she is a pastoral visitor in Lourdes Health Care Center. When she visits sisters she notices a real togetherness; their conversation and sharing are free, open, accepting and comfortable.
When asked if she felt that she was one of the elderly, she responded that she doesn't look like it, act like it, or feel like it! She points out that her only real limitation is her eyesight, but she hasn't let that get in her way. In addition to her ministry as a pastoral visitor, Sister Teresia sings in the Villa Notre Dame Schola.
Sister Teresia has been busy all her life, "with no time to worry or fuss. It has been a long life but it has gone by quickly." At this time in her journey, she finds prayer more meaningful and necessary. She also finds that she understands and appreciates other people more. Many comment on Sister Teresia's smile. Her response is, "A smile is better than transferring any hurt or pain I might be feeling to another person."