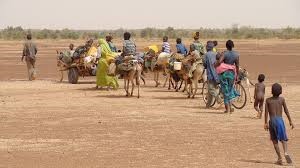 Last week, an earthquake and tsunami devastated Indonesia, killing nearly 1500 and leveling upwards of 5000 homes and buildings. To find out how you can make a difference, please watch and read our latest Just Act resource , "Climate Displacement: How Environmental Irresponsibility is (Partially) Responsible for Our Global Migration Crisis." This resource explores the interconnection between climate change, displaced persons, and human trafficking. Bottom line: caring for the poor and vulnerable requires caring for – and sharing – our common home, and vice versa.
In Laudato Si', we read that "Saint Francis [of Assisi] is the example par excellence of care for the vulnerable and of an integral ecology lived out joyfully and authentically. … He was particularly concerned for God's creation and for the poor and outcast. He loved and was deeply loved for his joy, his generous self-giving, his open-heartedness. He was a mystic and a pilgrim who lived in simplicity and in wonderful harmony with God, with others, with nature and with himself. He shows us just how inseparable the bond is between concern for nature, justice for the poor, commitment to society, and interior peace." Today, October 4, we conclude the Season of Creation and honor the feast day of St. Francis by encouraging all people of good will to follow St. Francis's example and live in harmony with all of creation by working for justice and relating to others with compassion.
Actions: Try to make more sustainable choices – turn electronics off when not in use, adjust your thermostat a few degrees warmer or cooler, eat less meat, recycle everything, use less water and avoid bottled water! Visit Catholic Climate Covenant to learn more.