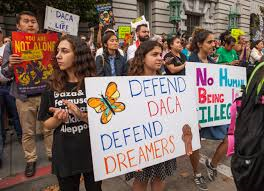 TODAY! Supreme Court voted 5-4 that President Trump's desire to end Deferred Action on Childhood Arrivals is illegal.
For now this stops the threat of deportation for the 800,000 Dreamers who are living In the U.S. Our next step is to urge the Senate to pass legislation to create pathways for a permanent solution so that Dreamers can live with security in the United States!!
Read the Decision here: https://www.supremecourt.gov/opinions/19pdf/18-587_5ifl.pdf
"We do not decide whether DACA or its rescission are sound policies," Roberts wrote in the majority opinion. "'The wisdom' of those decisions 'is none of our concern.' We address only whether the agency complied with the procedural requirement that it provide a reasoned explanation for its action."
DACA by the Numbers here: https://www.cnn.com/2020/06/18/us/supreme-court-daca-by-the-numbers/index.html