Dismantling Racism: Book Review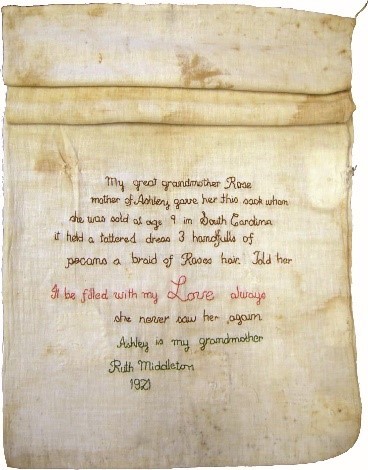 All That She Carried: The Journey of Ashley's Sack, a Black Family Keepsake, by Tiya Miles reveals the importance of a treasured object in connecting the lives of four generations of enslaved women in the American South. In the mid-nineteenth century on a plantation in South Carolina, Rose, a young mother, suffered the loss of her daughter, Ashley, who at age 9 was sold away from her. Longing to maintain a connection with her daughter, Rose entrusted to her a cotton sack containing a tattered dress, three handfuls of pecans, a lock of her hair, and all her love.  We know this only because Ashley's granddaughter, Ruth, in 1921, embroidered the sack detailing those contents. Tiya Miles has researched the journey of Ashley's sack through archives and artifacts, and conveys its history with sensitivity and eloquence: "As the women in Rose's lineage carried the sack through the decades, the sack itself bore memories of bondage and bravery. . . ."
This precious object, currently on display at the Smithsonian's African American Museum, is a chronicle of Black women's suffering through a shameful history of our country, but, more importantly, it endures as testimony to the triumph of their legacy of love.  
Addressing Climate Change: Forever Chemicals in the USA and Canada
Forever chemicals, also known as PFAS (per- and polyfluoroalkyl substances) persist for years in the environment and in the human body with adverse effects. A recent study found PFAS in 45% of US tap water. In March 2023, the US Environmental Protection Agency (EPA) proposed national limits for two of the most prevalent types of PFAS found in drinking water. Read more on the EPA site.   Click here for information about Government response to PFAS in Canada.