Laudato Si Quote
48. The human environment and the natural environment deteriorate together; we cannot adequately combat environmental degradation unless we attend to causes related to human and social degradation. In fact, the deterioration of the environment and of society affects the most vulnerable people on the planet: "Both everyday experience and scientific research show that the gravest effects of all attacks on the environment are suffered by the poorest". For example, the depletion of fishing reserves especially hurts small fishing communities without the means to replace those resources; water pollution particularly affects the poor who cannot buy bottled water; and rises in the sea level mainly affect impoverished coastal populations who have nowhere else to go. The impact of present imbalances is also seen in the premature death of many of the poor, in conflicts sparked by the shortage of resources, and in any number of other problems which are insufficiently represented on global agendas. 
Reflection: In what ways do I see human and social degradation linked to environmental degradation? How do those who are poor in my own community experience limited resources – in access to fresh produce, clean drinking water, local flooding? Is it possible I don't even know how those who are poor in my region are affected by environmental changes?
Action: Research the environmental challenges of the local area where you live. In what ways do these challenges affect the most vulnerable, especially children? Be aware of your purchasing power and links between what you eat and the impact on the environment. Share this reflection with someone else. 
 
Are you looking for a way to integrate Lent and your desire to be an anti-racist? Consider registering for the workshop "White Supremacy and American Christianity" sponsored by NETWORK on April 9, 2022. Details and registration can be found here. 
SAVE THE DATE:  The Dismantling Racism Committee will be offering workshops in May. You will be invited to attend a PART A and PART B of a Dismantling workshop facilitated by Notre Dame de Namur Sisters, Patricia Chappelle and Ann-Louise Nadeau. You can participate in a Part A workshop on either May 17th (1-3 pm Eastern) or May 24th (7-9 pm Eastern).   Part B of the workshops will be offered May 19th (1-3 pm Eastern) or May 26th (7-9 pm Eastern). 
Prayer for Ukraine and for Peace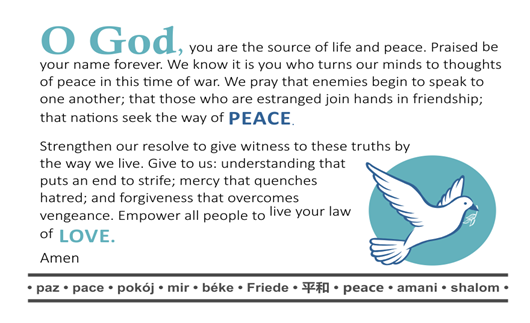 It's important that as we care deeply for the environment we don't become "Doomers" offering others, especially young people, little hope for a possible future. Read this important perspective in the New York Times here. https://www.nytimes.com/2022/03/22/climate/climate-change-ok-doomer.html
April 22-May 1 is 2022 Faith Climate Action Week. Interfaith Power and Light, a Religious Response to Global Warming, has an excellent resource kit that can be downloaded for free. Find the link to the download here.
Laudato Si' Congregation
"As a Laudato Si' Congregation, we embark on a seven-year journey towards an integral ecology. In fidelity to our charism and
the mission to bring all to oneness, we commit to live more simply, responsibly, and sustainably and to Educate, Advocate, Act in
collaboration with others for the dignity of life and the care of all creation. Called to live our mission prophetically, we School
Sisters of Notre Dame live and  000minister with the conviction that the world can be changed through the transformation of persons."
SSND Congregation Public Commitment 25 May, 2021
INVITATION for all Sisters, Associates and Colleagues in the AM Province to attend a Laudato si' Action Platform ZOOM Presentation on April 21, 2022
The members of the Addressing Climate Change Committee (ADCCC) invite all Sisters, Associates and Colleagues to learn about our SSND commitment and responsibilities in becoming a Laudato si' Congregation/Province.
The purpose of the gathering is
To explain the responsibility of the Addressing Climate Change Committee in achieving the goals
To further the understanding and engagement of the province with respect to the SSND commitment to become a Laudato si' Congregation/Province
To share the purpose and results of the Laudato si' Survey (Fall 2021)
To consider what Goals and Objectives we can embrace as a province in year one based on the Survey results
To highlight the importance of the role played by all Sisters, Associates and Colleagues in living out the goals of the Laudato si' Action Platform.
There are two different times for the same gathering:
9:30-11:00 am (Eastern time) OR 7:00-8:30 pm (Eastern time).
To register for the Laudato si' Action Platform Presentation, kindly email Sister Sharon Wall at swall@amssnd.org and be sure to put in the subject line
LSAP, give her your email and tell her if you wish to join the morning OR evening gathering.
Sister Sharon will email you the ZOOM link and Preparation Material prior to the gathering.
Registration is due by April, 15 2022
SAVE THE DATE: "Child Online Exploitation 101" workshop will be hosted by the Human Trafficking Committee on Wednesday, May 11th on Zoom. The workshop will be conducted by an attorney from the Department of Justice Child Exploitation and Obscenity Section who has successfully prosecuted cases of child online exploitation. Plan to attend this very important step in understanding the far reach of this trafficking into homes everywhere. 
Child Sexual Abuse Material (CSAM)Exposure is "the documented sexual abuse and exploitation of children. Unfortunately, children and adults can be exposed to these images and videos over the internet without warning or consent. Examples of this unwitting exposure include being shown a video during a hacked video conferencing webinar or being sent images over social media platforms." We all need to learn more – this is an excellent pdf brochure with very helpful resources and information on this topic. Please take the time to read it here
Called to be Dangerous Women (and Men): The Triune God Impels us into the Heart of the World is the theme of the Justice for Immigrants Committee Lenten reflections, based on scripture from the Sunday lectionary and linked to one immigration issue each week. This week we look at families and minors who cross the border. Learn more about undocumented minors here. Each week look for a new reflection in the newsletter, on social media, and on the homepage. Please join us in reflecting on justice for immigrants and share it with others! 
The United States Catholic Conference of Bishops (USCCB) Administrative Committee has issued a statement on migration; read entire statement here. They conclude: "Sisters and brothers in Christ, let us embrace the ministry given to us by Jesus and reject the contemporary forces of division that tempt us with a false choice between our security and our humanity. Our great nation is capable of safeguarding both our humanity and our security." 
Voter Voice alert: Tens of thousands of Afghans and their families have arrived in the U.S. to be resettled and are now in need of a pathway to real and lasting safety. 40% of them are children. They are here with a limited parole and no clear path to safety and stability. Please use your voice through Voter Voice to ask Congress to advance an Afghan Adjustment Act. 
Register now! and save the date, please send an email with "Haiti Zoom" your name and email address to Sharon Wall swall@amssnd.org 
Event is March 31st  7-8:30pm ET