This recipe is a perfect soup for the fall.  So many nutritious ingredients in one bowl of soup.  If you have ever been to Olive Garden you may have tried this soup.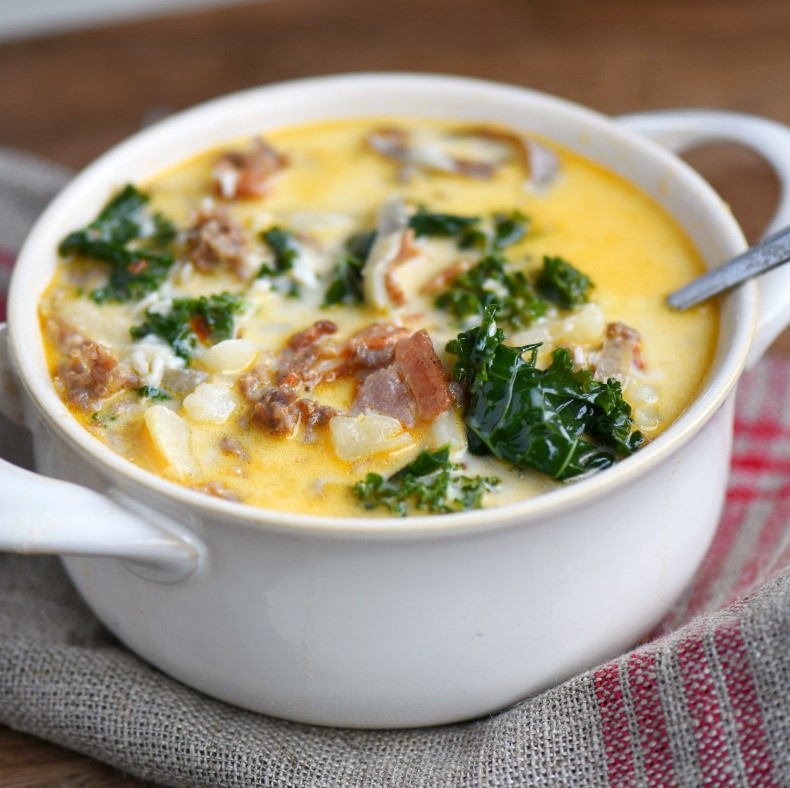 Personally, it is my favorite and when ordered in Olive Garden you can get as many refills as you wish – so, with their lovely breadsticks and a salad you can have a reasonable, nutritious meal.  If you feel you don't like kale, just try this – you won't know you are eating it.  See below the benefits of kale.
INGREDIENTS:
•    1 lb of Italian Sausage (mild is fine – if you like it hot, use it)
•    2 large russet baking potatoes, sliced in half and then in ¼ inch slices
•    ¼ cup bacon bits (Optional)
•    1 large onion, chopped
•    2 garlic cloves, minced
•    2 cups kale or 2 cups of swiss chard chopped
•    2 (8 ounce) cans of chicken broth
•    1 quart of water (I USE ADDITIONAL CHICKEN BROTH
•    1 cup heavy whipping cream (I HAVE USED HALF AND HALF)
•    Parmesan Cheese (optional)
DIRECTIONS:
1.    Chop or slice uncooked sausage into small pieces
2.    Chop onion and mince garlic
3.    Add a small amount of oil to a soup pan and fry onions, garlic and sausage
4.    Put the sliced potatoes in a dish with a small amount of water and put in microwave to soften the potatoes
5.    Add chicken broth (and water) to the sausage and stir
6.    Add bacon if you are using it (I don't)
7.    Add the potatoes
8.    Simmer for 10 minutes
9.    Add salt and pepper to taste – I use Knorr chicken bouillon, instead of salt, and find it adds additional favor plus salt
10.    Turn to a low heat and simmer 10 minutes
11.    Add kale and cream (I get Aldi's chopped kale and add more than 2 cups – it's so good for you)
12.    Heat through and serve
13.    I sprinkle Parmesan cheese over the soup when I serve it.
Why Eat Kale?
1.    Vision Improvement 
Eye pigmentation, macula improvement, and overall vision enhancement are all directly related to the intake of lutein, and kale contains more lutein than any other vegetable.
2.    Inflammation Relief 
The omega-3 acids that kale contains have an anti-inflammatory effect on the entire body. The combination of vitamin K and Omega-3 fatty acids means that kale is the ultimate natural suppressant of chronic inflammation and similar health issues.
3.    Cancer Prevention
Kale comes out on top in many anti-cancer food studies, and it is yet to disappoint. Unlike the standard folk medicine that makes everyone feel skeptical, kale's effectiveness has scientific confirmation.
4.    Cardiovascular Support
Kale is a highly concentrated source of antioxidative and anti-inflammatory nutrients that do a great deal in unclogging our arteries. Experts suggest that regular consumption of kale lowers the chance of a heart attack by even 60%
5.    Detoxification
The toxic level of the body increases whenever one consumes a processed food or a vegetable or fruit that contains pollutants or pesticides. Kale can erase the risk of any complications that can occur due to a high level of toxicity.
6.    Bone Repair and Enhancement
Studies show that those with a regular kale intake are much less likely to have a fracture, and even if that happens, their bones usually heal much faster.
7.    Fatigue Removal
Some of the time when a person feels tired even after a good night's sleep, it is due to their iron deficiency.  Hemoglobin is extremely dependent on the amount of iron that our bodies contain. A great number of cases where people feel some fatigue happens due to a condition called iron deficiency anemia. It's a better idea just to eat kale on a regular basis since it is loaded with iron.
8.    Skin Improvement
Vitamin A consists of retinal, retinol and retinoic acid, all of which are found in kale. This vitamin has multiple roles when it comes to the skin. It has benefits such as protection against UV damage, aging reduction, encouragement of healthy cell growth and infection prevention.
9.    Overall Immune System Boost
Vitamin C is probably the most important vitamin. Our bodies need it to rebuild all kinds of tissue, from salivary glands to the bones and teeth. Kale is one of the best sources of vitamin C in vegetables, so potent that one decent portion of it is enough for the entire week. Our bodies do not store Vitamin C.