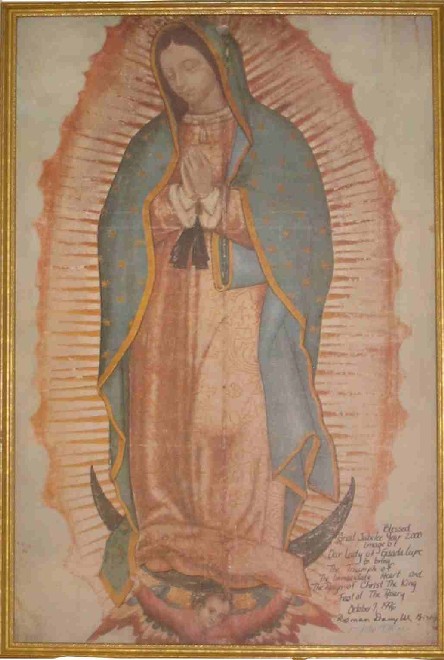 In Mexico in 1531, Spanish forces had violently taken over the land and oppressed the indigenous people there. It is in this context that the Blessed Mother appeared and chose a poor, indigenous man to bring her message of compassion and peace to his nation and all the world. On December 9, 1531, Juan Diego was on his way to Mass, when beautiful music coming from Tepeyac hill caught his attention.
Suddenly, a beautiful lady dressed as an Aztec princess appeared to him, spoke to him in his own language, and – declaring herself to be "Mary, Mother of the True God for whom we live" – sent him to the bishop of Mexico to request that a chapel be built on the hill in her honor. Juan Diego obeyed, and persisted in making this request of the bishop, who initially dismissed him. On December 12, Our Lady instructed Juan Diego to fill his cloak (tilma) with roses that miraculously bloomed on the rocky hillside and to take them to the bishop as proof of her presence. When he did so, he emptied the roses onto the ground and discovered a perfect image of Our Lady imprinted on his tilma. Then the bishop believed, and a chapel was built in honor of Our Lady of Guadalupe, who has remained a beacon of hope to all who look to her.
Click here for a prayer service in celebration of the Feast of Our Lady of Guadalupe.