Sisters Carleen Cekal and Mary Oliver Hudon and their volunteers at St. Ann's Place in Florida are continuing to stay open to feed the hungry during the pandemic. Volunteers and now Starbucks have given amazing donations. "We had another wonderful week!" wrote Melissa J. Tyner, Associate Director at St. Ann's. "We continue to 'proudly serve Starbucks' at every meal! Sunday there was dessert included. Tuesday and Wednesday there was apple juice for every lunch bag. Saturday, Sunday and Monday there were breakfast sweets! We would like to send special thanks to the Store at PGA Blvd and US1 and the Clematis Street location. Both of these stores sent large donations this week.
"Brownies were baked and delivered by our friend, Jan," she added. "Not to be outdone, her neighbor, Genny whipped up  homemade cookies – she included two cookies and a piece of candy in each of the 150 packages! We owe a big thank you to Richard and Maureen Saab for this Sunday's dinner. We used some of their generous donation to order two trays of meatballs from Manzo's Deli. We had enough for a nice lunch Sunday served with baked ziti, salad, garlic bread and a Starbucks treat. We were able to use the leftovers for the second sandwich in Monday's lunch bag!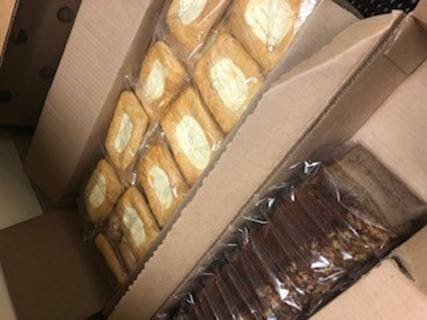 Although St. Ann's is missing deliveries of sandwiches from some local churches, "some families have found a new way to keep those children busy at home!" said Melissa. "Thank you to Bill Stewart and his family for their second donation of sandwiches since March. Special thanks to Cardinal Newman High School student Michael Anzivino, who also made and delivered sandwiches!"
 

Mi Sun Donahue has become a regular visitor, too. "Mrs. Donahue heard about St. Ann Place from one of our volunteers and almost each week she provides a special delivery – sometimes sandwiches, fresh fruit, snack bars, etc. We are so Blessed to have so many folks supporting our clients."
Melissa wanted to send out a big thank you for all the volunteers do for them. She also added, "Please stay home, stay safe, wash your hands and wear your masks."