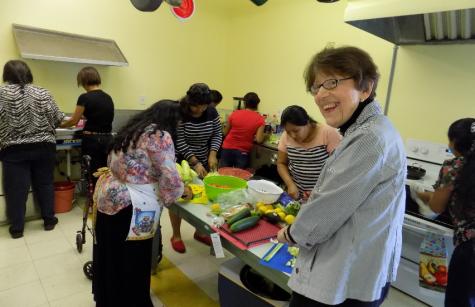 Two Notre Dame of Maryland University students, Helen Contreras and Judith Oyedele, and myself flew to Florida for an "alternative" spring break experience. We were not going for the 'partying' beach scene at spring break (although we got to the beautiful beach on the last morning!), but it was indeed a celebration. A celebration of SSND hospitality, mission, and "making one".

First we arrived at West Palm and stayed with our three sisters Carleen Cekal, Mary Oliver Hudon and Joann Villademoros who opened wide their home and hearts to us. We shared in the ministry at St. Ann's Place, a ministry for the homeless, some of the poorest of the poor in West Palm Beach. There is such a contrast in that county between the Palm Beach Mar a Lago world to the many poor people who are a mere fifteen minutes away and are living on the streets, in cars or abandoned houses. Many are suffering from addictions and mental illness.

For me the absolute miracle of it all is that these people walk into St. Ann's Place and are treated with such respect, care and acceptance, a person called by name, not a number. Sister Mary Oliver who founded the place with Sister Carleen still works there part-time. Their SSND mission spirit of caring for the poor, whose needs are not being met and creating community, just permeates the place--- and all the volunteers, too!

We worked right along with the volunteers in the clothing, showers and food areas. It was an experience of being out of our comfort zone and yet feeling comfortable working and getting to know the folks.

Matthew 25 "When I was hungry, naked, homeless, 'imprisoned', 'sick' and you came to me" took on new depths of meaning for me.

After that experience, I have not gotten into a comfortable bed or taken a warm shower without remembering the faces and persons we met. At St. Anne's the folks received us so openly and kindly, it was mutual ministry indeed.

Halfway through the week Sister Joann took us to Kindoo Family Center in Indiantown, FL where she also ministers with Sister Mary Dooley and Sister Katherine Maureen Kinnally. Indiantown is a small, very rural town, with many Guatemalan, Mexican and Haitian immigrant families. Sister Mary Dooley and Sister Katie 'ran' the Hope Rural School for many years before starting Kindoo Family Center because the needs of local families were not being met.

When you walk through the front door of Kindoo (translate 'can do'), your heart skips a beat. The bright colorful atmosphere and smiling faces touch your heart. Sister Katie has a sewing center that is loved by everyone. They make pillows, aprons, dresses and are so proud of their beautiful accomplishments. The women make two dresses, one for their child and then the other is sent to a child in Guatemala or Haiti. You just see self-esteem bubbling over in that room! There are English classes, computer, healthy cooking classes, and a day care center. The girls and I joined in all the classes. Our NDMU students even made aprons and a pillow! I loved English classes with Sister Dooley! Lots of learning and laughter there! Once again, seeing that SSND mission of educating, helping people reach the fullness of their potential was tangible.

For me, both at St. Ann's and Kindoo, I was so moved by meeting new people, listening to their stories and having my world and heart expanded. Our NDMU students were so beautifully open to the whole experience of ministering with the SSNDs. They also loved the 'real' dialog with the sisters and the morning prayer and evening reflections with them. I believe we all gained a deeper understanding of the need for reflection. For me I was so proud to share 'my sisters' with the students and the students with my sisters!