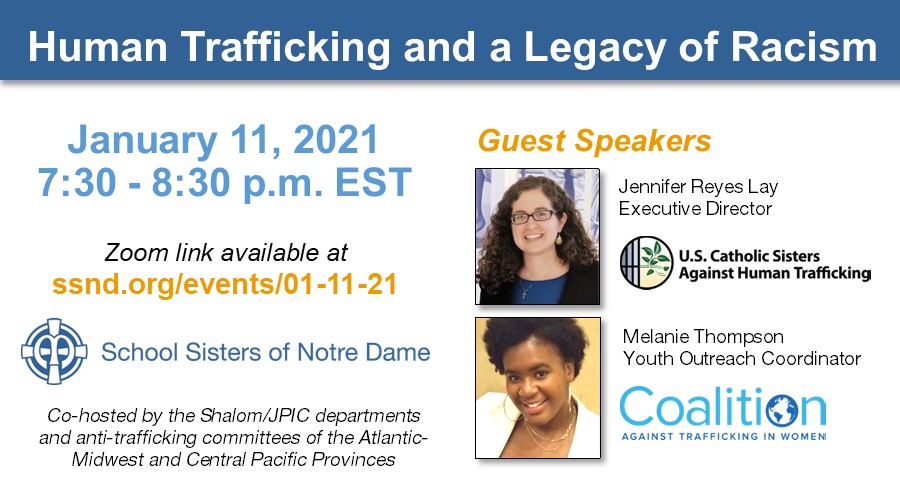 Human Trafficking
•    The SSND Shalom/JPIC Departments and anti-human trafficking committees of the Atlantic-Midwest and Central Pacific Provinces are co-hosting a webinar, "Human Trafficking and a Legacy of Racism" for National Human Trafficking Awareness Day on Jan. 11, 2021 from 7:30-8:30 p.m. EST. 
A Zoom link will be made available here in January; there is no need to pre-register.
•    Click this link for a human trafficking-related calendar for the month of January, produced by U.S. Catholic Sisters Against Human Trafficking
Immigration
Stay informed about immigration issues by signing up for the Center for Migration Studies weekly update, which delivers an overview of key events involving migrants and refugees.
Climate Change
Consider attending an Online Ecumenical and Interreligious Guidebook Launch and Webinar – Care For Creation (cadeio.org) on January 25th at 11:00am (EST) hosted by United States Conference of Catholic Bishops, Catholic Association of Diocesan Ecumenical and Interreligious Officers, and Catholic Climate Covenant. 
"This guide offers insights into how Catholics can bring the riches of the Catholic theological tradition to ecumenical and interreligious discussions and actions that uphold the dignity and sanctity of our environment." -- Most Reverend Joseph C. Bambera, Bishop of Scranton
Read All About It
Read Kathleen Bonnette's latest piece in U.S. Catholic, From Mary to Jill: Titles matter (uscatholic.org). Make sure to check out our Read All About It page for more articles by sisters, associates, and staff!