I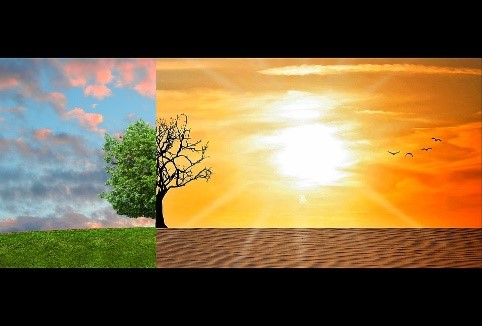 f the Climate Can Change, Why Can't We?
On April 27th, Sisters, Associates, and Staff of the Atlantic-Midwest Province attended the Symposium on Climate Change at the Mercy Center in Madison, Connecticut. The morning session's keynote speaker was Gina McCarthy, former EPA Administrator under President Barack Obama, now Professor of the Practice of Public Health and Director of the Center for Climate, Health, and the Global Environment (C-CHANGE ) at Harvard. The afternoon session was composed of a panel of high school students and older activists who shared their personal and social commitments to bring about climate justice. Professor McCarthy's mantra about Climate Change was loud, clear, and echoed again and again by the panelists: "It's not just about the survival of the polar bears. The impact of climate change on human health is increasingly evident today."
Climate Change is indeed a health crisis.  Over nine million people—mostly children and the economically vulnerable—die each year from pollution. The atmosphere, currently choking with greenhouse gas emissions, is not beyond repair, but we must not sit and wait for Government to fix it. We can contribute to the healing of earth's atmosphere by simple choices we can make every day. For example, if we want to change the trajectory of climate change, we must commit to reducing our reliance on plastic products that contain significant amounts of petroleum and are difficult to recycle. We must also change our diets by reducing, if not eliminating, our beef consumption. The petroleum used to feed and transport beef for our beef-saturated diets, as well as the methane produced by cattle that are for our dietary consumption, are significant contributors to the toxicity of our atmosphere.  
It is essential that we consider how the choices we are making contribute to greenhouse gas emissions.  These choices are literally contributing to premature deaths and chronic diseases which inhibit human development and potential at a staggering scale. Climate change is a moral issue.  It is calling us to a conversion of attitudes, lifestyles, consumption patterns, and mindsets.  
Take a moment and reflect on these 'take-aways' from the Sisters, Associates, and Staff who participated in the Symposium on Climate Change:
"We have a right to be healthy, to breathe clean air."
"We must listen to what science has been trying to tell us about how to fix what is out of control."
"We live in a democracy which says 'the people can change things.'"
"We need to take steps in our homes such as reconsidering our use of bottled water, shopping habits, as well as examining food waste and recycling patterns."
"I'd like to see the topic of Climate Change at a future All Province Day."
"The idea of sacrifice really spoke to my heart."
"Climate change wherever it happens affects our Mother Earth and all living beings."
"The planet is out of her comfort zone. We need to step out of our comfort zone."
"We need to enable those younger than us.  The teens are not the 'future,' they are the 'now."'
"We need to go beyond bottled water to things like: Car sharing and electric cars, more virtual meetings and less travel, education on how to have a healthy diet with little or no meat."
"Climate change is more than about environmental protection. It is a health issue."
"Animal agriculture is the second largest contributor to carbon pollution. We raise 70 billion animals a year for human consumption."
"As religious sisters, we need to lead by example. We need sustained resistance to our consumer culture."

Take Action
•    The House of Representatives is expected to vote this week or next on the Climate Action Now Act (HR 9), which is intended to keep the U.S. in the Paris climate agreement. You may urge your legislators to support this bill here.
•    The School Sisters of Notre Dame have joined hundreds of other organizations in signing onto faith principles for a Green New Deal. You may read them and add your individual name here before the principles are delivered to Congress later this week.