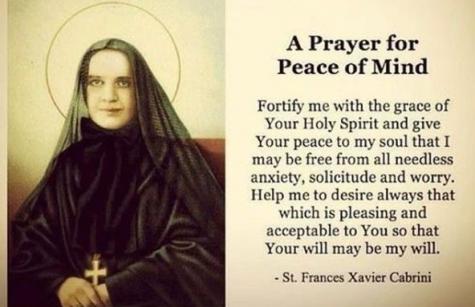 This week, we would like to call your attention to issues involving Immigration:
Saint Frances Xavier Cabrini - Patroness of Immigrants -   November 13
By Sister Peg Regan
As a child, Frances Cabrini dreamed of going to China or India as a missionary, but the Sisters who educated her considered her health too fragile to accept her into their congregation.  So Frances started her own school and an orphanage and eventually, with seven other women, started her own community, the Missionaries of the Sacred Heart in 1880. 
As her young congregation grew and more school and orphanages were opened, she did not forget her missionary dreams.  She went to Rome for an audience with Pope Leo XIII and after listening to her request for China, he told her to go "not to the East, but to the West "  to New York City to help the thousands of Italian immigrants struggling in the United States.   When she arrived in New York in 1889 with six sisters, the house that was to be their first orphanage was not available.  
Archbishop Corrigan advised her to return to Italy, but she was determined to carry out the mission, and organized catechism and education classes for the Italian immigrants and provided for many orphans.  During the next 35 years, despite tremendous odds, she founded 67 institutions dedicated to the care for the poor, abandoned, uneducated and the sick. Her concerns were not limited by geography.  She went to Chicago, New Orleans, Denver, Nicaragua, Panama, Buenos Aires, and Rio de Janeiro (crossing the Andes by mule). She traveled the Atlantic more than thirty times.
Mother Cabrini was well-informed on a wide variety of cultural, social and political subjects and daily perused the newspapers wherever she was in the world. She knew how to approach and deal with the simplest person on the street and the most esteemed national leader. Mother Cabrini had an eye for feminine talents and encouraged their development in her sisters for their good and the good of the Realm. She was an expert in encouraging women to face difficulties without collapsing, to carry on despite difficulties and to build for a common future.
Cabrini believed that "no work was too difficult, no land too distant and no person was too wounded for the love of the Heart of Jesus and for those invited to be bears of the love of Christ in the world."  She urged her followers to live the attitudes and desires of the heart of Jesus in their own lives."  "Educating the Heart means working for a more just and lasting peace, international solidarity, teaching and being taught the transcending values of community, respect for diversity, pluralism and collaborating with the poor."  
In 1909 she became a U.S. citizen. She died in 1917 of Malaria in Chicago (probably contracted as she traveled through the jungles in Central America) and was canonized in 1946, the first American citizen to be declared a saint.