As we work to provide members of our province on current events related to our four commitments, it is important to us to evaluate our efforts to ensure that we are meeting the needs of our Sisters and Associates. We would appreciate your feedback regarding the Get WITH It updates, related to things like frequency, content, format, and any other items that you find satisfactory or dissatisfactory. Please email Kathleen Bonnette, Assistant Director JPIC, with any comments (kbonnette@amssnd.org). Thank you for your participation and collaboration in the province JPIC efforts! 
Haiti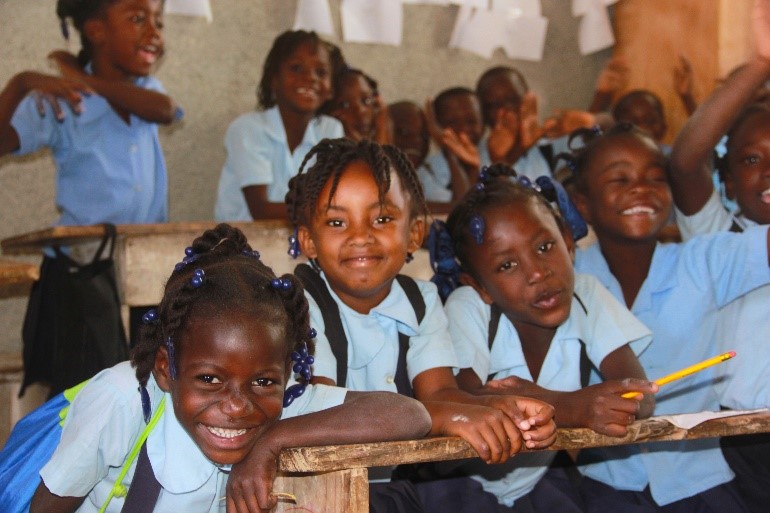 We would also like to draw your attention to the following piece on our efforts in Haiti, written by our partner, Beyond Borders.
 
The Coming School Year on Lagonav Island
This fall, all across America, young children will sharpen their pencils, crack open fresh new notebooks, and head back to school. For many rural Haitian children though, going to school is a dream unfulfilled.
Children who are too poor to go to school are being sent away to cities. Instead of being sent to school when they get there, many become trapped in a life of servitude -- a modern form of child slavery called restavèk.
But in the rural Lagonav Island communities of Tipalmis and Nan Mango, the School Sisters of Notre Dame are helping to change this story.
Thanks to the SSND Atlantic-Midwest Province Partnership with Beyond Borders (BB), vulnerable girls and boys here are in school, not enslaved, growing up at home with their families, where they belong, in communities committed to protecting and educating them.
The SSND-BB partnership supports child rights training in these two communities and ensures that every child in Tipalmis and Nan Mango is enrolled in one of eight schools we work with. The partnership also supports investments in these schools to ensure children get a quality education from teachers who are trained in a nonviolent, native language, participatory approach to classroom management not found in most traditional public and private schools. It includes the following five elements:
Native Language Instruction - Students are taught in Haitian Creole - the language they speak at home - instead of French, a language that students rarely encounter in their daily lives. Once students are literate in their native language, schools introduce French as a second language.
Participatory Approach to Classroom Instruction - Rote memorization of French-language textbooks is the basis of instruction in most classrooms in Haiti. The SSND-BB partnership supports a participatory-based approach to learning, which is meant to foster intellectual curiosity and critical thinking skills among students. Rather than simply copying, memorizing and parroting back lessons in French, students write their own stories in Haitian Creole about their own lives and share them with each other. The approach first brought to Haiti by BB's primary education partner on Lagonav Island - the Matènwa Community Learning Center - is known in schools throughout Beyond Borders' Schools Not Slavery network as the 'Mother Tongue' program. Teachers also decorate the walls of their classrooms with the work of their students.
Education Rooted in Rural Life - The SSND-BB partnership is supporting an approach in which teachers are rethinking the traditional approach to education in Haiti that has largely shunned any classroom connection with rural life and agriculture. By integrating agriculture into the classroom curriculum, teachers teach skills and develop habits that students will need to thrive and build better lives for themselves where they live, without having to migrate to the city. School gardens teach students agricultural science and mathematics, including techniques to improve yield and mitigate drought driven by climate change. Vegetables grown are used in daily school meal programs, with excess food sold in the market, helping students learn to manage money. Families are also encouraged to plant their own vegetable gardens at home.
Nonviolent Classroom Management - Authoritarian classroom management enforced via corporal punishment, shaming and humiliation is the norm in Haitian classrooms. The SSND-BB partnership supports the training of teachers in a nonviolent classroom management approach that aims to teach students leadership and democracy by empowering them to develop class rules. Teachers then hold students accountable to the standards that they themselves established.
Textbook Banks - Students at all eight schools in Tipalmis and Nan Mango have the textbooks that they need, thanks to the SSND-BB partnership. Students borrowed books on a sliding scale fee, according to their ability to pay. The bank ensured that no student went without a textbook this past school year.
Thank You Again!
We are so grateful for your generous partnership and we are deeply honored that you chose to invest in the work of Beyond Borders on Lagonav Island. If you have any questions about this work, please call or email Brian Stevens, Beyond Borders' Donor Relations Director, anytime at b.stevens@beyondborders.net , or (305) 450-2561.