Water
To learn more about the connection between climate change and migration, please watch this informative webinar, hosted by Catholic Climate Covenant, entitled "Who Is My Neighbor in a Climate-Threatened World."

Immigration
A message from Sister Ann Scholz, SSND, 
Associate Director for Social Mission, LCWR:
Dear Friends,
LCWR has issued a statement opposing this latest attempt by President Trump to restrict immigration and punish immigrant families. We encourage you to share it with your members, the general public, and your members of Congress. Please feel free to use the statement as the basis for your own letters-to-the-editor and opinion pieces for your local press.
As you may have heard, Saturday night the Trump administration issued a new proposed rule that would penalize immigrant families, forcing parents to choose between accessing medicine, housing, and food for their children and risking their eligibility for possible legal permanent residency. This is just another way of separating immigrant families and communities. The much-anticipated proposed rule change was released by DHS, but it has not yet been published in the Federal Register or opened for public comment.  The most recent draft of the much-anticipated proposed rule to change the definition of "public charge" has been released by DHS, but it has not yet been published in the Federal Register or opened for public comment. DHS's statement announcing the planned rule indicates the rule will be published in the Federal Register in the coming weeks.
What does this proposed rule do?
The proposed Public Charge rule would punish immigrants going through official immigration processes and their families for applying for or receiving benefits for themselves or their family.  This would mean the use of Medicaid, the Supplemental Nutrition Assistance Program (SNAP), Medicare Part D, the Section 8 Housing Choice Voucher Program or Public Housing, could render a family member ineligible for a green card or unable to keep their family together. The rule also raises the option of including the Children's Health Insurance Program (CHIP) among benefits programs included and describes a series of other factors that would make someone more likely to be considered a public charge, including family size, English language ability, income, education and ability to pay for private health insurance.
What you can do?
Learn more about public charge and the proposed rule changes. 
Speak out against the rule with statements, press and social media (You can use #ProtectFamilies #MyImmigrantStory #OurAmericanStory). Please share your statements with us at LCWR Immigration Google Group (lcwr-immigration-coalition@googlegroups.com); and Justice Conference of Women Religious (JCWR@googlegroups.com). 
Plan to submit comments on the proposed. Once the rule has been published and the public comment period opens we will share additional analysis and materials to help you draft comments. 
Blessings,
Ann
 
(Human) Trafficking
Be sure to read JPIC's latest Just Act, a social justice resource entitled "Climate Displacement: How Environmental Irresponsibility is Partially Responsible for Our Global Migration Crisis!" This resource explores the connection between climate change, migration, and human trafficking, reflecting on current events in light of Catholic social thought. You can view the corresponding video here.
 
Haiti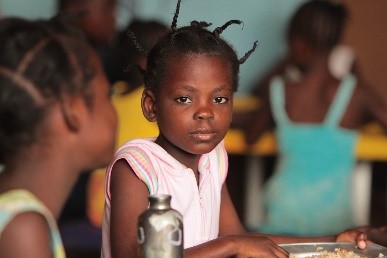 Please view a powerful exhibit of photojournalism that captures the living conditions of restavek children in Haiti, who have been forced into domestic labor and suffer all kinds of abuse. Click here to learn about our efforts with Beyond Borders to end the practice of child slavery in Haiti.