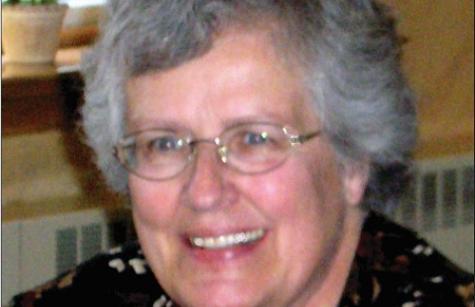 By Sister Joan Liss, SSND
For many years, I lived in the FAR Canadian North.  Fort Good Hope, located in the Northwest Territories, is a small isolated fly-in community just 50 km (30 mi.) south of the Arctic Circle. Even today, many amenities we take for granted in our "southern" cities and towns don't exist there. One of them was an undertaker.
I had been in the community for less than two months when an elderly lady died. I went to the home shortly after getting the news. When I arrived, her daughter-in-law was standing in the middle of the room looking distraught, and so I asked her if there was anything I could do to help her. She said, "I am to prepare the body, and I haven't a clue as to what I should be doing."  My old nursing training kicked in, and I offered to help her. (Actually, I did what had to be done and she watched.) Apparently the woman who usually prepared the bodies for burial had just moved from the community. As I looked around and assessed the situation, the house was basically one large room with at least a dozen people milling around. How could one respectfully prepare and dress the body of the deceased in this situation? I soon learned. When I knelt down beside the body, which was on a mattress on the floor, two ladies held a large blanket up as a screen to give us privacy.
The deceased persons are dressed in their typical clothing. The interesting thing about this elder was that not only did she wear a number of layers of clothing and stockings but she always wore knee socks - which had either broad stripes or daisies on them.  Her daughter chose daisies for her. Obviously, the body was not embalmed, as it would cost thousands of dollars to fly the body out to the city for embalming. Only if an autopsy was deemed necessary would a body be flown out, and it would be embalmed after the autopsy before being sent back to the community.
From this death onward, if someone died in the community, I would get a phone call, "Sister, we are waiting for you," and I would head over to the house.  If a woman died, a woman would always assist me. If a man died, a man assisted me. The assistant was always at the house waiting for me. I never had to ask around for help.
During these times, I learned much about their traditions and family structures. The oldest child of the deceased was the ultimate decision-maker regarding the funeral, and no one dared to make decisions and do things without approval of the eldest and /or consensus of his/her siblings.  Also, if the deceased person had a will or made known what they wanted when they died, the family felt extremely obligated to carry out those wishes.
One of the customs I really liked was how a new pair of moccasins was put on the deceased person. Sometimes an elder had a new pair of hand-made moccasins put away for his/her death or someone in the community provided a new pair for the person. These moccasins were "for their final journey." These were to be worn for their final "Yes!" to God.
Being of service at the death of a community person was a deeply spiritual experience for me, and I felt so privileged to be asked to be an intimate part of their lives at this time. I was most grateful for the opportunity to be their community "undertaker."