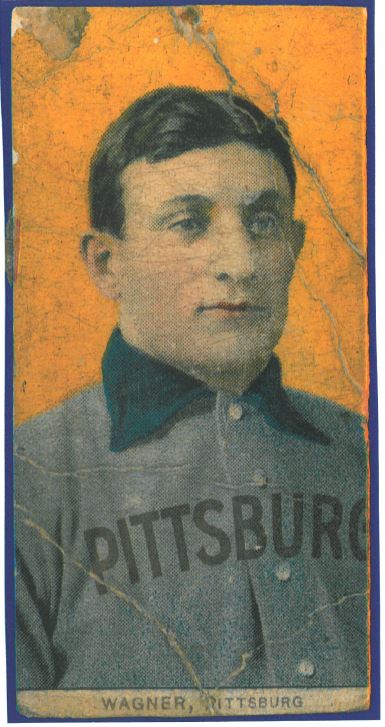 Rare Baseball Card Brings Blessings to the School Sisters of Notre Dame
This is an excerpt from Chapter 5 of "Annals of Audacity and Hope: School Sisters of Notre Dame Atlantic-Midwest Province, Volume 1," by Sister Kay O'Connell, SSND.
One of the most valuable baseball cards in sports history – a Honus Wagner T206, as it is listed with collectors – was left to the School Sisters as part of the estate of Thomas Callahan, brother of Sister M. Vincent Callahan, a member of the Baltimore Province who had died in 1999.
Considered the "Holy Grail" of baseball cards in the sports memorabilia world, the Honus Wagner card was included in packages of cigarettes sold between 1909 and 1911. On it, the legendary shortstop, nicknamed The Flying Dutchman, stands out against a mustard yellow background, staring straight ahead in a Pittsburgh Pirates jersey complete with a blue collar. Only 50 or 60 cards were known to have existed, because Wagner asked the American Tobacco Company to stop using his image. He played with a wad of tobacco in his cheek but, according to his granddaughter in 1992, "he just didn't want children to have to buy tobacco at a young age in order to get his card."
Wagner retired in 1917 as baseball's all-time leader in runs, hits and stolen bases. Wagner, Ty Cobb, Walter Johnson, Christy Mathewson, and Babe Ruth were the members of Cooperstown's inaugural Baseball Hall of Fame in 1936.

When Sister Virginia Muller, treasurer of the Atlantic-Midwest Province, and Tom Callahan's attorney went to his safe deposit box, they found the Honus Wagner card with a note: "Although damaged, the value of this baseball card should increase exponentially throughout the 21st [sic] century!" Its edges had been trimmed, so it was not in pristine condition, but after it was sold at auction, the card brought $220,000 to the Atlantic-Midwest Province's Mission Advancement Office. One hundred and ninety-three other baseball cards were found in the house, some of which were authenticated at Sports Card in Guarantee, NJ, and sold at auction. 
Sister Virginia was interviewed live on ESPN2's talk show First Take on November 3, 2010. She spoke of the School Sisters of Notre Dame's mission, which the entire Callahan estate would support. When asked if she thought there was divine intervention at play with this card, Sister Virginia had a quick response. "It's certainly more than luck. We believe we are about God's work, and so we know it is a gift from Heaven." 
An accountant most of his life for the Ford Motor Company, Tom Callahan was a very devoted brother to Sister Vincent. He died in February 2010. Sister had taught chemistry at the College of Notre Dame (Now Notre Dame of Maryland University) and at Catholic University, where she also had the very responsible job of directing the program for the disposal of hazardous waste. 
Additional Information

Mr. Callahan's card was unknown to collectors before his death, as it had been in his possession since 1936, which is why the discovery of it created such a flurry. The card was rated in "poor" condition because of the crease in it, the missing little white border on three sides, and because it had been shellacked or laminated. It was expected to sell for only $150,000, but bidding at the auction grew heated. A T206 series Honus Wagner card in "near-mint" condition sold in 2007 for $2.8 million, the highest price ever for a baseball card.
When the original buyer for their rare, century-old Honus Wagner baseball card failed to perform in a timely manner on his winning bid, Heritage Auctions quickly arranged for the card to be sold to Dr. Nicholas DePace, a Philadelphia-area cardiologist, longtime collector, and a devout Catholic who had followed the story in the national news when it broke earlier that year. Dr. DePace agreed to a deal with Heritage Auctions that let him acquire the card, certifying that the sisters received the full $220,000 they were guaranteed when the card first sold.
"Unknown T206 Wagner cards turn up about as often as unknown copies of the first Superman or Batman comic books," said Chris Ivy, Director of Heritage Sports Collectibles, in a press release at the time. "Maybe even less frequently. And it doesn't get any better than this: a brand new instance of the card, given for such a good cause, which then brings in this kind of money... Never has the term 'Holy Grail' collectible seemed to be more apt."