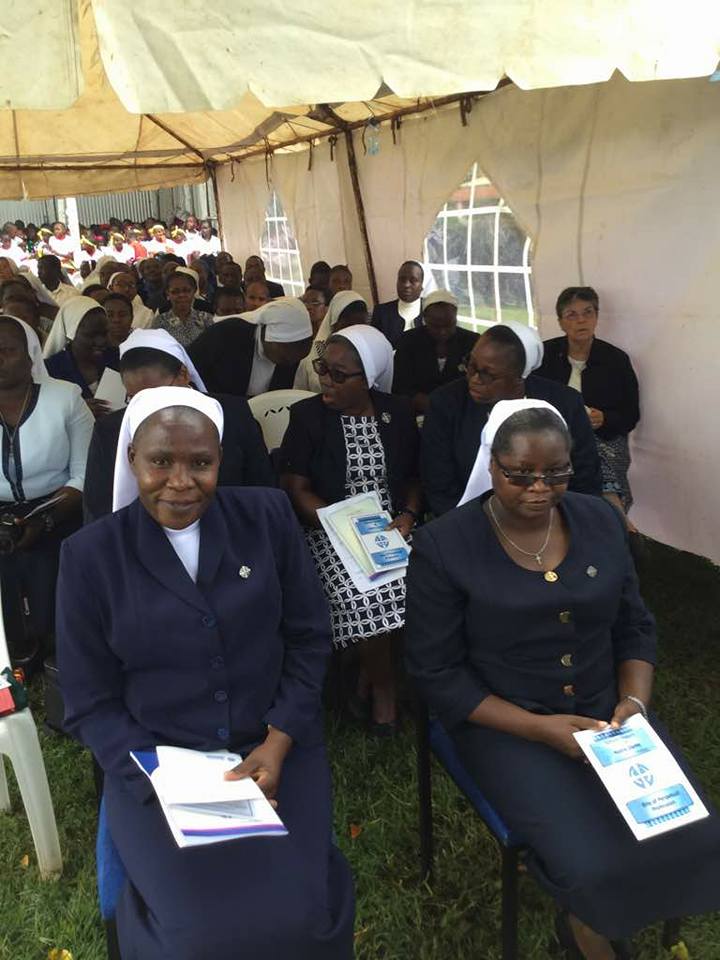 I would like to invite you to embark on a return journey to your childhood years. Try to remember any one of those moments when either your parent or caregiver lifted you up above their shoulders. Can you recall what it felt like to be in that position? What kind of experience was this for you? One of love, happiness, trust, care, courage, hope, fear, doubt? When you imagine being on someone's shoulders now, what feeling returns to you?
Events of the past weeks in the province have got me reflecting. My reflection has brought me to a humble awareness of many blessings we have received. It can sometimes be challenging to begin to predict how even a well-crafted plan is going to turn out. My personal experience of the celebrations and events of these past weeks has been one where God has raised us up with a Smile. I am convinced that we have all in some way come face-to-face with God's Smile, whether it is through those we joined or those who joined us to celebrate or in some other form.
Allow me to paraphrase the song by Joyce Johnson Rouse:
We are standing on the shoulders of the ones who came before us…
They are saints and they are humans; they are angels; they are friends…
I am grateful for their vision, for their toiling on this earth…
I imagine our world if they hadn't tried; We wouldn't be here celebrating today.
I will work a little longer and my shoulders will be there to hold the ones who follow me.
Earth Mama, 1995
The golden and diamond Jubilee celebrations in the province are an opportunity to recall our sisters' faithful living of their vowed life in mission as SSND. These sisters trusted as they stood on the shoulders of those before them. For more than 30 years, we in the Province of Africa have stood on their shoulders as they spent themselves in mission (community and ministry). We are the fruit of their courageous steadfastness.
For us to come to be, we stood on their shoulders and we continue to do so. We continue to harvest the blessings of their focused and sturdy steps, as we see ourselves come of age and step into silver anniversaries. Because we stood on their shoulders, we, too, can passionately avail our shoulders so they can hold others into the future.
Sisters, we need each other's shoulders to help facilitate the recounting of our many blessings of the past and near future as we name them one by one: three sisters celebrating their silver Jubilee; two sisters who professed their perpetual vows; two young women who will profess their temporary vows; ten young women entering the congregational novitiate; and several young women discerning to enter postulancy.
Our discipleship as SSND has been formed and shaped by both the individual and community discipline of shouldering one another to the faithful living of the integrated rhythms of Christ's mission. Availing my shoulders for the other implies a readiness to be bound together, to be drawn more deeply into Christ's Spirit that transforms us from a diverse body of followers to a holistic expression of His love. Shoulders for the other is the Christ-like sharing of our voices and hearts, of being fully formed into shalom communities.
Sisters, we can find insight, encouragement and passion for the mission we are called to embrace by reflecting on God's faithfulness and love in the lives of those upon whose shoulders we stand.
May we continue to grow in our readiness and selfless availing of our shoulders for the other and for Christ's mission.
Sister Joyce Kwamboka Nyakwama
Provincial Leader, Province of Africa