HERstory by NDP student Summer Nelson '23
submitted by Elizabeth Keady
Beauty of Another Sort
I took this photo at Elizabeth Park, one of my favorite spots here in Connecticut, for its plethora and diversity of plants. I come here often to marvel at the constant beauty, found particularly in flowers. During a time of pandemic, this park has a been place of refuge for me, a space to pray and reflect on beauty, a gift to us and a means through which God communicates.
Pope Francis speaks on beauty in Laudato Si':
"It is not enough to seek the beauty of design. More precious still is the service we offer to another kind of beauty: people's quality of life, their adaptation to the environment, encounter and mutual assistance," (Laudato Si', no. 150).
When I come across beauty with respect to flowers, I find myself seeking it constantly, protective of it even, making sure no harm comes it. With respect to my sister and brother, do I approach this particular beauty similarly? Am I attentive to their quality of life and adaptation to the environment? Do I find myself wanting to encounter them or offer help?
During Laudato Si' week, I pray that I be drawn to beauty of another sort, the beauty of my sister and brother. I pray that I gaze on the beauty of a good quality of life and relationship with creation. I pray that I am drawn to them constantly and protective of them. May I become for them a place of refuge, to pray and reflect together on the call for an integral ecology.
A closing thought from Pope Francis in Laudato Si':
"By learning to see and appreciate beauty, we learn to reject self-interested pragmatism. If someone has not learned to stop and admire something beautiful, we should not be surprised if he or she treats everything as an object to be used and abused without scruple." (no. 215).
 
Submitted by Patrick Laorden
Associate Director of Ministry Services
Let us ask forgiveness of the Earth
For all our sins against her:
For our violence and poisonings
Of her beauty.
That we may awaken,
To live to the full
The dream of the Earth
Who chose us to emerge
And incarnate its hidden night
In mind, spirit, and light.
Excerpts from John O'Donohue's poem – In Praise of the Earth
Submitted by Constance Carrigan, SSND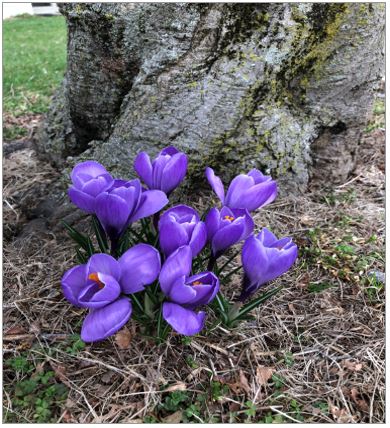 THE AMAZON: NEW PATHS FOR THE CHURCH AND  FOR AN INTEGRAL ECOLOGY
The search of the Amazonian indigenous peoples is fully realized in the Beatitudes. It is a matter of living in harmony with oneself, with nature, with human beings and with the Supreme Being, since there is intercommunication throughout the cosmos; here there are neither exclusions nor those who exclude, . . . Such an understanding of life is characterized by the interconnection and harmony of relationships between water, territory and nature, community life and culture, God and various spiritual forces.  . . .  This integral approach is expressed in their own way of organizing that starts from the family and the community, and embraces a responsible use of all the goods of creation. Indigenous peoples aspire to better living conditions, especially in health and education. They want to enjoy sustainable development that they themselves choose and shape and that stays in harmony with their traditional ways of life, in a dialogue between their ancestral wisdom and technology and the new ones acquired.
Submitted by Ethel Howley, SSND
For the Beauty of the Earth - music by John Rutter
submitted by Yvonne DeBruin, Director Ministry Services
Inclusive Holy Figures Project
Brigitte Gendron, NDP Class of 2022
In the past year, the Black Lives Matter movement made a resurgence following the murders of several black individuals, including Breonna Taylor, George Floyd, Ahmaud Arbery, Elijah McClain, and Atatiana Jefferson. The demand for justice grew louder and louder through national support, regional protests, and petitions spread throughout social media. In my piece, I wanted to capture the strength of the Black Lives Matter movement and how it embodies the power seen in the Civil Rights movement from over half a century ago. In the painting, the mural displays the likeness of George Floyd, while referencing to Normal Rockwell's Civil Rights painting "The Problem We All Live With" with the young girl walking on the sidewalk. This creates the connection from today's movement to the movement in the 1950s and 60s. We have a long way to go to achieve the long-overdue justice for those who lost their lives to racially-charged attacks and reforming our society's views of people, but until that happens, the fortitude and solidarity of the Black Lives Matter movement will keep the fight strong.