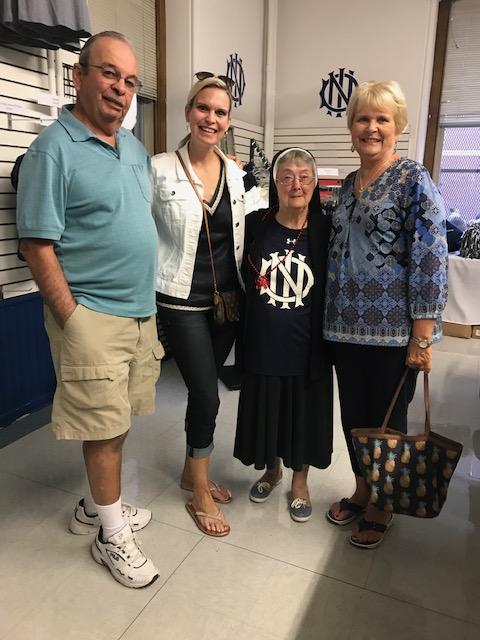 By Caelie Haines, IND '86
Marjorie Helen Sutherland was born in Baltimore on March 24, 1932, to Marjorie Jane and David, who had married in New Jersey before settling in Maryland. She was one of nine children, four boys and five girls. Marjorie was in the first grade when her mother died giving birth. "All of us being still very young, we were then raised under the careful guidance of the good Sisters of Charity (Daughters of Charity) at Saint Mary's Villa in Baltimore," Sister Hildie recalled in the autobiography she wrote while a candidate.
Saint Mary's was very close to St. Thomas Aquinas school, where the School Sisters of Notre Dame taught. Although she attended the local public school, Little Marjorie soon began running errands for the Sisters, and as she got to know them "the desire to be 'one' entered strongly into my heart."
Sister Hilda, the head mistress at St. Mary's, arranged an appointment for Marjorie with Mother Mary Myles, SSND, to ask admittance to the order. The request was granted, and Marjorie received the bonnet of the SSNDs on August 28, 1949. She took the name Sister Hilda Marie in honor of the head mistress at St. Mary's who had helped her reach her calling. It was during her candidacy that she first lived at the Institute of Notre Dame (IND), which at that time also housed the SSND Motherhouse. Sister Hilda Marie took her first vows in July 1953 and her final vows in July 1959.
Her first job as a sister was as the Girls' Prefect for St. Vincent School in Tacony, PA, from 1953-54. From there, Sister Hilda Marie briefly worked in the sisters' refectory at Our Lady of the Holy Angels in Fort Lee, NJ, before returning to IND in October 1954. She started her service to IND doing domestic work in the convent, as well as assisting as an aide at nearby St. James & St. John's School. Over the years, "Hildie," as she became fondly known by the IND community, did everything from cleaning and cooking in the convent and school (eventually being named Director of Housekeeping), to becoming manager of the bookstore, Director of Hospitality and Director of Plant Operations at IND.
Her legacy, though, is Hildie's Helpers. From her earliest days as a novice, Sister Hildie was one of those Sisters who did not shy away from taking care of the poor living just outside the walls of IND. Those she served returned the favor when they could – the story goes that during the MLK riots of 1968, neighbors marked the school as friendly to African-Americans so no damage would be done to it. Yet even when they had nothing to give in return, tiny Sister Hildie marched into the local community with boxes full of Thanksgiving dinners, food for the homeless, and holiday surprises donated by students and their families. Sister Hildie took with her generations of IND women, opening their eyes to the challenges of poverty, homelessness, racism and violence, and inspiring them to do what they could to fight against these injustices.
A story on the IND website a few years back noted that "Forty percent of IND students are members of Hildie's Helpers. From Sr. Hildie, they learn to regard those who have less with respect, kindness and love. In addition to the Thanksgiving outreach, Hildie's Helpers distribute Christmas gifts, Easter baskets, clothing and food. The girls donate, prepare and directly give food wherever they find people in need—a transformational experience."
To Hildie, Hildie's Helpers brought joy and giving. She once said in an interview, "God said 'you always have the poor with you, so take care of them.'" Hildie took care of all who came across her path, as evidenced by the memories and photos that flooded our inbox on the day of her death. You can find just a small sample of those memories here.
"Sister Hildie was a faithful and dedicated School Sister of Notre Dame who served more than 60 years at the Institute of Notre Dame, one of our sponsored ministries and a place she called home," said Sister Charmaine Krohe, leader of the Atlantic-Midwest Province of the School Sisters of Notre Dame. "Hildie stayed in the city because she believed in the city. Over the years, Sister Hildie filled a variety of roles at IND: running the school store, greeting students every morning at the door, and ensuring that IND was a safe and welcoming place for all of 'her' students. Sister Hildie cared not only for IND; through Hildie's Helpers, she could often be found making sandwiches for the hungry and collecting food to help countless families in the surrounding neighborhood. Sister Hildie's legacy is not about property or money – it is about her generosity and joyful spirit, a spirit that makes the School Sisters of Notre Dame proud. We, her sisters, will miss her."
The best way to honor the life of Sister Hildie is to practice that same kind of generosity she lived. Give to the poor not only food but also your time and attention. Offer a smile and maybe a "Hi, hon" to everyone you see. Carry on her legacy of kindness, and we can certainly bring more light into this dark world.
The funeral arrangements for Sister Hildie are as follows:
Wake Service - Thursday, March 21, 7pm  Villa Assumpta
Viewing/Visitation - Friday, March 22, 2-7pm, Institute of Notre Dame
Funeral Liturgy - Saturday, March 23, 11:30am, Cathedral of Mary our Queen
Burial to follow the funeral service at Notch Cliff, Glen Arm, MD
For those unable to attend Sister Hildie's Funeral Mass at Cathedral of Mary Our Queen, the Cathedral will be offering a live webcast. The webcast will start promptly on Saturday, March 23 at 11:30 a.m. The link is www.cathedralofmary.org/webcast.
Parking for Friday Viewing of Sister Hildie at IND (updated 3/21)
Parking and shuttle options for Sr. Hildie's viewing Friday, March 22 from 2:00 p.m. – 7:00 p.m. at IND: The Old Town Mall parking lots will be available to attendees and patrolled by Baltimore Police officers assigned from 1:00 p.m. to 8:00 p.m. The lot is located at the intersection of Endsor Street and Mott Street. IND has arranged for shuttle service between the Old Town parking lots and the School which will run continuously from 1:30 p.m. to 8:00 p.m. There will be two passenger buses as well as two IND vans providing the service. IND vans are clearly identified with IND logos and the two passenger buses will display signs indicating "IND Shuttle". The passenger buses will drop off and pick up ONLY at the Parlor steps. Those needing ramp access to the building should ride an IND van and request courtyard drop off which will be available. We strongly encourage utilizing the parking lots at Old Town Mall as street parking close to IND will be very limited.
In lieu of flowers, donations may be made to SSND in Sister Hildie's name. You can donate securely online at https://atlanticmidwest.org/donate-today or send your check made payable to AMSSND to: Development Office, School Sisters of Notre Dame Atlantic-Midwest Province, 6401 N. Charles Street, Baltimore, MD 21212.
IND has a scholarship fund named in Sister Hildie's honor. Find out how to donate at indofmd.org.