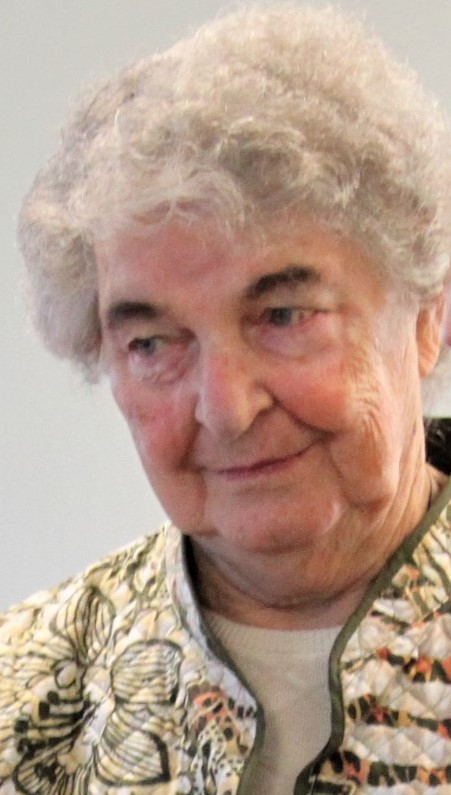 Mary Lou Fish, former SSND and beloved SSND Associate, went home to God on July 4, 2020. She left behind long-lasting memories of the blessing that she was to so many people.
On Christmas Day, 1931, Mary Louise was born to Mary Thelma (nee Ostendorf) and Earl Fish.  She had three older brothers and a younger sister, Helen, who became Sister Paulina. In 1942, tragedy struck when their mother was killed in a bus accident about three blocks from their home. The family lived in St. Mary's Parish, Govans, and Mary Lou and her sister attended the Institute of Notre Dame. She graduated in 1949. She continued her education part-time while she was teaching, and graduated from then-College of Notre Dame of Maryland in 1967.  She also studied at Villanova University.
She entered the School Sisters of Notre Dame on August 28, 1949. During that era, candidates were often sent out to teach in a setting that would help them experience SSND life. Mary Lou was sent to Holy Angels Academy, Ft. Lee, NJ as teacher of Grade 2 for two years.
When she took her first vows, Mary Lou wished to honor her father, a very important figure in her life, by asking for the name Earlene. Sister Earlene Fish was professed on August 2, 1952, and missioned to Mt. Carmel Elementary School, Camden, NJ. She taught Grade 2 there for four years, and then was sent to St. Jane Frances, Keyser, WV, a small school where she taught elementary grades for three years.
 
As this time was ending, she prepared to take the final step. She returned to the Motherhouse to take her Perpetual Vows on August 2, 1958.
Mary Lou then taught junior-high school students at St. Mary's, Annapolis, followed by several assignments in Florida: Christ the King School in Tampa; Blessed Trinity in Miami Springs; and Visitation in Miami. She was regarded as an excellent junior-high teacher.
 
Mary Lou moved into high school teaching in history at the Academy of Our Lady, Washington, D.C, in 1970.  Three years later, she returned to Tampa as Principal at Christ the King, and then as Principal at St. Peter Claver.
In 1984, Mary Lou asked for and received a dispensation from her vows, ending her 32 years as an SSND. She remained in Tampa, where she taught in public school in the Hillsboro County School District, and lived with the Sisters of the Holy Names of Jesus and Mary.
She returned to Baltimore in 2005, and moved into St. Elizabeth Hall on the Stella Maris campus, where she took a hospice training course, after which she volunteered in hospice. At St. E's, she was President of the Resident Council from 2007 to 2011. Kathleen Mulch, a resident, said, "She became a fierce advocate for marginalized residents who needed a voice like hers. She was able to effect many changes." During this time, she also tutored students at the Institute of Notre Dame.
Mary Lou's sister, Helen, died suddenly in 2009, just when she was beginning her ministry as Volunteer Coordinator for Villa Assumpta and Maria Health Care Center. Mary Lou grieved her death deeply, and she volunteered to continue her sister's ministry.  She became an outstanding coordinator of volunteers, a role she kept until her own death. She put out a call for volunteers in parish bulletins and interviewed persons who responded. She formulated clear guidelines. Sister Frances Angermaier, a resident at VA, said, "Mary Lou formed a fine program. She selected loving people to assist those of us who needed companions for our doctors' appointments. She kept in touch with them, assisted them, complimented them and let them know how much they were appreciated."
Mary Lou knew every sister in Villa Assumpta not only by name but by personality.  She knew when each sister needed something — hugs, appreciation, a special hand lotion, a visit — and made it happen. She widened her responsibilities whenever she saw a need that she or someone in her corps of volunteers could fulfill. To make some fun, she and Sister Kenneth Marie Botta created a betting pool for football games and horse races.  Sisters, staff, and friends were invited to contribute $1 to a pool each week, and all waited expectantly every Monday morning to see who won the pot. Mary Lou was the mathematician and the bursar.
After her sister Helen's death, Mary Lou was the last of her family. About a year later, Marty Ostendorf, her first cousin, reappeared in her life. His father's sister was Mary Lou's mother. She had known him briefly as a child, but they completely lost contact in subsequent years. When he realized that she was here in Baltimore, he got in touch and introduced her to his wife, Debbie, their children, and his entire family. From that time on, she became a loved member of their family, and she celebrated every holiday with them.
In 2011, Mary Lou made a covenant to SSND as an Associate, while she continued her work as Volunteer Coordinator. She soon became a leader among the Associates, who had all-embracing praise for her. Peggy Ann Russell, former Director of Associates, said, "She was a very private person. I believe much of that aura of privacy came from humility. So much of what she did was for the good and benefit of others.  She did not believe in tooting her own horn.  She had a deep spiritual love affair with God.  God knew everything, heard every sigh, laughed with her, cried with her, and always was the Beloved of her life. When one has that, one doesn't need to say much to anyone else.  Mary Lou worked tirelessly for and with the Sisters, always thinking of them first.  She was focused, holy, respectful, gracious and kind. She loved justice and walked closely with her God."
Mary Lou showed the same qualities of love and concern for others in her "off-campus" life. In January 2012, Mary Lou, thinking ahead, moved from St. Elizabeth to Pickersgill Retirement Home, which offered both assisted living and nursing care. Almost immediately, the residents saw and appreciated her selflessness and leadership.  She was elected Vice-President of the Resident Association for 2013-14, President for 2015-16, and was President from 2019 until she died.  
As a member of the Spiritual Life Committee, she planned retreats. She was involved in small scripture groups. She was Chairman of the Food Committee, and the only woman member of the Poker Club. She was on the Welcome and Caring Committee, and new residents appreciated her outreach to them. She brought in valued speakers and programs to enhance the residents' lives.  
Barbara Trammel, a resident-friend, said, "Mary Lou's quiet, easy manner along with her warm smile, wonderful wit, and genuine concern for all captivated the Pickersgill Community.  She was viewed as a leader and an advocate, always supportive, and willing to listen and give counsel.  She shared her strong faith in God, which resulted in a calming influence in our community."
Always seeking opportunities to strengthen her spiritual life, Mary Lou participated in a one-year retreat program, "Day by Day," in which Sister Linda Stilling led monthly meetings with a small group of SSNDs and Associates. After Mary Lou's death, Sister Linda wrote, "I think it speaks so much about her search to ever-deepen her prayer life.  She loved Mother Theresa and Jesus and Mary. She had a special devotion to Mary, and often prayed this mantra: My Mother; My Confidence. She said that Mary always helped her out!"
Mary Lou's strong faith was put to the test when cancer, which she had previously conquered, reappeared. She was hospitalized briefly, came back home briefly, and was back in the hospital when God called her home to himself. Marty and Debbie were with her at every step of her last illness and death.
Mary Lou was an SSND for 32 years and then a lay woman for 36 years. Her SSND values — deep faith, simplicity of life and service to others — did not change. As Sister Marian Sullivan, a classmate, said of her, "She never really 'left' us." Her life gave hope and joy to all who knew her.
Some SSND Associates Express Their Appreciation for Mary Lou:
 
Vicki Cofield-Aber: "Mary Lou, a kind and gentle woman, sought to know your experiences.  She was sensitive to others' needs and encouraged dialogue.  Her easy smile and quick wit made working with her a pure delight."
Daphne Queen: "I became an Area Coordinator in the Associates program, and I worked side-by-side with Mary Lou. Her leadership and strong wisdom brought tremendous knowledge to the table; it made our work experiences creative, fun, and insightful."
Carla Hobson: "My strongest first impression of her was how unassuming she seemed, but I soon saw a quiet determination. Although gentle, her spirit was unwavering.  Her smile was always there, but it was somehow timid. She was gentle and steadfast."
Anne Marie Snyder: "Mary Lou knew how to bring out the best in everyone, and how to build a working team.  She did not stand in the limelight, but was a source of support and encouragement for all of us."
Helene Murtha: "Not only did Mary Lou look for a way to involve the talents and gifts of others; she sensed when a person needed to be connected to others. She found a way to make a person know that there was a place for her at the table, and that her contribution was not just needed, but cherished. Mary Lou was a hard worker, but she continually demonstrated gratitude for the contributions of others."
"Mary Lou always wanted to remain behind the scene and dreaded any upfront roles.  Her soft-spoken manner and quiet wit endeared her to all who encountered her." (Delores Moore)  
- Kathleen Feeley, SSND