Kathleen Anne (Kitty) Malstrom, SSND
Oct. 31, 1930 – Sept. 25, 2020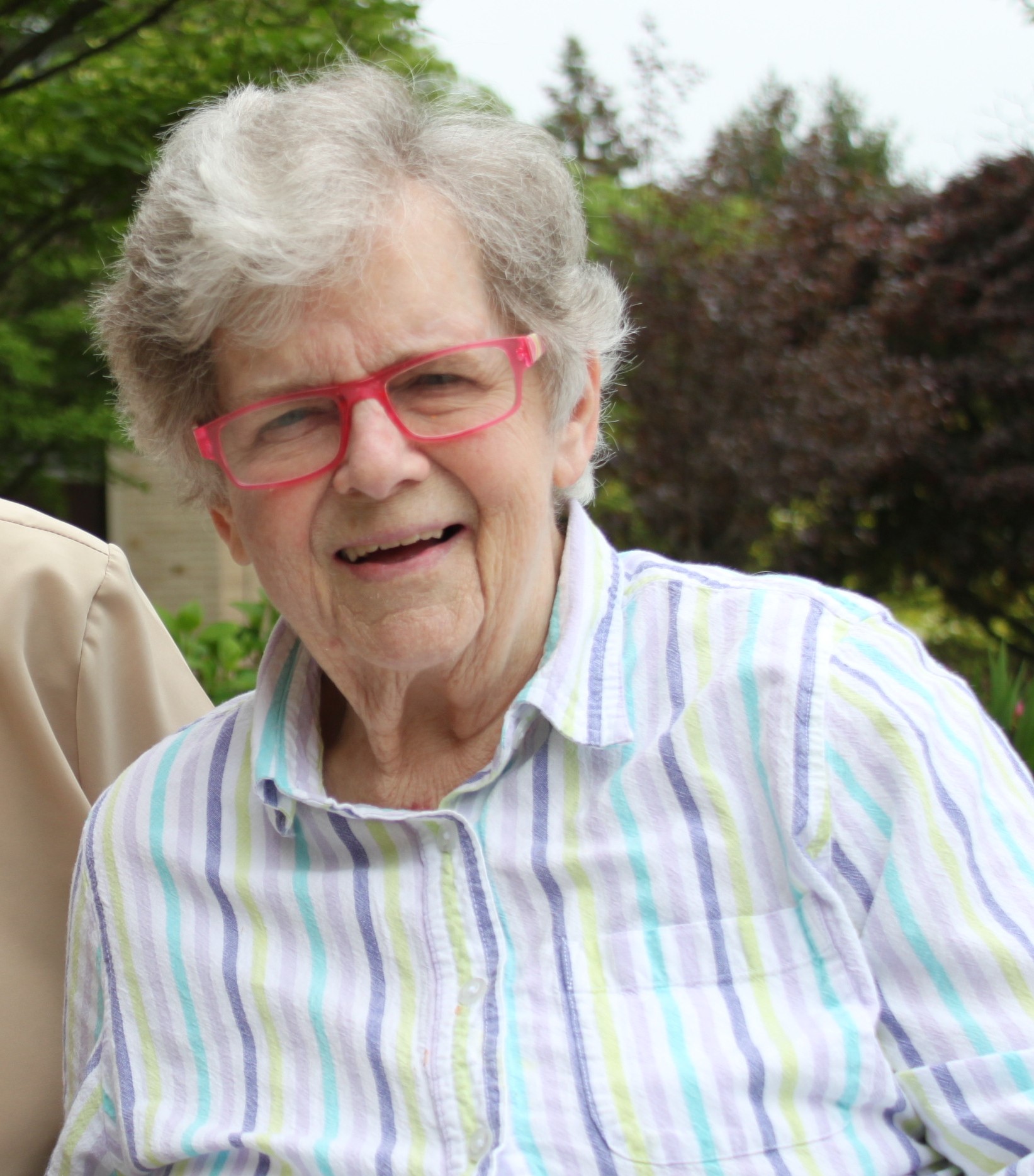 "October 31, 1930 announced the birth of their seventh child, Kathleen Anne, to William Joseph and Jeannette Trinite Malstrom of Baltimore.," wrote Kitty in her autobiography.  Kitty lived a happy childhood with her four sisters and four brothers.  Her parents were good practicing Catholics who taught their children to love God and His Blessed Mother. She attended St. Ann's School, where she was taught by the School Sisters of Notre Dame. In May 1938, Kitty made her first Holy Communion.  She was confirmed in 1943 by Rev. John Michael McNamara, Bishop of Baltimore. 
The Institute of Notre Dame was Kitty's choice for high school, and she spent four happy and contented years there. The entrance of her sister, Jeanne, to the School Sisters of Notre Dame helped Kitty to decide her own vocation.  Kitty had told God that if someone in her family were a religious, she would "feel more certain of a religious vocation" for herself.  She said, "God heard and answered my prayer." Kitty entered the candidature from St. Ann's Church on Aug. 28, 1949.
As a candidate, Kitty studied for a year at the motherhouse and then taught second grade at St. Peter's School, Philadelphia.  She was received into the novitiate on July 16, 1951 and was given her sister's name, Mary Jeanne. She was professed Aug. 2, 1952.
After profession, Sister Mary Jeanne's teaching career continued in primary grades at Most Holy Redeemer School on 4th Street in New York City. She taught at many schools in Maryland, including St. Patrick School, Cumberland; St. Mark School, Catonsville and Archbishop Keough High School in Baltimore. 
In 1971, Kitty studied French at the Sorbonne in Paris, living in a French convent with other American Sisters. She loved her time there and especially enjoyed touring highlights of the famed city. She also studied at Middlebury College, Middlebury, Vermont, where she earned a Master of Arts in French in 1973. This degree was in addition to the Bachelor of Arts degree she had received in French and Spanish from the College of Notre Dame of Maryland (now Notre Dame of Maryland University) in 1965. 
During the next 25 years, Kitty was a teacher and/or administrator at various Baltimore high schools but spent many years at St. Maria Goretti High School in Hagerstown, Maryland. She was a community leader and administrator at Villa Assumpta and gave community service there. In later years she tutored at Notre Dame Prep School. 
A kind and gentle person, Kitty was generous with her time and watched for opportunities to help others. She was especially devoted to her family and was a dear and loving friend to Sister Margaret Ellen Mahoney. She warmly welcomed visitors to her room in Maria Health Center. It was always a pleasure to be with Kitty and to enjoy her peaceful presence.
Kitty died at Maria Health Care Center, Villa Assumpta on September 25, 2020.  Her remains were interred at Villa Maria Cemetery, Glen Arm on September 30.  A Memorial Mass in her memory will be celebrated at a later date.  Sister Kitty is survived by her brother, Gus Malstrom; her sister, Dolly Preis; brother in law, Kyrle and many nieces, nephews, great nieces and great nephews.