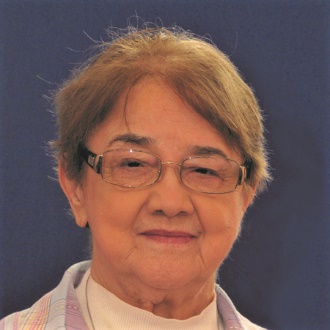 Sister Agnes Plavcan, SSND
March 7, 1934 – September 30, 2022 
Agnes Bernadette Plavcan was born to Anna Varga and Stephen F. Plavcan in Bridgeport, Connecticut, on March 7, 1934, the youngest of their six children. Both parents had emigrated from Czechoslovakia and settled in St. John Nepomucene Parish in Bridgeport, where they raised their family of four boys and two girls. 
Agnes wrote in her autobiography that Helen, her "dear and only sister, spoiled her little sis," and listed her brothers as Stephen, John, Joseph, and Francis, who became a priest. The Plavcan children were taught by SSNDs at the parish Grammar School, and Agnes also attended the Parish Commercial School for two years, studying business subjects with our Sisters and graduating in 1950. Sister Francis Mensik, her classmate, remembers good times with Agnes and other friends at her house pumping the player piano  while Mrs. Plavcan served home-baked Slovak treats. 
Agnes completed her last two years of high school at the Slovak Girls Academy with the Sisters of Saints Cyril and Methodius in Danville, Pennsylvania. In August 1952, she entered SSND as a Candidate on Aisquith Street in Baltimore. Agnes later wrote, "My desire was to love and serve God, and do this through Notre Dame." In July 1954 she took the religious name Mary Callista at Reception. First and final profession followed in the usual course, both on July 10 in 1955 and 1961 respectively.
Sister Callista's first 16 years of ministry were spent teaching at Saints Peter and Paul School in Rochester, NY, and St. Luke in Westport, Ct. Beginning in 1971, as Sister Agnes, she pioneered the new role of Director of Religious Education at St. Mary Parish in Ridgefield. From 1974 until 1990, she served in this ministry at St. Mary, Norwalk; St. Gregory, Danbury; Notre Dame, Easton; and St. Bernadette, New Haven.
Agnes earned a B.S. in Education from Nazareth College in Rochester, NY in 1960. Fairfield University awarded her an M.A. in Religious Education in 1982.          
Two years of exclaustration and a time of illness at Lourdes Health Care Cent followed for Agnes after 1990. She then became a member of the Villa Notre Dame Community at Wilton, where her artistic gifts enriched the pentagon with floral arrangements and interior decorating. During these years, and until 2017, her ministry of Liturgical Enhancement at St. Jerome Church in Norwalk was also much appreciated. 
In August 2021, Agnes went to Northbridge Health Care Center in Bridgeport. It was there that she died on September 30, 2022, after some months of hospice care. Father David Blanchfield, former pastor of St. Jerome Parish, presided at her funeral on October 13 at St. Andrew Church in Bridgeport. Several Sisters from Watermark joined a group of her relatives at the service. Sisters placed the pall and symbols before the liturgy; Chaplain Westbrook of Northbridge read from Jeremiah, and Sister Justine Nutz from You Are Sent. Father Blanchfield's homily was very appreciative of the beauty Agnes had brought to St. Jerome's. 
He referenced a poem by Carmelite Sister Jessica Powers, called The Homecoming. It reads:
The spirit, newly freed from earth,
is all amazed at the surprise
of her belonging: suddenly
as native to eternity
to see herself, to realize
the heritage that lets her be
at home where all the glory lies
By naught foretold could she have guessed
such welcome home: the robe, the ring
music and endless banqueting,
these people hers: this place of rest
known, as of long remembering
herself a child of God and pressed
with warm endearments to God's heart.
After the Committal Prayers, the Sisters gathered around the coffin to sang the SSND Blessing. Burial followed in the community plot at St. Michael Cemetery, Bridgeport.
- By Sister Kay O'Connell, SSND