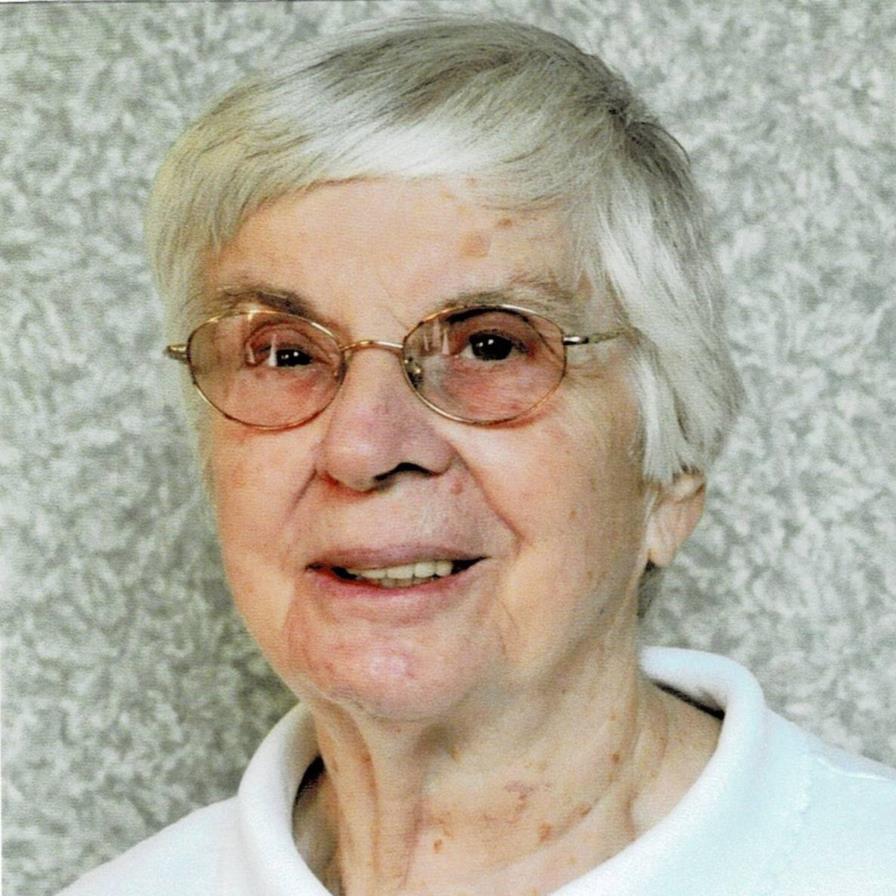 Sister Barbara Mary Slaney, SSND
April 28, 1936 – June 22, 2022
Helen Slaney, third of the four Slaney daughters, was born to John and Mary Bahorich Slaney on April 28, 1936, in Pittsburgh, PA. Helen was baptized at the Church of St. Mary Assumption. She was educated at St. Mary Assumption School and received the sacraments of Penance, Holy Eucharist and Confirmation at St. Mary Assumption Church.
Because of her "earnest desire to become a religious," Helen chose to receive her high school education at the Notre Dame Aspiranture in Fort Lee, NJ. On Aug. 27, 1953, the eve of St. Augustine, Helen received the candidate's bonnet at St. Mary Assumption Church.  She entered the novitiate with the name Sister Barbara Mary and professed her first vows on July 30, 1955. 
Sister Barbara Mary spent her early years of religious life as a teacher at St. Matthew's School, Baltimore and St. Aloysius School, Pittsburgh. During the 1970s, she was principal at Most Holy Name, Pittsburgh; St. Joseph School, Verona, PA, and St. Mary's School, Hagerstown, MD.
After attending the renewal program at St. Mary of the Pines, Chatawa, MS, Barbara Mary resumed her life as a teacher and principal before taking time to care for her mother in Pittsburgh.  She was later employed in a variety of administrative tasks at Villa Assumpta in Baltimore such as coordinating records and handling purchasing for Maria Health Care Center. She was also an active volunteer with the Office of Development.
Sister Barbara Mary's education included a Bachelor of Science in Elementary Education in 1960 from the College of Notre Dame of Maryland (now Notre Dame of Maryland University) and a Master of Education in Reading from Loyola College (now University) in Baltimore in 1967.
Barbara Mary had a great desire to spread God's love in the hearts of children. She certainly achieved that goal in her years of giving to children in the schools where she served.  Her wish to live a life of service and sacrifice exemplified a deep appreciation for all God had done for her and her loved ones. 
Barbara Mary was a kind and gentle woman. She loved her family and was devoted to the SSND community. She was a great organizer for the annual SSND "Octoberfest" fundraiser. Barbara was congenial, enjoyed people, and loved to play cards and games. Barbara was one of the famous "crowd" of 110 women when she entered the community.
Sister Barbara Mary died peacefully at Stella Maris Nursing Center, Lutherville-Timonium, Md. on June 22, 2022. The Mass of Christian Burial was celebrated for Sister Barbara Mary on June 29, 2022, at Villa Assumpta. Burial followed at Villa Maria Cemetery, Glen Arm, MD. Sister Barbara Mary was survived by her sisters Mary Ann Grgurich and Virginia (Jean) Ford (who died July 6, 2022), as well as many nieces, nephews, grandnieces, and grandnephews.
Jeanne Hildenbrand SSND