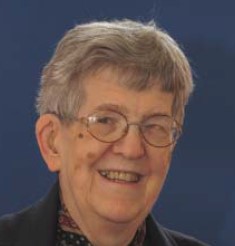 Sister Beatrice Pavlica, SSND
October 24, 1928 – August 15, 2021
Beatrice Pavlica was born in Moravia, Czechoslovakia, in the town of Knezdub, on October 24, 1928, on the feast of St. Raphael, and baptized Beata three days later in the parish church of St. John the Baptist.  Her parents were Alois and Frances Stipsky Pavlica; they had one other child, Mary, when Beata was born. Her brother, John, and sister, Sophie, were born in New York after the family had emigrated to lower Manhattan.
Much later, Beatrice wrote, "It was hard for my family to leave their beloved native land. My father did not know that he was seeing his beautiful country of gay costumes, fiestas and fairs for the last time. He would never forget the majestic beauty of the towering mountains that look up towards God their Creator, or the crystal-clear stream in the valley that murmured many an aspiration, or the green fields of grain that slowly changed into amber by the powerful touch of Old Sol." Her father died at age 53 in 1949 in Manhattan.
Beata started at St. James School with the Sisters of Charity for her first four years. Sister Cecilia, her first-grade teacher, instructed her carefully for the "precious gift" of First Communion. The Holy Spirit came to her with "flames of strength and courage" with Confirmation in May 1937. When the family moved to 334 East 70th Street in upper Manhattan, Beatrice became a student at Our Lady of Perpetual Help (OLPH) School on 62nd Street from grades 5 to 8; here she was taught by SSNDs. She believed that it was here under the Sisters' guidance that the thought of a vocation began.
For high school, she spent the first two years St. Jean Baptiste on 76th Street, with the Sisters of the Congregation of Notre Dame, and then asked her parents' permission to go to the SSND Juniorate in Fort Lee, New Jersey. On August 28, 1948, after high school graduation, Beatrice received the bonnet in the OLPH chapel. After just a few days in the Candidature in Baltimore, she was sent to teach first grade at Our Lady of Mt. Carmel in Camden, New Jersey. As a second-year Candidate she taught third and fourth grades at St. Mary School in Albany, New York.  When God called her "beloved Dad" on the feast of St. Therese of Lisieux that October, she believed that "this cross was sent "to confirm my desire to be a School Sister of Notre Dame."
At Reception into the Novitiate on July 17, 1950, Beata became Novice Mary Raphael. First and Final Professions followed in the ordinary course in the summers of 1951 and 1957. Then began the long, devoted years of service as an elementary school teacher for Sister Raphael. They lasted from 1951 to 1985, at schools in Brooklyn, New York: St. Anthony of Padua for 10 years; Holy Family for 9 years; and another 9 years at St. Anselm. She was also at St. Stephen-St. Edward in Warwick, New York, for 3 years. At OLPH Business School, Sister Raphael served for a year as Librarian before she became Librarian at Bishop Kearney High School in Rochester, New York, for 12 years.
From 1996 to 1998 she gave community service at Bishop Kearney before retiring to Wilton to offer the same at Villa Notre Dame, as well as pastoral care at Lourdes Health Care Center. At VND, Bea had the opportunity to foster her talent for oil painting.  Many of her paintings were sold to visitors; others were displayed throughout the house or enjoyed by friends and sisters. A lovely large scene of a vase of pink roses graced the large front parlor at Wilton for many years.
A quiet, gentle presence in community, Bea expressed her gift for contemplation in praying all the hours of the Divine Office every day. Few Sisters knew this about her, but her graced life shone in her quiet humor and generosity.
In June 2020, Beatrice's health needs brought her to Ozanam Hall In Bayside, Queens, New York. After a short illness, she entered eternal life there on the feast of the Assumption 2021. Because the Villa sisters were deep in the process of packing and moving from Wilton, her funeral has not yet taken place.  They look forward to celebrating her Mass of Christian Burial in the near future.  Burial has taken place at St. Mary Cemetery, Bethel, Connecticut.