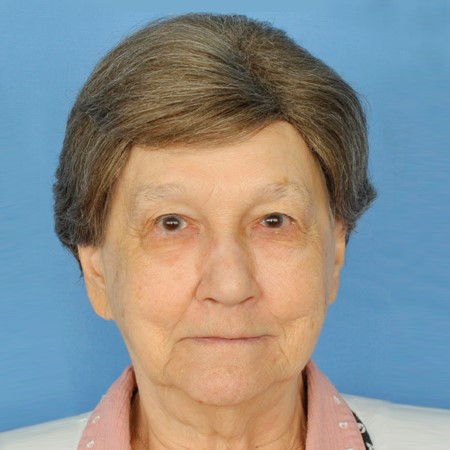 Bernard Staab and Anna Worline met as children on the Staab family farm in Raspeburg, Md., now a part of Baltimore.  Their middle daughter, Catherine Ann, told their story in her autobiography: "God had arranged that Anna would become the bride of Bernard, and they were married at the little ivy covered St. Anthony of Padua Church." Catherine's happiest childhood memories were of visiting the farm with her parents and sisters, Mary Jane and Dorothy, to roam the woods, pick flowers and play with the animals.
Catherine was baptized at St. Anthony's church and began her education at the parish school in September, 1933.  She made her first Holy Communion at St. Anthony's in May, 1934 and was confirmed there by Bishop McNamara on Oct. 22, 1939.  After graduation in 1941, Catherine followed her sister, Mary, to high school at the Institute of Notre Dame.  She said, "It was during my second year of high school that I first felt the urge to leave the world and enter religion." Catherine graduated from IND on June 13, 1945.  On Aug. 28 of that year, she left "her dear family" to become a School Sister of Notre Dame.  Catherine said that God gave her tremendous graces, and that she received only encouragement from her parents.
As a candidate, Catherine began classes as a freshman at the College of Notre Dame of Maryland (now Notre Dame of Maryland University).  But soon she was sent to St. Michael's Business School to replace a sister who had become ill. The next year she attended Teacher Training School with the Junior Candidates. Catherine was received into the novitiate on July 16, 1947 and was given the name, Sister Mary Bernadetta. She professed her first vows as a School Sister of Notre Dame on August 3, 1948.  
Sister Bernadetta began her many faceted career teaching grade 7 at St. Patrick's School, Cumberland, Md. (1948-52).  She taught grades 7 and 8 at the Academy of San Alfonso in Aguas Buenas, Puerto Rico, where she acquired a love of the Spanish language (1952-54). Sister continued teaching elementary grades at St. Peter School, Newark, N.J.; St. Patrick School, Glen Cove Long Island, N.Y.; Sacred Heart School, Baltimore, Md.; and Christ the King School, Tampa, Fla. (1954-63).
Returning to her alma mater, the Institute of Notre Dame in Baltimore, Sister Bernadetta taught Spanish (1963-65).  Cathedral Academy in Camden, N.J. was her next mission, as high school teacher of Spanish, Religion and Business (1965-71).  Though she had gone to St. Peter's Parish, Philadelphia, for pastoral work, Bernadetta's Spanish language skills made her a perfect match for the fledgling bilingual kindergarten (1971-81).  After providing end-of-life care for her mother, she became the secretary and treasurer of the Interprovincial Renewal Program at Chatawa, Miss. (1982-83).  From Mississippi, Bernadetta headed to Florida "seeking a job in ministry." There she used her extensive talents in Spanish, religious education and early learning education at the parishes of St. Catherine, Kendall; St. Luke, Coconut Creek; and Epiphany Cathedral, Venice (1985-2007).  Completing 22 years of "stellar service" in Florida, Sister Bernadetta quietly left that life for one of prayer and presence at Villa Assumpta.
Sister Bernadetta's education included a Bachelor of Arts in Spanish and elementary education from the College of Notre Dame of Maryland (now University) in 1961 and a Master of Arts in Spanish from Middlebury College, Middlebury, Vt., in 1968.
A talented and gifted woman, Sister Bernadetta excelled in many things. After beginning her career teaching business and elementary school classes, the need to speak Spanish opened a new phase in her life.  With an ability for languages, she became fluent in Spanish and an advocate for persons learning English as a second language.
 
Her teaching experience, great love of children and willingness to spend time with parents and children made Sister Bernadetta a great asset.  She would gently begin the toddlers' faith formation teaching them to pray and share and follow the example of Jesus. With her keen sense of humor, calming influence and desire to be of service, she was cherished in the schools and parishes where her legacy continues.
Sister Bernadetta's call from God was the meaning and purpose of her life.  Intensely spiritual and well-grounded in religious life, she lived with the simple joy of being alive in God. She celebrated 70 years as a School Sister of Notre Dame at her jubilee on June 2, 2018.
Sister Bernadetta died peacefully at Maria Health Care Center on June 16, 2018.  A Christian Wake Service was held on June 20, and the Mass of Christian Burial was celebrated on June 21.
Both services were held in the chapel of Villa Assumpta.  The liturgy was celebrated by Rev. Roman Kovacheson OFM Cap., Chaplain of Villa Assumpta.  Interment followed at Villa Maria Cemetery, Glen Arm, Md.  Sister Bernadetta is survived by nieces and nephews.
Vaya con Dios, Chica.
- Jeanne Hildenbrand, SSND