Sister Bernadette Walsh, SSND
August 24, 1944 – May 15, 2020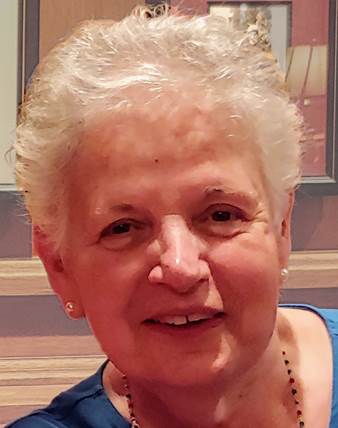 Bernadette Mary Walsh was born in Queens, New York, on August 24, 1944, and Baptized at St. Anthony Church, in South Ozone Park.  She was the first child of Edward Lawrence Walsh from Manhattan, and Concetta Maria Leccese from Brooklyn. Her father was in France with the American Army taking part in the Normandy Invasion that August. He died, at 36, of war injuries just before Bernadette was four years old; her sister Mary Ann was born the day of his funeral.
Bernadette later wrote, "She was truly a miracle of life for my family."
To the Sisters who later came to know her, Mrs. Walsh, or "Connie," was and remained a valiant woman – loving, generous, and faith-filled. She supported her girls by cooking in a rectory. She often said that she could never consider remarriage because her husband was such a wonderful man.
Bernadette started kindergarten at Our Lady of Grace School in Howard Beach and in fourth grade, 1952, transferred to the newly-opened SSND School, St. Anthony of Padua, in South Ozone Park.
This was her first contact with our Sisters, and she "became very friendly with them and my first idea of a vocation came to me."
          I had the wonderful fortune of having a very young
          and vibrant Sister named Mary Andre for three years.
          She was kind and caring and seemed to understand my
          struggle with school.
Bernadette spent her high school years at John Adams High in Queens, graduating at 16 in 1961. She later wrote that her high school, well integrated with people of many colors and races, "taught me many things about life and living. That is where my vocation became a strong force. I always had a desire to help others."
At graduation she was the senior class representative of over a thousand seniors and the proud recipient of the Distinguished Service Award.
Around this time, Bern inquired of "another great woman," Sister Salvia, about becoming a Sister. "She never pushed me, only listened and encouraged me to follow my dreams. I must also say that my mother's faith and love of the Church, through all her own struggles as a single parent, were an example to me."
So Bernadette came to Wilton on September 15, 1961. She was one of the first class of candidates in the new Motherhouse; they were told to come a little later because beds had not yet been set up for them.  They had many adventures with Sister Patricia Marie that first year, and felt very special greeting guests at the Dedication on December 8.
Novitiate began on July 16, 1962 with Sister Charitas. In the Archives, A picture with Bishop Curtis shows 29 newly professed one year later, on July 27, 1963. Sister Bernadette Mary was then missioned to St. Gregory the Great in Danbury, Connecticut, to teach grades one and two for the next seven years. Then followed five years teaching first grade at St. Joseph in Garden City, Long Island.  She loved the ministry of teaching and brought all her wonderful energy and joy to it.
In 1970, Bernadette graduated from the College of Notre Dame of Wilton with a B.A. in Education. In 1976 she earned an M.A. in Theology from St. John's University.
For her second five years in Garden City, Bernadette served as parish Director of Religious Education. At St. Killian's in Farmingdale, Long Island, in 1980, she became Parish Minister and a member of a vibrant SSND formation community there, until the parish needed the convent in 1987. "It was at this time that I realized my gift to be with the dying and comforter of those who grieve," she wrote.
St. Pascal Baylon Parish brought her back to the scene of her youth in Queens, and "to some of her most powerful ministerial experiences." In the small African-American community, she "learned much of the message of Jesus among a people that have suffered greatly for freedom in our land." Here, too, she had the experiences of preaching, and of being with people with AIDS.
In 1997, the Council asked Bernadette to come to Wilton to be the Administrator of both the Wilton Complex and Lourdes Health Care Center until 2000, and then of the Wilton Complex alone until 2004. This was a ministry to both active Sisters and patients that she found both fulfilling and enjoyable. During these years, she made community with Brenda Lynch and Karen Kane in the white house on the grounds.
A sabbatical in 2004-2005 brought Bernadette to Sangre de Cristo in New Mexico for spiritual renewal. Then she became Assistant to the Local Leader at Maria Health Care Center in Baltimore.
Bern arrived at Villa Assumpta, Baltimore on July 1, 2005. She felt fortunate to continue her ministry in pastoral care of the Sisters and looked forward to being part of the Maria Health Care team. Bern came as the assistant to Sister Bernice Feilinger and became local leader in 2014.
Bern truly loved and cared for the Sisters and staff.  Her instinctive gift for being with Sisters who were ill and dying made her a natural as a consoling presence for those who suffer and grieve. She had a compassionate heart and always wanted the best for each Sister. With her sense of beauty, she created an environment that made everyone's life much brighter and fuller.
One of her innovative ideas was the introduction of pet therapy to the sisters.  Bern trained with Canine Companions and brought Newey and later Romper to Maria Health Care Center and Villa Assumpta. The dogs' presence gave comfort and joy to the Sisters and staff. Their visits to patients at local hospitals extended their value into the greater Baltimore community.
Generous to a fault, Bern was warm, friendly and always ready to do something for you.  She was larger than life and touched the lives of many, many people.  She was always there to lend a helping hand in any way she could, and her love and support were invaluable.  Bern reached out to include the Carmelites, Benedictines, and other religious communities served at Maria Health Care.   Deeply dedicated to each Sister, Bern's ministry in pastoral care and bereavement was the fulfillment of her dreams. Bern cited this favorite quote from Philippians 1:3 in her life history: "I give thanks to my God every time I think of you…" 
On May 15 Bern went shopping for a gift and had a fall in the store parking lot.  She did not regain consciousness and died later that day at Maria Health Care Center. Bern died as she lived…thinking of others.  Blessed by her presence among us, may her boundless love continue to nurture and inspire us.  Bern left an indelible spirit. She will not be forgotten.
Sister Bernadette's cremains were buried at Villa Maria Cemetery, Notch Cliff, Glen Arm Rd., Glen Arm, Md. on May 25.  A Memorial Mass will be celebrated at a later date.  Bern is survived by her beloved sister, Mary Ann Walsh of Scottsdale, Arizona.              
Sisters Kay O'Connell and Jeanne Hildenbrand, SSND