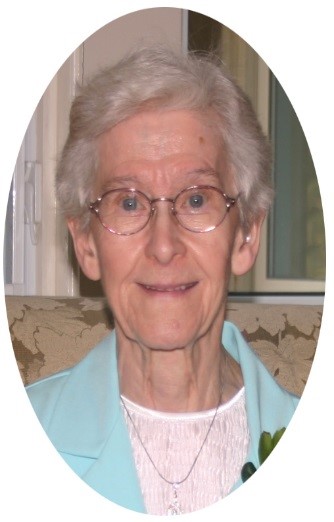 Sister Bernice died at Notre Dame Convent, Waterdown, Ontario on October 29, 2021. Sister Bernice was 101 and in her 83rd year as a School Sister of Notre Dame.
Julia was one of the younger children in the family of ten. Both her parents, Adam and Elizabeth (Miller), were born in Russia. After they married, they settled on a farm in Scott, Saskatchewan. Julia attended a rural school at Queensview for Grades 1-5. Then she went to a school taught by the Ursuline nuns. This is when she thought about becoming a Sister. However, she was told that she was too young. While helping at home for a couple of years, she was in touch with her cousin, who was a boarder at Leipzig Convent School. Leipzig was the central mission for SSNDs in Saskatchewan.  Julia felt that God was calling her to enter Notre Dame. In September 1934 she became an Aspirant in Leipzig, and in May the following year she travelled to Waterdown to begin her years of formation as a SSND. On July 27, 1937 she was received as Novice Mary Bernice and professed her vows on July 28, 1938
For 45 years, Sister Bernice served as a devoted homemaker in convents in Waterloo, Kitchener, Caledonia, Mearns, Alberta and Cloverdale, British Columbia. Though small in stature, nothing else about Sister Bernice was small. Her assignments included working in large facilities. From 1944-1954 she ministered at a retreat house in Ladner, British Columbia. She not only provided tasty meals for the large group but also helped with housekeeping. From 1956-1963 she was missioned in Leipzig, Saskatchewan, at the boarding school. From 1970 – 1977 Sister Bernice was in the food services department at Notre Dame College, Waterloo, a residence for women attending university.
When Sister Bernice was semi-retired, she returned to her home province, Saskatchewan, where she lived in Unity, Oxbow and Regina, visiting the sick and elderly. While in Oxbow, Sister Bernice attended art workshops. Her beautiful paintings exhibit originality and attention to fine detail. In 2002 she moved to Notre Dame Convent, Waterdown.
Sister Bernice did not consider herself "elderly," even though she was 101. She insisted on using the stairs from first to fourth floor rather than using the elevator. Her limited vision and difficulty hearing did not deter her from walking the halls and chatting with those she met. Each afternoon she walked outside with a companion Sister - no cane nor walker to assist her.
Her regular duties included folding laundry in the laundry room on Tuesdays, and on Fridays she faithfully prepared popcorn for the community. Each morning Sister Bernice could be seen walking to chapel for Mass with her prayer book in hand. On Wednesday evenings she was in chapel for contemplation. Frequently, she would be at the back of chapel praying the rosary, too. Sister Bernice participated in community activities prior to the last two days before she died unexpectedly.
A Mass of Christian Burial was celebrated by Rev. Pablito Labado, chaplain, on November 2. Interment at Gate of Heaven Cemetery, Burlington. Sister Bernice's last living sibling, Christine Eisworth, died two days before the death of Sister Bernice.
-    By Sister Joan Helm